pkl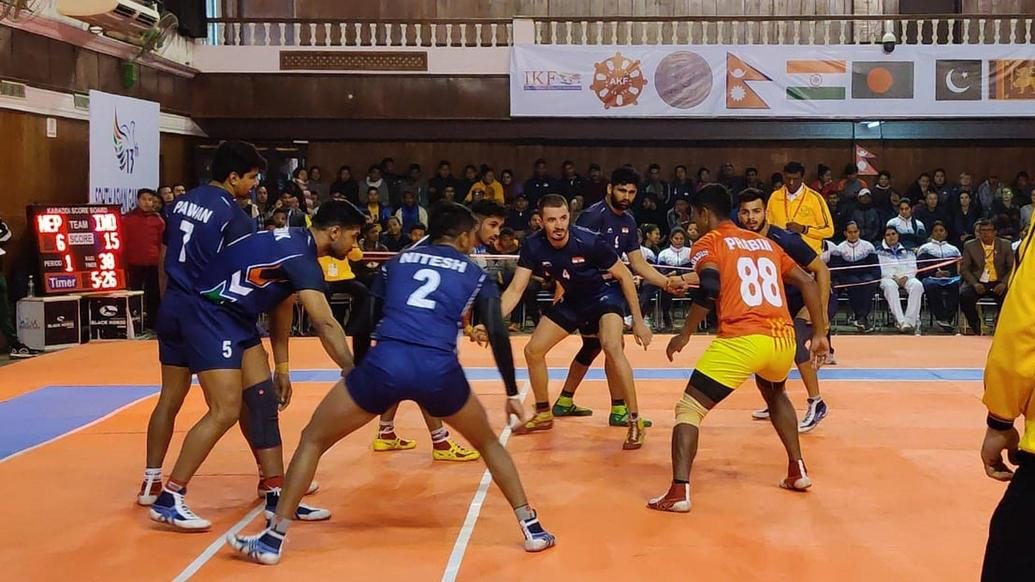 With a margin of 36 points, India registered their biggest victory at the 13th South Asian Games 2019.
The India national kabaddi team ended the preliminaries of the 13th South Asian Games 2019 unbeaten after a fourth straight win with a massive 62-26 scoreline over Nepal at the APF Hall Halchowk in Kathmandu, Nepal on Sunday.
Despite already booking a slot in the final, scheduled to be played on Monday, the India national kabaddi team didn't slow down as they upstaged the hosts by a considerable 36-point margin – the visitors' biggest triumph in the four matches so far.
Captain Deepak Hooda led with star raiders Pardeep Narwal and Pawan Sehrawat in the proceedings, with Nitesh Kumar and Vishal Bhardwaj taking the corners, and Sunil Kumar and Parvesh Bhainswal acting as covers.
In control of the game right from the start, India inflicted two All-Outs in the first half - with Nepal's only resistance coming in the form of Super Tackles as their players reduced on the mat - and went into the break with a sizeable 32-13 lead.
The performance in the second half mirrored the first, but this time three All-Outs were inflicted on Nepal, as the match ended in 62-26 in favour of the India national kabaddi team.
India's undefeated run in the 13th South Asian Games 2019 has seen them record wins by 33 points over Sri Lanka, 27 points against Pakistan and 25 over Bangladesh in their three matches earlier.
While they impressed by scoring an average 51 points per match, the India national kabaddi team conceded just under 21 - winning on average by a colossal 30 points - in the four preliminaries matches with the encounter against Nepal being the highest tally on either side of the mat.
Assured of a medal, India will now play Sri Lanka in the men's kabaddi final of the 13th South Asian Games 2019 on Monday.
India has had a 100 per cent record of making it to the kabaddi final at the South Asian Games, bagging a gold medal in nine of the previous 10 Games so far.
The only exception was in 1993 when they ended up with a silver with Pakistan taking the honours that year. India faced Pakistan seven times in the final with the other three occasions filled in by Bangladesh.