pkl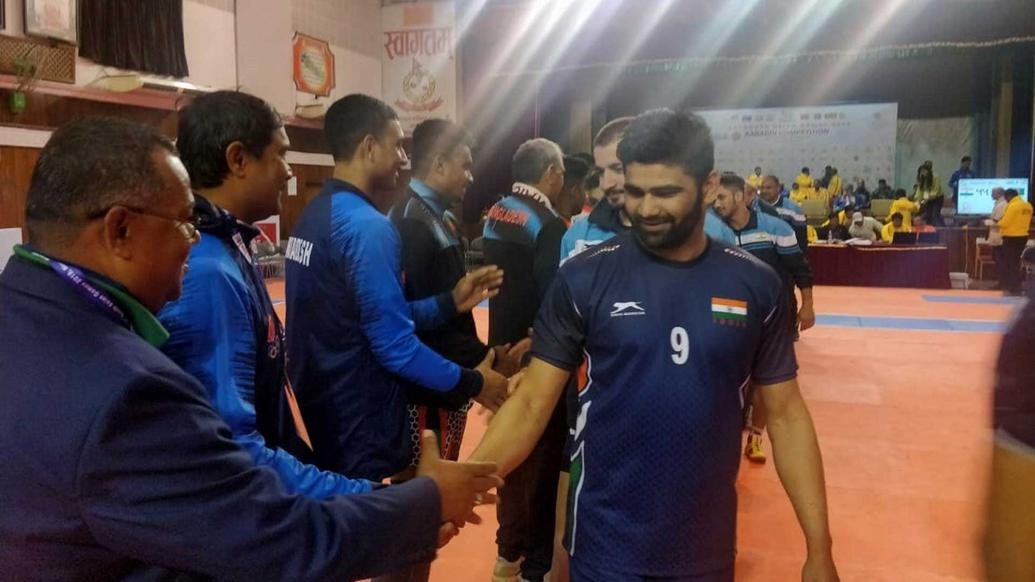 Pardeep Narwal, Vikash Kandola and Surender Nada set up the third straight victory for India in the 13th South Asian Games 2019.
The India national kabaddi team continued their dominant run in the 13th South Asian Games 2019 after a solid 44-19 win over Bangladesh at the APF Hall Halchowk in Kathmandu, Nepal on Saturday and booked their place for the final.
Led by Pardeep Narwal's nine points, Vikash Kandola's eight and a High 5 from Surender Nada, the Indian team had all their bases covered right from the start with Pardeep Narwal bagging a Super Raid in the first raid of the match.
Along with the three, the India national kabaddi team starting line-up comprised captain Deepak Hooda, Naveen Kumar, Amit Hooda, Pawan Sehrawat and Darshan Kadian, the latter two starting as covers.
Both Pardeep Narwal and Vikash Kandola, who also racked up a Super Raid, scored six points each in the first half resulting in two All-Outs from which Bangladesh couldn't recover, as India went into the break leading 28-8.
Bangladesh's raiding department was particularly lacking on the day as they managed just two raid points in the first half, against India's 15. The defence, though, seemed to be on par Bangladesh managed three Super Tackles in the same period.
The contest was a little closer in the second half, particularly with the defence as Bangladesh scored a tackle point more than the opposition in the period with both sides recording two Super Tackles each. But India national kabaddi team rode the momentum from the first half coupled with timely raids that inflicted the third All Out on Bangladesh and went on to seal the match comfortably.
India's unbeaten run in the ongoing tournament has seen them register victories by 33 points against Sri Lanka, 27 points over Pakistan and now 25 against Bangladesh in their three matches so far.
The India national kabaddi team are scheduled to play their final preliminaries fixture against Nepal on Sunday. The kabaddi final of the 13th South Asian Games 2019 will be played on Monday.