pkl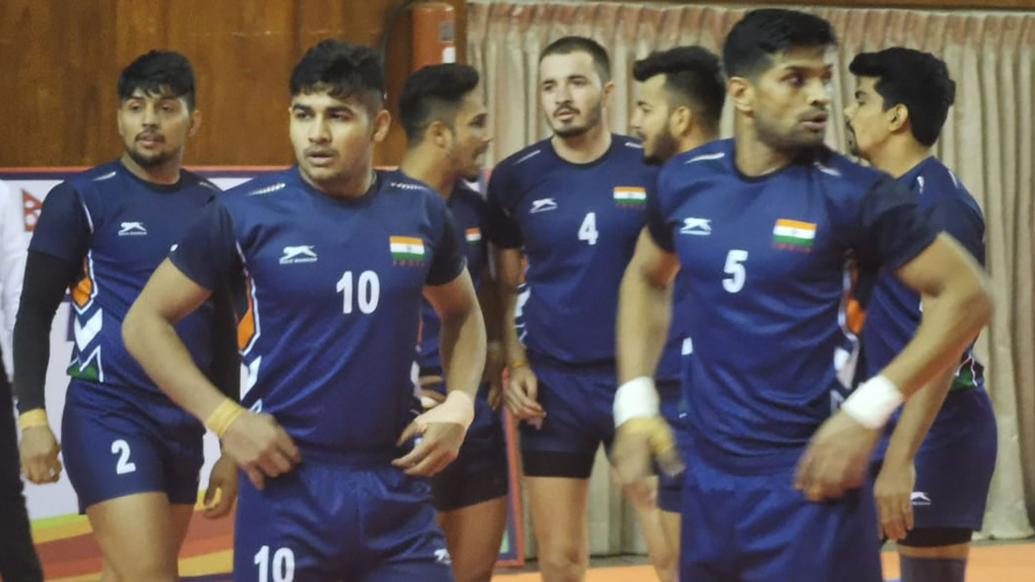 The Indian defence's incredible first half performance set up an easy 49-22 win for the team against their arch-rivals.
A water-tight defensive display in the first half, coupled with a brilliant showing from Naveen Kumar helped India down Pakistan 49-22 in their second match at the 13th South Asian Games, 2019 in Kathmandu, Nepal.
The Indian team made just one change to the side that beat Sri Lanka, opting to start Nitesh Kumar in the Right Corner position with Vishal Bhardwaj on the left, Bhainswal and Sunil Kumar in the Cover region and the trio of Deepak Hooda, Pawan Kumar Sehrawat and Naveen Kumar forming the Indian attack.
Indian national kabbadi team's Corner duo of Bhardwaj and Nitesh set the tone in defence for their side, starving Pakistani raiders Mudassir Shah and Nadeem Warraich for raid points throughout the first half. In attack, Naveen and Sehrawat continued where they left off against Sri Lanka, combining to score 13 raid points in the first half, 11 more than entire Pakistani team could muster. The Indian national kabaddi team inflicted two All-Outs in the first half and went into the break leading 29-9.
PHOTOS | India meet Pakistan in the South Asian Games
Much like the first match, coach Ashan Kumar and Balwan Singh made substitutions at the half, bringing out Pawan Sehrawat and Nitesh Kumar while subbing in Pardeep Narwal and Surender Nada to take their place on the mat. Pardeep's stay was a short one, as vivo Pro Kabaddi leading point-scorer managed two quick raid points before being replaced by Darshan Kadian.
The Pakistan national kabaddi team fared much better in the second half, finding success in both offence and defence, cutting their deficit to 13 midway through the half. However, the Indian national kabaddi team quickly snuffed out Pakistan's momentum, as Darshan found success in attack, helping India inflict a third All-Out on the opposition.
They continued to pile the points right up untill the final whistle, inflicting another All-Out en route, and emerging victors by 27 points, maintaining their 100 percent winning record at the 13th South Asian Games 2019. The Indian national kabaddi team will be in action twice tomorrow, as they will battle Bangladesh in the morning session before taking on host nation Nepal in the evening.
Earlier in the day, the Indian national women's kabaddi team thrashed Nepal 49-13 to make it three wins in three matches and will face Nepal yet again in the final on December 9th.