pkl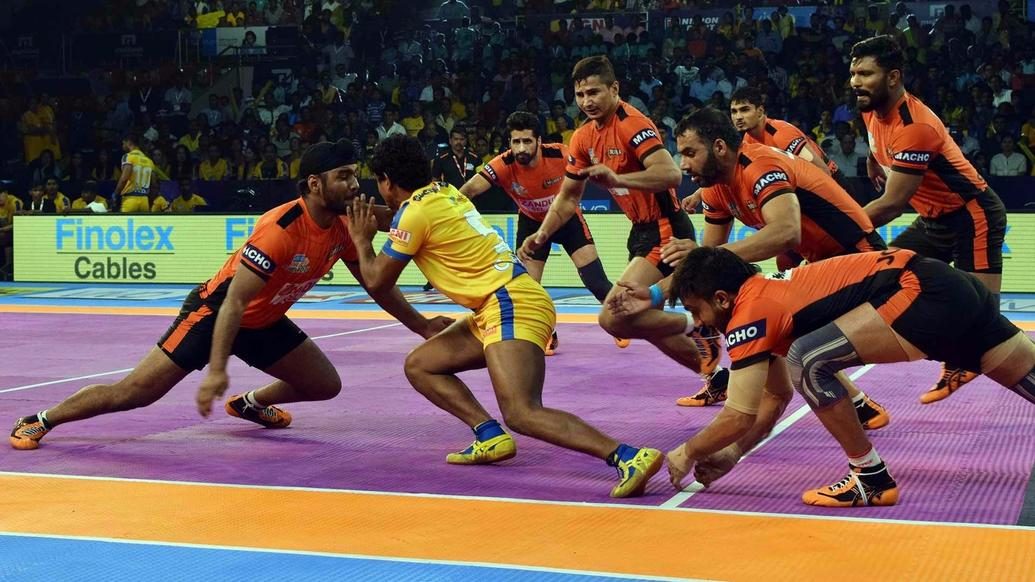 U Mumba's defence fought till the end and ensured a 33-30 win for their side in spite of K. Prapanjan's late effort for Chennai.
Tamil Thalaivas put in a brave fight and impressed on many occasions but were unable to find their first home win against U Mumba at the Jawaharlal Nehru Indoor Stadium in Chennai on Sunday. Kuldeep Singh's consecutive super tackles and Kashiling Adake's last two-point raid in spite of an injury ensured that U Mumba kept the points advantage in tact at the full time whistle and eventually won 33-30. Ajay Thakur (10 points) and K. Prapanjan (8 points) kept Chennai's hopes alive but failed to get their side over the line.
Captain Cool Anup Kumar opened the scoring with a 2-point raid the first time he went in to raid and gave U Mumba an early lead. The lead was extended to 7-4 by Shrikant Jadhav and Adake who looked equally effective. The first Tamil Thalaivas All-Out came half way through the first half on the back of some strong raiding by the duo giving U Mumba a 13-6 lead.
Chennai captain Thakur kept leading from the front for his side, raiding successfully multiple times, and looked the only effective raider from their unit keeping them in the game at 15-11 in the 17th minute. He managed to hand an All-Out back to U Mumba and bring the points difference down to one at 16-17. U Mumba, however, maintained their lead through Jadhav going into half time at 18-17.
U Mumba's most effective player from the previous game, Adake was taken out in the second half but substitute Shabeer Bappu settled into the role fast putting U Mumba 20-17 ahead with a strong 2-point raid. But Prapanjan from the Thalaivas also came into his own in the second half allowing the hosts to equalise in the 7th minute at 21-21.
After a Thakur super raid was reversed by a U Mumba video referral, Anup put his side ahead 26-22 and brought the Thalaivas down to 4 men in the process. But Thalaivas struck back through Prapanjan and equalised again at 26-26. U Mumba then delivered two successive super tackles from there and brought back Adake to deliver a last-minute blow to the Thalaivas, gaining a 5-point lead. They just had to kill time from there to register a 33-30 victory.
Check out our snapshots from this match here.