pkl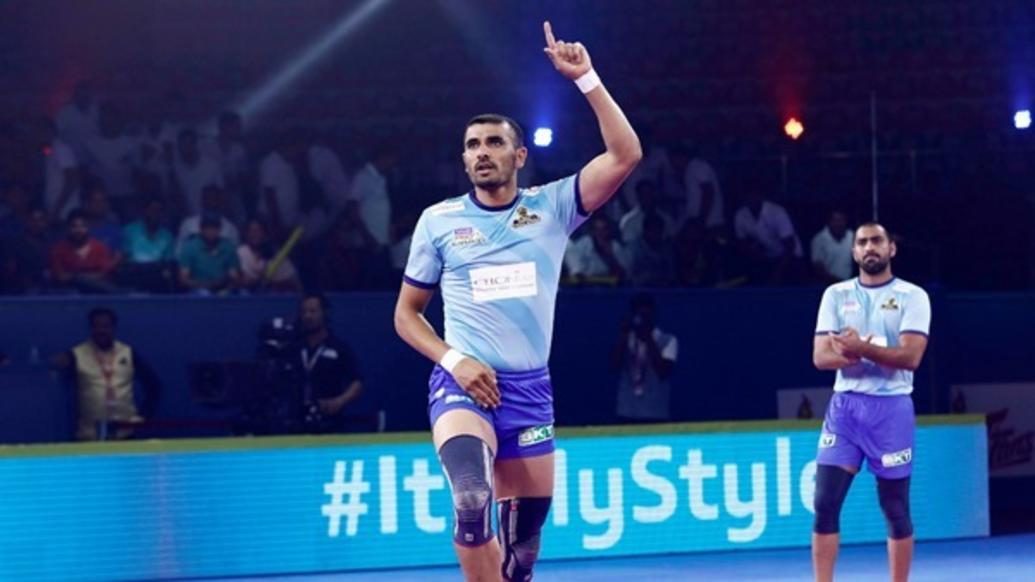 Raider Ajay Thakur talks about his Super 10 that tilted the scales in India's favour, helping them lift the 2016 Kabaddi World Cup.
Iceman Ajay Thakur rose to the occasion during the Indian national kabaddi team's uphill battle against a mighty Iranian side in the 2016 Kabaddi World Cup final to guide his team to their third world title.
During Pro Kabaddi's live chat show on Instagram, Beyond The Mat, Ajay Thakur recalled what motivated him to lead the comeback from a tough spot.
"I still remember, when it was half-time, we crossed over and I saw little children sitting in the audience at the stadium looking sad as if we had already lost the match," recollected Ajay Thakur. "Seeing them in that condition made me feel even worse because we were shattering their hopes.
"That moment inspired me to win the final for all those children who wanted to watch their heroes lift the Kabaddi World Cup."
Trailing 13-18, the Indian national kabaddi team then staged a comeback for the ages on a night where the Iranian kabaddi team had seized the advantage early and looked to be in the driver's seat.
"We had almost lost that match," the former Indian national kabaddi team captain conceded. "But the way we bounced back in the second half makes this match memorable for me. I was doing well so I went in for continuous raids which were successful. We were eventually able to overcome the five-point deficit and build the momentum needed to win.
"The moment the final whistle was sounded and we won, I was ecstatic beyond imagination. I don't think I've ever been happier in my life."
One of the turning points of the match came when Ajay Thakur put in a two-point raid early in the second half, nabbing both Meraj Sheykh and Fazel Atrachali. He soon followed it up with a stunning Super Raid which inflicted an All-out - and shifted the momentum completely in favour of India.
The Tamil Thalaivas captain had scored four Super 10s on the trot in the tournament before that night, but it was his never-say-die effort in the final that really stood out for him and his entire team.
"The Super 10 was special for me," said Ajay Thakur. "The other Super 10s I got in the tournament didn't mean anywhere near as much as the one I got in the final. I had told my captain (Anup Kumar) that I would win this game for the team and he just gave me the confidence to play my natural game.
"The rest is history."
Join the discussion with your favourite kabaddi stars as our exclusive LIVE chat show Beyond The Mat continues with Season 2, courtesy @ProKabaddi on Instagram.