pkl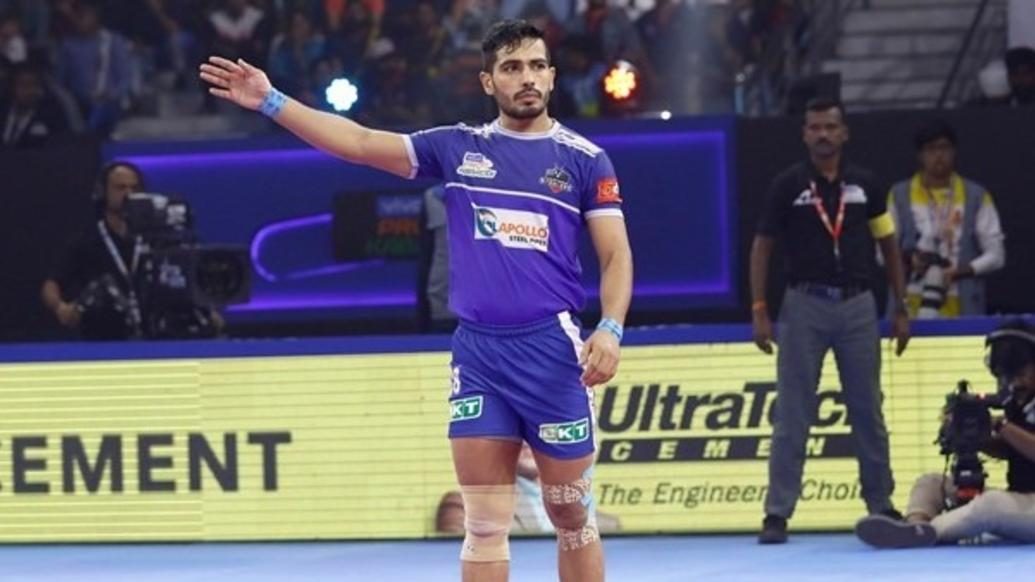 While one Dharmaraj inspired Vikash Kandola to take up kabaddi, the other one has been pushing him to deliver in Pro Kabaddi.
The young and talented Vikash Kandola's kabaddi career has been shaped by not one but two Dharmarajs - one in his early years and the other under the spotlight of vivo Pro Kabaddi.
During Pro Kabaddi's live chat show on Instagram, Beyond The Mat, Haryana native Vikash Kandola explained how was introduced to the sport by Dharmaraj Kandola, a family member who "started the kabaddi revolution" in his village.
"A lot of the seniors from my village have played under his guidance and, before going to SAI (Sports Authority of India) for further training, I was also extensively coached by him," Vikash said.
After making his vivo Pro Kabaddi debut in Season 4, it didn't take the bright Vikash much time to make a name for himself using his guru Dharmaraj's training.
In 55 matches so far, he has collected 423 raid points at an average of 7.69 points per match. His consistency has placed him seventh in the all-time list of average raid points per game, ahead of even the seasoned Rohit Kumar. He has, unsurprisingly, emerged as the spearhead of Haryana Steelers in recent times.
It was during one such season with Haryana Steelers that the second Dharmaraj emerged in Vikash Kandola's journey and inspired him to take his fitness to the next level.
Haryana Steelers captain Dharmaraj Cheralathan is a little more celebrated than the first Dharmaraj and perhaps more inspirational too. The 45-year-old is a seasoned defender in the league and led his team to the playoffs last season before they bowed out in the second eliminator match.
Despite his age, Dharmaraj Cheralathan is one of the fittest kabaddi players in the league and an inspired Vikash Kandola knows exactly how he does it.
"It's his strict diet regime that helps him maintain that kind of fitness," Kandola affirmed. "We indulge in junk food during our off days or rest days, but he never does that."
Apart from playing together in vivo Pro Kabaddi, Vikash and 'Anna' have also plied their trade together in the Senior National Kabaddi Championships where the youngster observed the veteran's regimes.
"Whether it is in the Railways team or with Haryana Steelers, I have always seen him with dry fruits and a small blender," Kandola revealed.
"He carries these two things with him to our camps as well, no matter how long the camp is. That's the secret of his fitness!"
Dharmaraj Cheralathan has competed in all seven seasons of Pro Kabaddi so far and is currently eighth in the all-time list of top defenders. He is still as incisive as ever, averaging just over two successful tackles per match last season -- his second-best since the second season.
While maintaining fitness was one thing Vikash Kandola learned from the veteran defender, his commitment to training is another thing which the youngster is still trying to imbibe.
"After a day of relentless training, Dharmaraj Cheralathan still finds some time to train some more by himself because of his fitness level. That is one thing I have tried to emulate, and it has given me good results so far," Vikash Kandola signed off.
Join the discussion with your favourite kabaddi stars as our exclusive LIVE chat show Beyond The Mat continues with Season 2, courtesy @ProKabaddi on Instagram.