pkl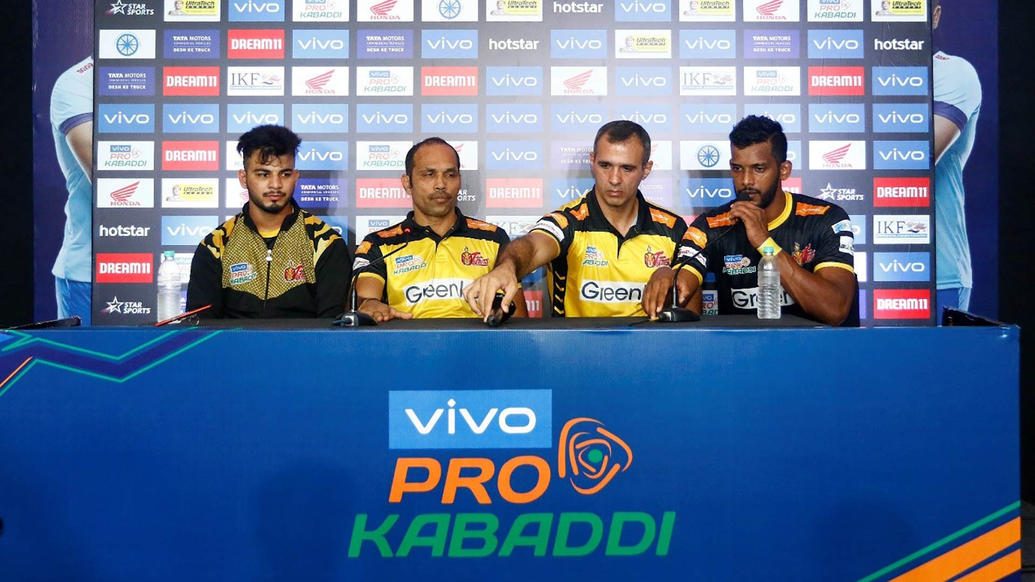 Telugu Titans coach Gholamreza Mazandarani insists that his side must keep winning to make a comeback in the league.
Telugu Titans produced a raiding masterclass against Haryana Steelers to register a 40-29 win at the Jawaharlal Nehru Indoor Stadium in Chennai on Sunday. Siddharth 'Baahubali' Desai was the star of the show and finished the contest with 18 raid points – his best performance in VIVO Pro Kabaddi Season 7. After the match, Telugu Titans' coach Gholamreza Mazandarani, assistant coach Jagdish Kumble, star raider Siddharth 'Baahubali' Desai and Vishal Bhardwaj, spoke to reporters at the post-match press conference.
Telugu Titans
Q. Siddharth, thoughts on the game?
Siddharth Desai: Our defence performed very well today. We hardly gave Haryana Steelers any points while they were attacking, so I think our defence played a huge role in the win.
Q. Coach, do Telugu Titans have more than one captain on the mat while playing?
Gholamreza Mazandarani: Having more than just one leader on the mat is not a problem. Sometimes there maybe language issues and other things but we must not focus on best player, captain or leader. We must focus on being the best team because it's a team game. When the team plays well, everyone is happy but when the team doesn't play well, not even the best player (on the day) is happy and is instead sad.
Q. Vishal, what was the gameplan?
Vishal Bhardwaj: We had a plan to contain their raiders and we played according to that plan. Siddharth and Suraj Desai also raided well, so that's why we got the win today.
Q. Coach, do you feel that Telugu Titans have made a comeback in the league?
Gholamreza Mazandarani: No, I don't believe we've started forging a comeback in the league yet. To say that we at least need to win five matches and not just one or two. After five wins we can say, 'ok we're starting to make a comeback'. But with just two wins, it doesn't change anything. I think we need to continue to win to make a comeback.