pkl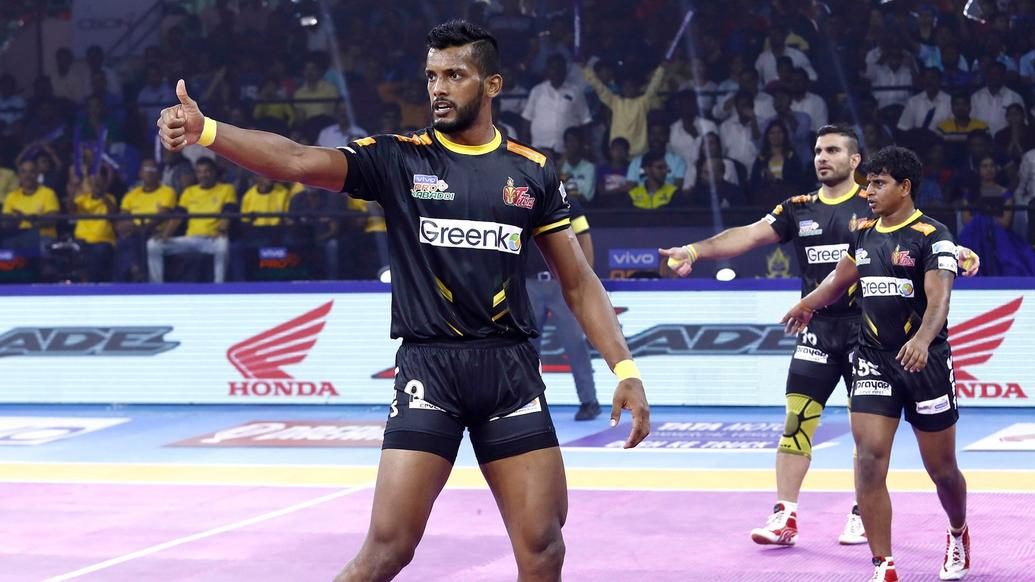 Telugu Titans produced a raiding clinic to brush aside Haryana Steelers by a 40-29 scoreline.
Telugu Titans continued their resurgence in VIVO Pro Kabaddi Season 7 by registering a 40-29 win over Haryana Steelers at the Jawaharlal Nehru Indoor Stadium in Chennai on Sunday. Siddharth 'Baahubali' Desai produced his best performance of the season as Haryana Steelers struggled to find answers against the star raider.
Both sides got on the scoreboard early but neither team managed to open up a big lead with the raiders dominating for most of the opening exchanges. However, Telugu Titans moved into a 9-6 lead after the first 10 minutes thanks to efficient raiding from Suraj and Siddharth Desai.
The southerners looked to press home their advantage before the end of the half and after removing Vikash Kandola as well as Prashanth Kumar Rai from court; a two-point raid by Siddharth reduced Haryana Steelers to just one player on the mat. Telugu Titans then inflicted an All-Out on Haryana Steelers to take a 18-10 lead with a little over three minutes left in the half. Haryana Steelers tried to respond but Telugu Titans went into the half-time break in control of the match with a 21-13 lead.
The second half began with both sets of raiders scoring points, but Siddharth was proving increasingly difficult to contain. He brought up his Super 10 early in the second period and continued to wreak havoc on Haryana Steelers' defence. Telugu Titans went on to enforce another All-Out on Haryana Steelers with a little under 12 minutes left in the game to extend their lead to 31-16.
Haryana Steelers tried to rally and fight their way back into the contest. Both Telugu Titans' offence and defence though ensured that Haryana Steelers couldn't build up a head of steam thanks to crunching tackles and swift raids by Siddharth in particular. Despite a Kandola Super Raid in the closing stages and finishing the match with just two man on the mat, Telugu Titans played out the last few minutes of the game without much pressure and registered a comfortable 11-point win.
Top Performers:
Haryana Steelers –
Best Raider – Vikash Kandola (9 Raid Points)
Best Defender – Sunil (1 Tackle Point)
Telugu Titans –
Best Raider – Siddharth Desai (18 Raid Points)
Best Defender – Abozar Mighani (3 Tackle Points)