pkl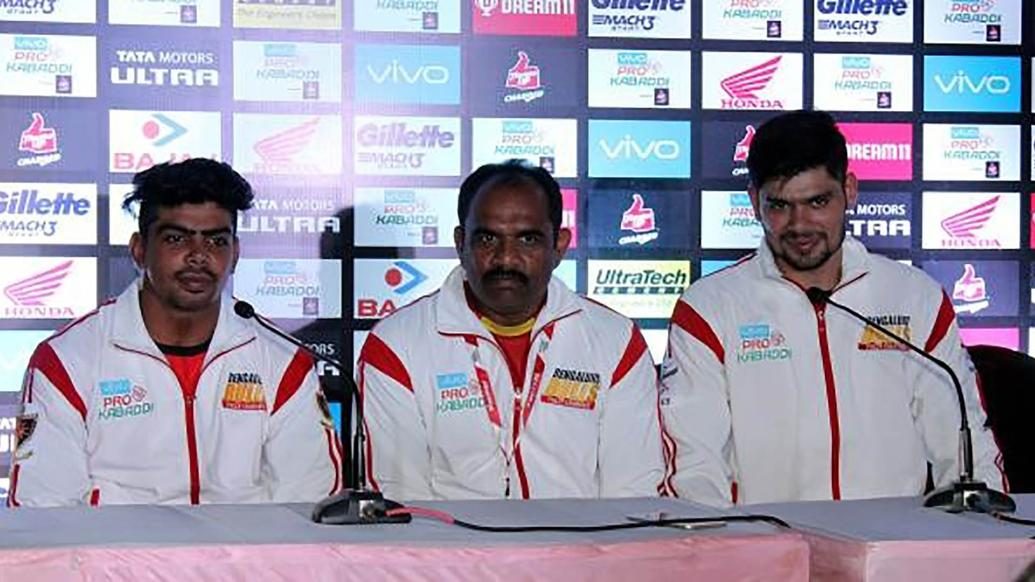 Bengaluru Bulls' raiders and defenders put on a spectacular show against Tamil Thalaivas to score a 48-37 win in their opening game. Coach BC Ramesh, captain Rohit Kumar and raider Pawan Kumar Sehrawat took questions for Bengaluru Bulls in the post-match press conference while Tamil Thalaivas coach E Bhaskaran addressed the press on the team's behalf.
Bengaluru Bulls

Q. Tell us a little about Pawan Kumar's performance today.
BC Ramesh: Pawan performed outstandingly in the Nationals and Federation Cup and we wanted to give Rohit Kumar a bit of a breather. So we gave Pawan more opportunities to raid and he showed another outstanding performance.

Q. Tell us the importance of having three frontline raiders in your team.
BC Ramesh: A good raiding combination is very important for any team. We now have three good right raiders and three good left raiders as well. Our defence is looking good as well thanks to our two Covers Ashish Kumar and Mahender Singh. So, both out departments are looking set.

Q. What do you have to say about the defence?
BC Ramesh: This is the first match they are playing together. In the practice sessions they had to play against our own raiders. Our Left Corner Jawahar Vivek got a Bronze medal in the Senior Nationals and Silver in the Federation Cup while Jasmer Singh Gulia, who was playing in our Right Corner, is a very senior player who has the experience of playing in a number of teams earlier. He has a very good ability to catch the raiders and will keep improving with time. We also have Sandeep and Amit to back up Jawahar in the Left Corner as well as others who have performed well at the Senior National and Federation Cup level. The best part is that they are all in their mid-twenties. We have a number or matches so we will try and give everyone a look-in to see who performs well.

Q. How does it feel to get the support of two raiders who can score points quickly?
Rohit Kumar: It is a big advantage. I hope our team keeps winning matches and goes ahead to qualify for the Super Playoffs. In the last season we missed out on a slot by just one point. This time we have to make up for it. We have three more raiders waiting on the bench who can do well once we bring them on the mat. This season we a well prepared and there is no weakness in the raiding department.

Q. What was the discussion between the raiders like before the match?
Pawan Kumar Sehrawat: Rohit Kumar and the coaches had told me to play my natural game. Rohit was on the mat with me as well and kept telling me to go for it and that my team trusted me. There is no pressure on you. No one is going to criticise you so you can take your time. That helped me a lot.
Tamil Thalaivas
Q. What happened in the match?
E Bhaskaran: The five points that Pawan Sehrawat took in a single raid made the difference. He managed three Super Raids from which took the game away from us.

Q. Tell us about your team's preparation.
E Bhaskaran: These things happen and will continue to happen in the league. We just have to find a balance. Now the next time we play against them, we will prepare accordingly. We will come back for sure. This is not the end.

Q. Is it because you are playing against each of the teams for the first time?
E Bhaskaran: Yes. For instance, every team's raider's performance is different. But since we have played four matches in a row, the opposition has been able to assess our raiders. That's a plus for them.

Q. You play Bengal Warriors next. How do you assess them?
E Bhaskaran: Bengal Warriors is a very good team. They are not short on the field, they have some powerful raiders and they have a good defence as well. So the plan is to cover their main raiders, Jang Kun Lee and Maninder Singh. So we will have to bolster our defence and make it stronger.