pkl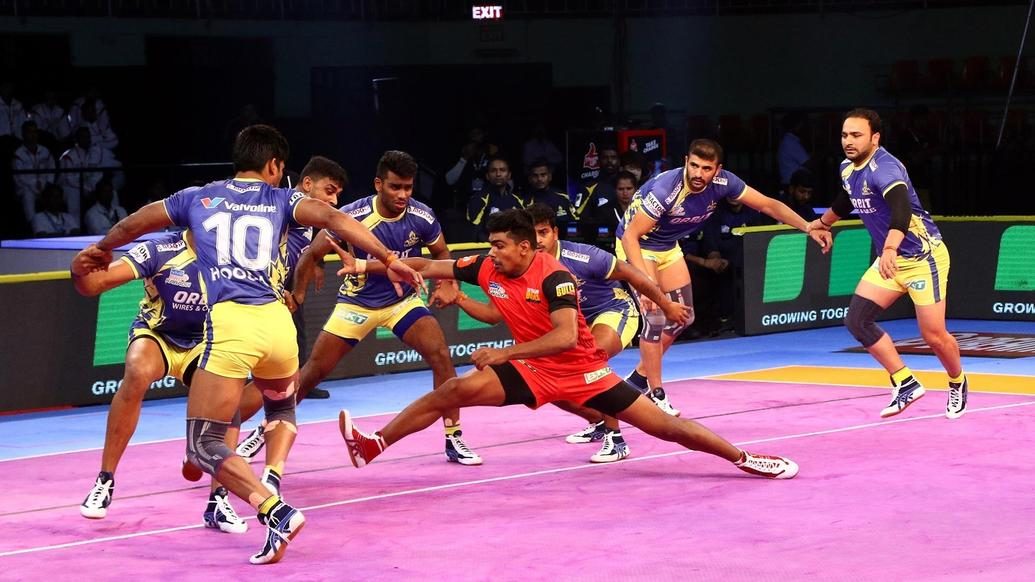 Bengaluru Bulls rode on raider Pawan Kumar Sherawat's raiding brilliance to defeat Tamil Thalaivas by a 48-37 scoreline in a high scoring game at the Jawaharlal Nehru Indoor Stadium in Chennai on Wednesday. Sherawat scored a massive 20 raid points in the game to give the Bulls a firm hold on the game from the early stages.
Pawan Kumar Sehrawat raced to 8 raid points in just 6 raids at the start of the match, including a 3-point Super Raid, to give Bengaluru Bulls a 9-5 lead in the 7th minute. But Thakur kept Tamil Thalaivas alive by putting in lightning fast raids and catching the Bengaluru defenders off-guard.
The Thalaivas' defenders finally picked up Sehrawat in his next raid and reduced the Bulls to 4 men on the mat via Thakur's raiding. Their attempts to get an All-out, though, were stopped by Kashiling Adake, who kept picking up bonus points at will, and two Ashish Kumar Super Tackles on Thakur.
The second of those brought Sehrawat back on the mat for the Bulls and he took no time to return a 5-point Super Raid, reaching his Super 10 in the process. The Bulls went on to inflict a second All-Out on the Thalaivas in the 17th minute to gain a 23-11 lead.
Soon after the Thalaivas assembled again they were reduced to 2 men by another Sehrawat 4-point Super Raid. The raider scored 17 raid points in the first half to keep the Bulls ahead by 16 points at halftime with a score of 28-12. Defender Ashish Kumar reached his High 5 as well.
The Bulls stretched their lead by another 3 points after quickly picking up the two remaining Tamil Thalaivas players on the mat and getting a third All-Out.
Facing a 20-point deficit, the Thalaivas fought hard through captain Ajay Thakur and came back with an All-Out of their own on the Bengaluru Bulls in the 12th minute. Thakur reached his third Super 10 in four matches to lead his side from the front.
Though they had a big lead, the Bulls did not let their guard down and kept raiding successfully through Kashiling Adake. The rider scored 9 raid points and became the fifth raider to breach the 500 raid point mark. In the end, the Bulls' superb performance gave them an 11-point victory.