pkl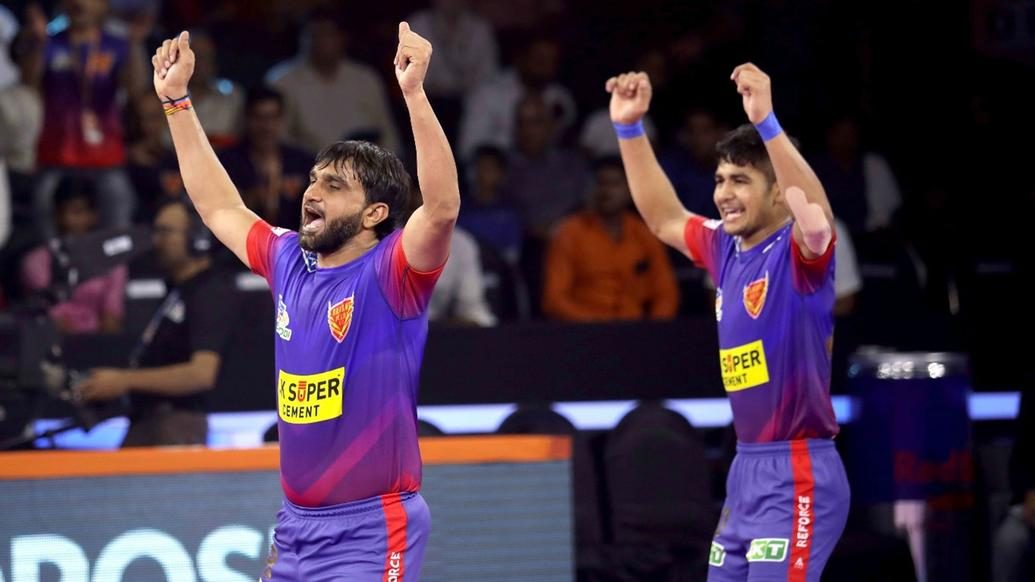 Reigning MVP Naveen Kumar reveals how veteran corner Joginder Narwal has been key to his success in vivo Pro Kabaddi.
Naveen Kumar was told to put all his efforts on just one thing when he was set to take the mat in Season 7 - to focus on his next raid.
Advised not to think about how many points he would score or who had tackled him, the star raider's role was kept simple.
And it paid off. In only his second vivo Pro Kabaddi campaign, the uninhibited Naveen Kumar became just the third player to score 300 points in a season after Pardeep Narwal and Pawan Sehrawat, and won the league's Most Valuable Player award.
The credit for his efforts, however, went to Dabang Delhi K.C. captain Joginder Narwal.
"Joginder bhai would often tell me right from the start of the season that I need not worry about how many points I was scoring or how poorly I was playing if I was tackled a little more than usual," Naveen Kumar revealed during vivo Pro Kabaddi's Instagram Live chat show 'Beyond The Mat'.
"His policy was to forget what's done and just focus on the next raid while I played my natural attacking game with a free mind. That really helped a lot."
Unconditional support
Often seen exchanging words before Naveen Kumar would go in to raid, Joginder Narwal's insights spurred the raider on.
Coming from a seasoned defender, it would range from explaining the situation or revealing chinks in the opposition defence's armour that the raider could exploit.
For Naveen Kumar, though, the backing of his leader was a positive sign in itself.
"Joginder has always been a calming presence on the mat," Naveen Kumar had previously said about his captain.
"He has always given me a lot of confidence and is backing me to do well, no matter the situation. He has been a great source of motivation for me."
More than just a team
Joginder Narwal's leadership skills and support aside, Naveen Kumar said the camaraderie and bond the two shared stretched beyond just the game.
As many good leaders do, Joginder Narwal ensured that his star raider always felt at home in the team and brought in a sense of family and brotherhood among the players.
"Even though there is an age difference between Joginder Narwal and myself, he treats me just like a younger brother," Naveen Kumar pointed out.
"He is a veteran in the game of kabaddi while I am just starting. But he never made me feel intimidated by his presence."
With a strong support system on the mat in the form of his skipper, Naveen Kumar delivered night-in, night-out for Dabang Delhi K.C., en route to scoring, a vivo Pro Kabaddi record, 21 straight Super 10s.
While his talent and effort have been the primary reason for his success, the role of his 'captain and elder brother' Joginder Narwal cannot be overlooked.