pkl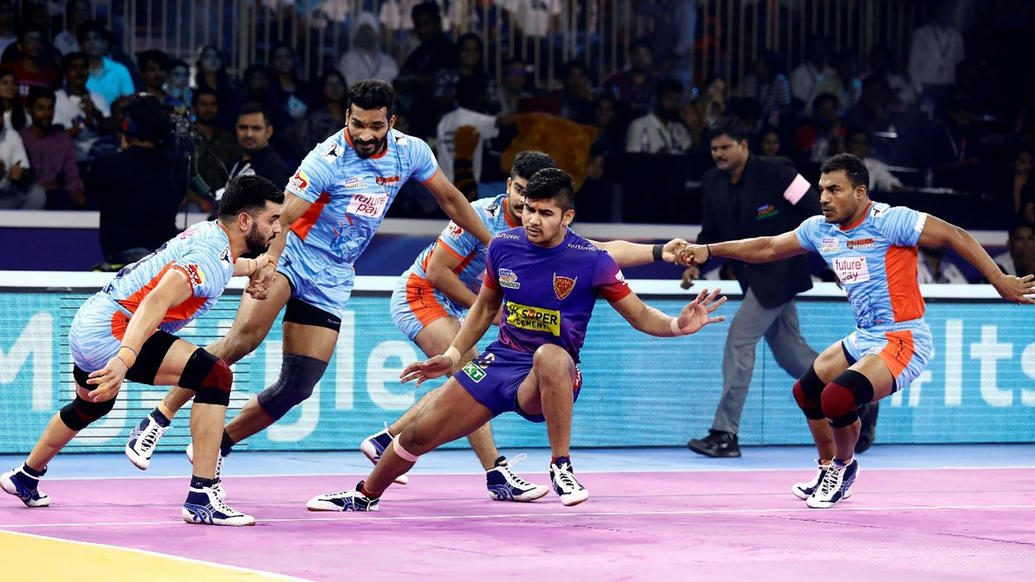 Naveen Kumar explains his mindset and how he managed to score 21 Super 10s in a row.
Consistency is the hallmark of every great athlete. Only a select few possess the ability to deliver match after match for their team and only a handful among them have managed to that level of dependability when the pressure is on. This is what makes the sheer brilliance of Dabang Delhi K.C. raider Naveen Kumar in Season 7 stand out. With 22 Super 10s in 23 matches, the youngster, in just his second vivo Pro Kabaddi season, broke Patna Pirates skipper Pardeep Narwal's record of 19.
"I think it is my technique that sets me apart from the rest," said the Naveen in an exclusive interview with Prokabaddi.com, "The coach had told me beforehand that my reaction time is quite fast. The faster I get, the better my skills are and the more I work on improving my reaction time, the more impossible I will be to stop."
It was this incredible speed and eye for the kill that led to an unprecedented run of 21 Super 10s in a row for Naveen and took Dabang Delhi K.C. all the way to the vivo Pro Kabaddi Season 7 final.
Confidence stemming from belief
When Naveen was in his element, he was impossible to contain. Despite being just 19, the raider exhumed impeccable confidence, a lot of which stems from the unwavering support of his teammates at Dabang Delhi and coaching staff.
"Joginder has always been a calming presence on the mat," said the raider about his captain, "He has always given me a lot of confidence in my abilities and he is always backing me to do well, no matter the situation. He has been a great source of motivation for me."
Naveen also spoke about how coach Krishan Kumar Hooda helped him transform his game.
"The coach was constantly pushing me to improve during the training camp. He spoke to me at length about the weaknesses in my game and helped me eliminate them ahead of the season. His attention to detail is incredible and he was able to weed out the small errors that end up costing points. That is what led to an improvement in my performances," said the reigning MVP.
Brilliant at the start
The key to Naveen's and Dabang Delhi K.C.'s success in Season 7 was a strong first-half display. Naveen led the league in raid points scored in the first half with 154 and scored more than 5 raid points in the first half in 20 of the 23 matches he played.
"Scoring Super 10s in the initial matches increased my drive to do even better for my team," remembered Naveen, "The season in which Pardeep (Narwal) had made his record of Super 10s, his team won the trophy. I was hoping to do something similar."
Dabang Delhi K.C. were undefeated in matches where Naveen scored eight or more raid points in the first half in Season 7.
Unbothered by numbers
The regularity with which Naveen managed to score Super 10s might indicate that the raider would aim for it every time he stepped on the mat, but by his own admission, that was not the case.
"I never set a target of scoring a Super 10 in every match", said the raider, "I just tried to do my best for the team. I wasn't even aware that I was on the verge of breaking Pardeep's record of eight Super 10s in a row till the day of the match against U Mumba (where he equalled the record)."
Coincidentally, Naveen surpassed the previous mark against Pardeep and his Patna Pirates side in Match 66, where his 15-point performance led Dabang Delhi K.C. to a 38-35 victory.
With a strong support system behind him and plenty of talent and hard work to justify it, Naveen became a phenom unlike any other seen previously in vivo Pro Kabaddi. And with many years of kabaddi still ahead of him, one can assume the best is yet to come from this Super 10 machine.