pkl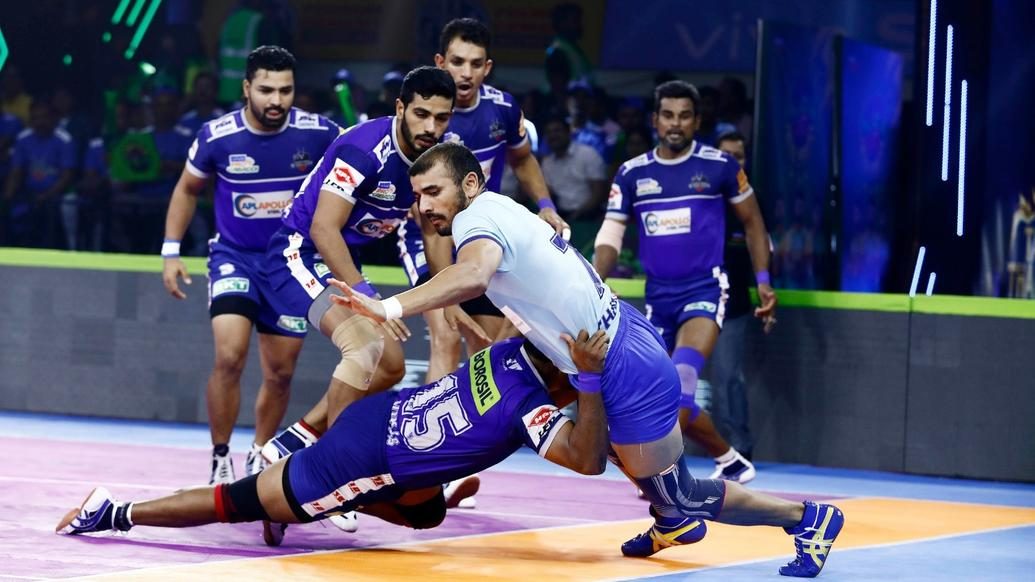 Ajay Thakur mentioned fitness as the key factor in determining a young raider's fate on vivo Pro Kabaddi's LIVE chat show, Beyond the Mat.
Ajay Thakur is known for his calm presence on the mat and his ability to maintain a level head while raiding. It's why he has earned the moniker of 'Iceman'.
He has unmatched skills and an arsenal of raiding moves like the Running Hand Touch, Kick and his signature move – the Frog Jump – at his disposal. It comes as no surprise then, that when he appeared as a guest on Pro Kabaddi's live Instagram chat show Beyond The Mat, several youngsters were eager to pick up some raiding tips from Ajay Thakur's vast pool of expertise.
But as he explained, it is down to one vital factor which cannot be replaced in a kabaddi player's life - fitness.
While going into the details of what exactly makes a good raider, Ajay Thakur stressed that it is more important for aspiring young raiders to focus on a fit body than spending time perfecting multiple techniques.
The fitness factor for raiders
"Fitness is the most important factor for any young raider," reckoned the former India national kabaddi team captain, "A fit player can surpass skilful ones. He can push through a chain of defenders with just his brute strength, while a raider focussing only on skill might get caught under such circumstances."
Ajay Thakur also went on to give examples from the vivo Pro Kabaddi league to illustrate that while raiders' styles may vary, technique alone can never make up for a lack of fitness.
"Sandeep Narwal's raiding, for example, is based more on his strength than multiple skills. Siddharth Desai is another example of a fit player who has outperformed more skilled ones," he observed.
"Shabeer Bappu, on the other hand, is one of the most skilful players I've seen and Naveen Kumar relies heavily on his skills too," he pointed out. "Everyone has their own talent but a basic level of fitness is not just an advantage, it is a necessity."
A strong base ensures a long-lasting career
According to Ajay Thakur, while skills can be developed with experience, getting injured multiple times early in a playing career - because fitness may have been neglected - can ground a youngster before he even has the chance to take off.
Hence, for a player to gain an edge in the early years, it is important to focus on building a strong physical base.
"If you have speed and power early in your career, then you can raid any way you want and still get some success. That is a huge leg up for a young raider," Ajay Thakur concluded.
Join the discussion with your favourite kabaddi stars as our exclusive LIVE chat show Beyond The Mat continues with Season 2, courtesy @ProKabaddi on Instagram.