pkl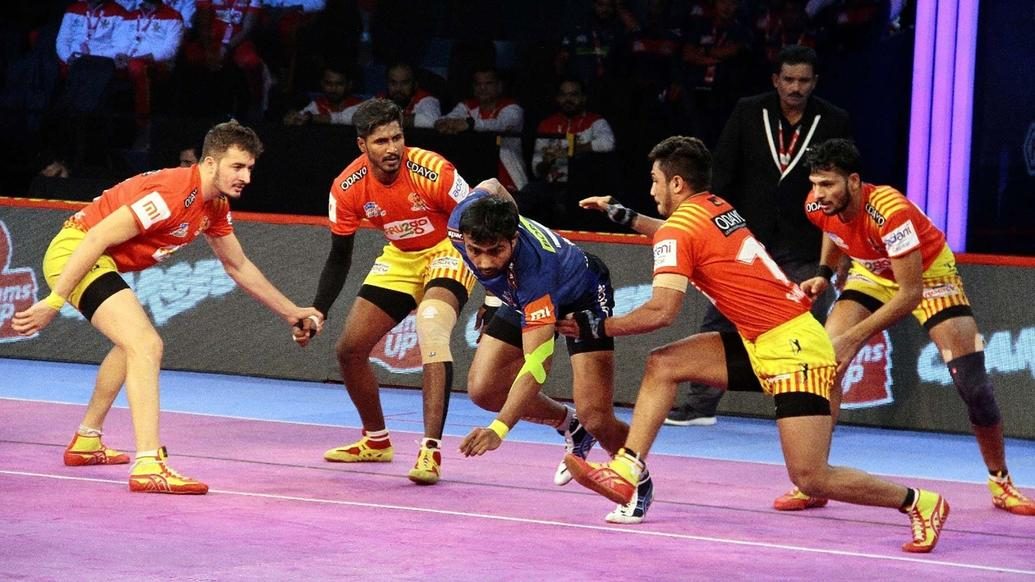 The Ahmedabad leg in VIVO Pro Kabaddi Season 6 served up plenty of moments of individual brilliance and some well-rounded team efforts, making it a memorable week for the spectators at The Arena by TransStadia as well as the fans of kabaddi. Here are the top five handpicked moments from the action in Ahmedabad.
1. Home, a fortress for Gujarat Fortunegiants
After going unbeaten at The Arena by TransStadia in Season 5, Gujarat Fortunegiants enjoyed another exceptional home leg this campaign, winning four out of their six fixtures and losing only one. Their tally of 24 points out of a possible 30 is the most that any team managed in their home leg in Season 6 and it would take some doing from another team to surpass this staggering record.
2. Bhainswal mauls U Mumba's raiders to spark a comeback
With the team trailing 20-10 and down to just three men on mat, Gujarat Fortunegiants were in dire need of a hero on the mat to spark a comeback against the table topper U Mumba at home. Cometh the hour, cometh the man as Left Cover Parvesh Bhainswal scored a Super Tackle on Siddharth Desai and followed it up with another Super Tackle on Rohit Baliyan to revive two men for his side and reduce the deficit down to just two. He completed his High 5 in under 5 minutes and gave his side much-needed momentum that helped them claw back from their 10-point hole to seal a 39-35 win over U Mumba.
3. Kashiling Adake's fantastic five-point raid
Trailing by seven points in just the 14th minute of the first half against Jaipur Pink Panthers, Bengaluru Bulls needed a moment of magic to find a way back into the contest and they needed it quick. Up stepped Kashiling Adake and delivered a five-point effort in his very first raid of the match, not only wiping the deficit to a minimal, but also reducing Jaipur Pink Panthers down to just three men. In his attempt to get a bonus point, Adake induced an ankle hold attempt from Left Corner Sandeep Kumar Dhull which drew three other defenders as they tried to bring the tall raider down. But through his sheer strength, concentration and awareness, Adake got his hand across the mat, scoring five and turning the tide completely in his team's favour. Bengaluru Bulls eventually won by 13 points, but their comeback was made possible by Adake resilient effort.
4. Naveen Kumar delivers deep into the game to win the match
With the scores level at 26-26 in the final minute of the match, Dabang Delhi K.C., with just three men on the mat, faced a Do-Or-Die scenario and giving up a tackle point here would have mostly likely resulted in defeat for Dabang Delhi K.C. But up stepped teenager Naveen Kumar, with the pressure of the world on his shoulders, pinched a bonus and strutted around the mid-line long enough to ensure that the next raid from Gujarat Fortunegiants would be the last of the match. Having put his side into the lead, Naveen Kumar initiated the Super Tackle on Sachin that would give his team two more points and give Dabang Delhi K.C. the win, handing Gujarat Fortunegiants a first ever defeat at The Arena by TransStadia.
5. Super sub Ajinkya Pawar's nine-point night against U.P. Yoddha
Heading into the match against U.P. Yoddha, Jaipur Pink Panthers had won just one of their previous seven fixtures making victory imperative for them in order to keep their Playoff hopes alive. The offence needed a spark in order to get things going against U.P. Yoddha's fearsome defence and coach Srinivas Reddy had an ace up his sleeve in the form of raider Ajinkya Pawar. The raider came off the bench to score nine raid points in 15 attempts and help his side beat U.P. Yoddha by a scoreline of 45-28.