pkl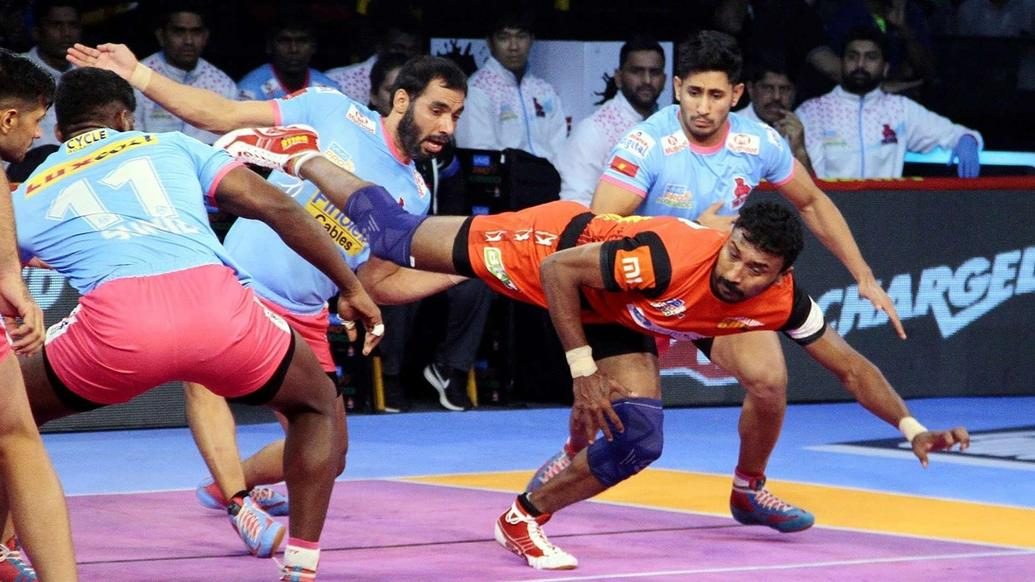 The Arena by TransStadia in Ahmedabad played host to another moment of brilliance on Sunday. A day after Vijin Thangadurai's Super Tackle stunned the Ahmedabad crowd, Kashiling Adake came up with something spectacular in the raiding department.
It was the 14th minute of the game and Jaipur Pink Panthers were in control of proceedings with a seven-point lead. They had all seven men on the mat and had successfully kept Pawan Kumar Sehrawat and Rohit Kumar quiet. Bengaluru Bulls needed a moment of magic to force their way back into the game. It was then that they decided to unleash Adake by sending him for his first raid of the game.
Adake knew he had a task on his hands. He needed to deliver, and deliver big, if his team were to wipe away the deficit. He got right down to business in the raid, striving to get a touch point. After an unsuccessful attempt at getting a touch, he managed to get a bonus point. In that moment, Sandeep Dhull sensed an opening. He was focused on Adake and his only aim was to hold Adake's right ankle and not let him get away.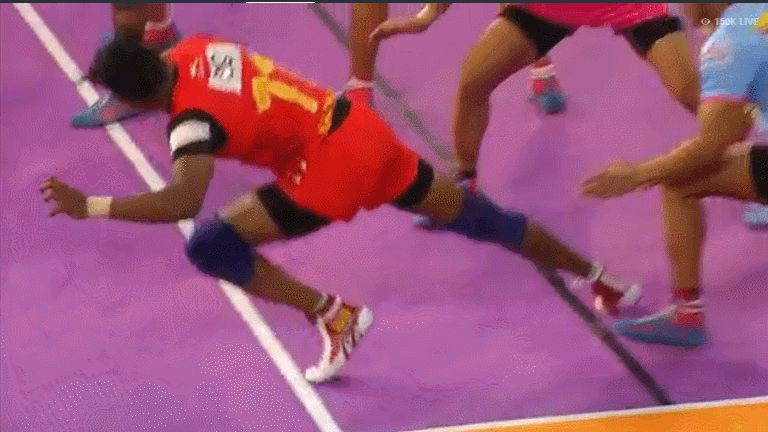 Dhull's attempted Ankle Hold stopped Adake momentarily. Cover defender Sunil Siddhgavali then joined the Left Corner to stop the raider and so did captain Anup Kumar. Right-Corner Mohit Chhillar was the final defender to join in. At that moment, it seemed as if Jaipur Pink Panthers' defence had done enough to get their man.
Adake however, stretched his hand out through the defence that had collectively surrounded him and it went over the midline just before he was pushed out of the playing area. Adake got a touch on all four players to score five points including the bonus he got earlier. This reduced Jaipur Pink Panthers to three players and eventually led to them being All-Out.
A combination of awareness, strength and composure enabled Adake to complete one of the most memorable raids of this season. He had to ensure that his left ankle generated enough force to create forward momentum towards the midline with one foot held by Dhull. In the meantime, his other foot kept wriggling in an attempt to get free from the hold. This attempt was a success and the force of the right foot being released by Dhull gave Adake the necessary push to move his body sideways and stretch his right hand over the line. He also ensured that his right hand stayed free even after a Dash from Sunil Siddhgavali so that he could get the final stretch over the line.
This raid energised Bengaluru Bulls as they came back to win by thirteen points after trailing by seven points.