pkl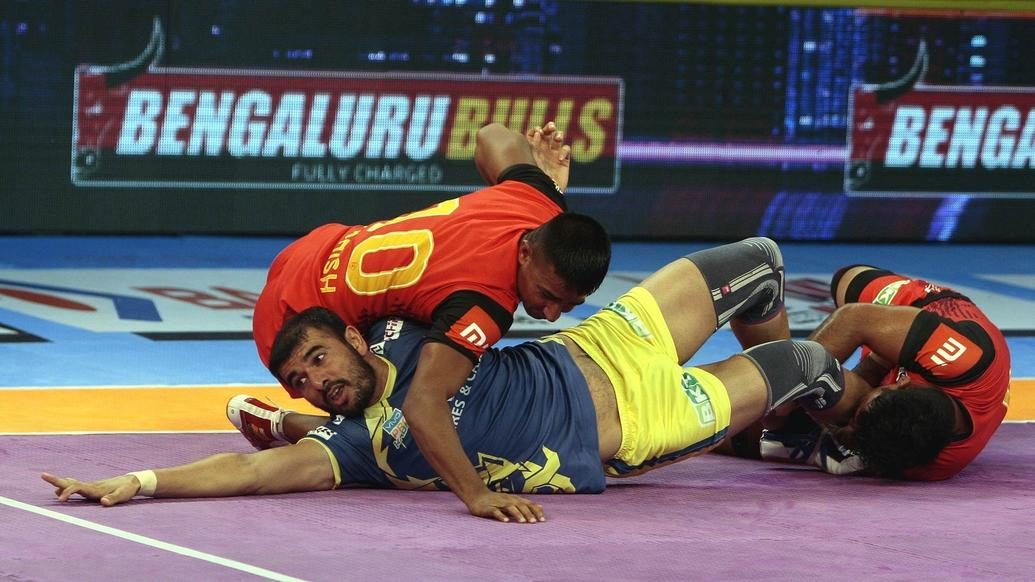 In a kabaddi match, one raid or tackle is enough to turn the entire game on its head. When Bengaluru Bulls had their backs to the wall with just two men on the mat against Tamil Thalaivas on Wednesday, it was one such occasion. Coming in to raid with the opposition on the brink of an All-Out, Ajay Thakur could have easily taken one or both defenders out and helped his team come back from 11-13 deficit to take a 15-13 lead.
On the other side of the mat, though, were two of Bengaluru Bulls' brightest young Covers, Ashish Kumar and Mahender Singh. The duo were already part of a Super Tackle earlier in the match on the same player but back then they had captain Rohit Kumar for support. In the 16th minute it was just the two of them against the mighty Thakur, a challenge that can frighten even the best of defenders.
Thakur managed to avoid Ashish Kumar's attempt at holding his thighs and thought he had reached a safe distance, but Mahender Singh was far from done with the tackle attempt. He leapt up in the air above Kumar and managed to get hold of Thakur before he could make a clean escape. Kumar's attempt had already taken away some of Thakur's momentum and taken him deep into the Bengaluru half. Singh's robust hold further reduced his pace and he ended up conceding his thighs to the Cover in an attempt to wriggle for the mid line.
The time was enough for Kumar to recover and help Singh's hold by clutching Thakur's upper body and pulling his hand away from the half line. Thakur made several valiant attempts to push his body using his core strength but the Bengaluru Bulls defensive duo had him covered. In the end Thakur conceded a Super Tackle which brought Pawan Kumar Sehrawat on the mat and the raider picked up a 5-point Super Raid to break the Thalaivas' resistance before the half-time whistle. It was the gritty Super Tackle by Kumar and Singh, though, that helped the Bulls' maintain control over the game.