pkl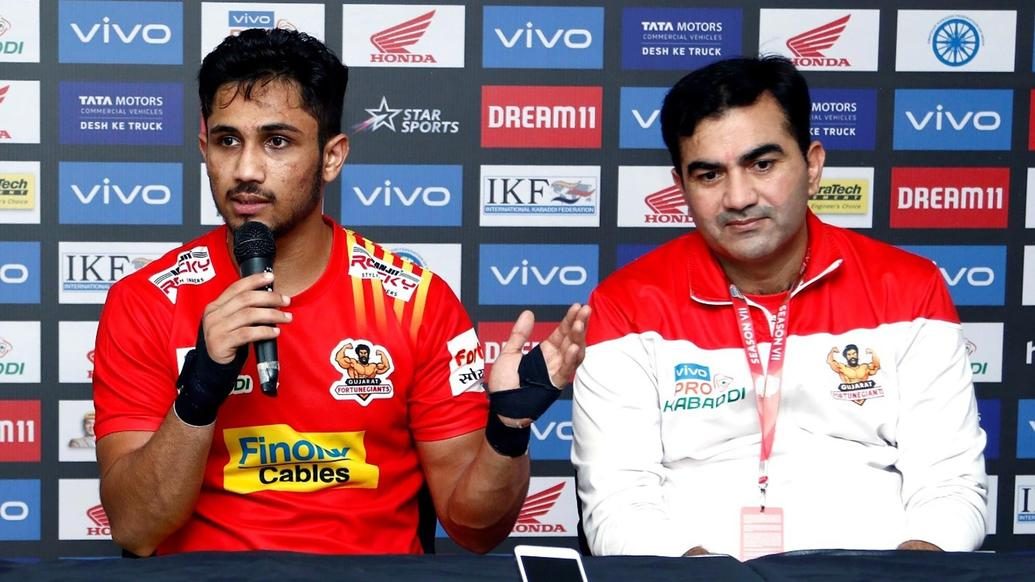 Gujarat Fortunegiants' assistant coach said that the team was eager to put their losses behind them.
Telugu Titans put up a strong defensive performance to defeat Gujarat Fortunegiants 30-24 and claim their first VIVO Pro Kabaddi Season 7 win at the EKA Arena by TransStadia in Ahmedabad on Sunday. Vishal Bhardwaj led the Telugu Titans defence with a High 5. This was Gujarat Fortunegiants' fourth loss on the trot in Season 7. At the post-match press conference, Gujarat Fortunegiants were represented by assistant coach Neer Gulia and captain Sunil Kumar while star raider Siddharth Desai, Vishal Bhardwaj, Jagdish Kumble, Gholamreza Mazandarani and captain Abozar Mohajermighani turned up for Telugu Titans. Some excerpts are below.
Gujarat Fortunegiants
Q. How is the confidence level of the team after this loss?
Neer Gulia: The confidence is not dented at all. The team will definitely make a comeback. Losing four matches is no big deal. There have been plenty of teams that have faced losses this season and we will come back from this stronger.
Q. The team started well but slowed down towards the end. What do you consider the reason for that to be?
Neer Gulia: You can't really single out any one individual after a performance like this. This is a team game. Some times a player does well and other times he doesn't. We haven't been able to come back into matches once the opponent takes a lead and we are working on improving that aspect of our performance.
Q. Tell us something about the performance of Parvesh Bhainswal.
Sunil Kumar: Parvesh Bhainswal wasn't at his best before half-time but he was exceptional in the second period. Their raiders weren't allowed too many points in the second half. If our raiders had capitalised then, we could have won this match.
Telugu Titans
Q. How would you describe today's victory against Gujarat Fortunegiants?
Gholamreza Mazandarani: I feel things are now working for the team. However, this is only one victory. We played well today because Gujarat Fortunegiants are a tough side to beat. I want to now focus on the next match against Bengal Warriors. But we have found a good stride and I am looking forward to the coming matches.
Q. Thoughts on the team.
Gholamreza Mazandarani: I think this was a good victory for us. We are going to play every match as the final now. We will need to win consistently from now on but we will try. We won't give up till the end.
Q. Your team put Gujarat Fortunegiants under some pressure from the start. What was the strategy for that?
Jagdish Kumble: Every team in VIVO Pro Kabaddi wants to do well in their home leg. Winning in the home leg gives a team a psychological advantage. We were not up to the mark in our home leg. Maybe the other teams are feeling the pressure to perform there as well. Gujarat Fortunegiants were coming into this match with three losses in their previous games and a lot of expectations. So the pressure was not on us, it was them, and we capitalised. That was our success.