pkl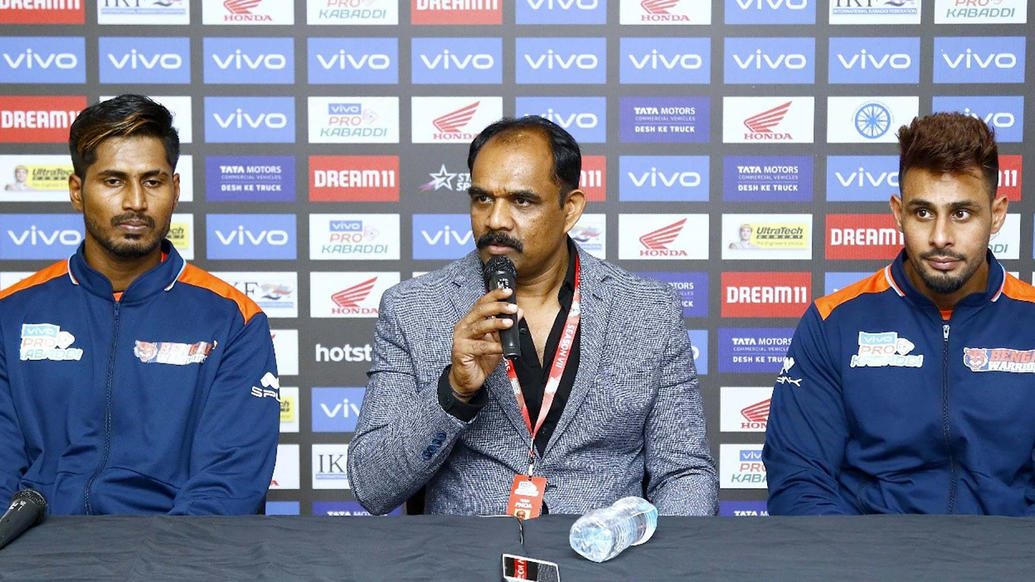 Bengal Warriors coach BC Ramesh believes the players' performances and a tactical adjustment was key to their win over Gujarat Fortunegiants.
Four Super Tackles in the second half got them close, but they weren't enough for Gujarat Fortunegiants as the Bengal Warriors ran victors by a scoreline of 28-26 at the EKA Arena by TransStadia in Ahmedabad on Wednesday. In the post-match press conference, coach BC Ramesh, captain Maninder Singh and raider K. Prapanjan took questions for Bengal Warriors, while coach Manpreet Singh and skipper Sunil Kumar represented the Gujarat Fortunegiants.
Bengal Warriors
Q. Thoughts on the game?
BC Ramesh: This victory was of utmost importance. We had a substantial lead and we thought we could win by a good margin but in the end it was just a couple of points. But, this was a still a big win for the team. And if we win our upcoming game, there's a good chance we'll be at or around the top of the league.
Q. Thoughts on the defence?
BC Ramesh: Today they tried to target our Right Cover, Vijin Thangadurai, who's short on game time. But we adapted so well positionally that they were unable to execute their plan.
Q. Thoughts on your upcoming game against Dabang Delhi K.C.?
BC Ramesh: Dabang Delhi K.C. is an excellent team. If you look at the results, they are among the best teams in the league. We'll have to raid well as well as defend well in that game if we want to beat them. We have already learned a lot about ourselves for the matches so far and I'm confident we can do well. Our raiding department has been phenomenal and I'm sure they'll do well against Dabang Delhi K.C. as well.
Q. The league has seen a trend of defenders doing well. Thoughts on that?
K. Prapanjan: Obviously, the defenders have been brilliant this year. Even today, Gujarat Fortunegiants made those Super Tackles at the end to get the game close. The teams are studying raiders and it's important that we do that as well. Gujarat Fortunegiants
Q. Thoughts on your team's defence?
Manpreet Singh: Our gameplan worked to perfection in the final few minutes and I'm happy how the team performed and how we got ourselves close to winning. Had we been slightly more patient in that Buzzer Raid, the match would've had a different outcome.
Q. What would you attribute the loss to?
Manpreet Singh: Honestly, I don't feel we have a weakness or that a certain department cost us the game. All we need is a win to get back on track. We were beaten by an excellent team that is strong in every department. We are used to winning, as we should be, but right now we are in a tough situation. All it takes is one big performance.
Q. How do you believe it influences the team when the captain is playing so well?
Sunil Kumar: Personally, I feel that the entire team played well. I made the tackles but they supported them to ensure we get those valuable points.