pkl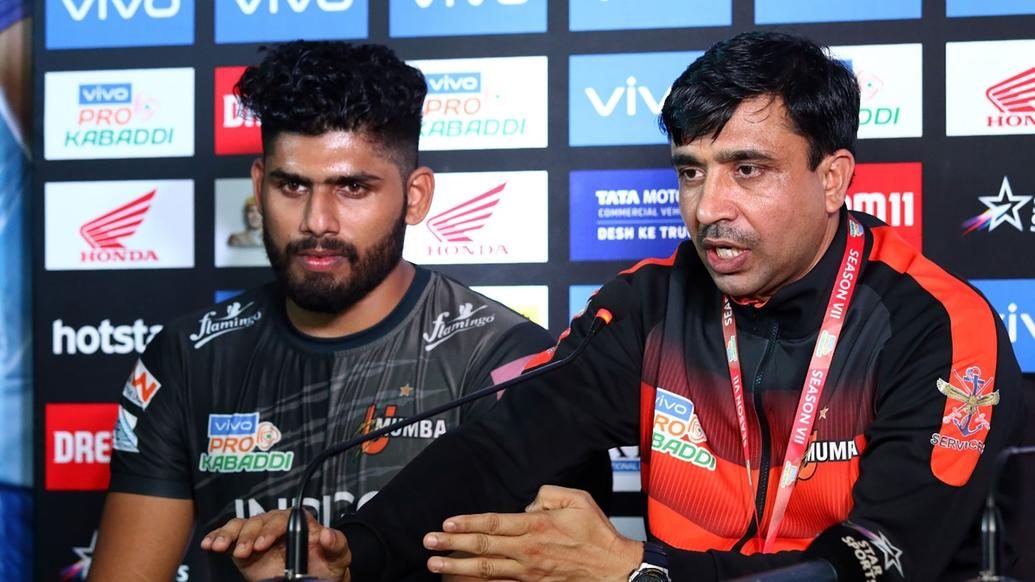 U Mumba's assistant coach said that he was pleased to see the team's strongest link perform to their potential.
U Mumba's tight second-half display saw them defeat home team Tamil Thalaivas 29-24 on Friday to claim their fifth win of the season. Athul MS played a starring role for U Mumba with 7 raid points to his name. At the post-match press conference, Athul MS, Fazel Atrachali and assistant coach Upendra Singh took questions for U Mumba while Tamil Thalaivas were represented by E. Bhaskaran and Ajay Thakur. Here are some excerpts.
U Mumba
Q. Thoughts on the match?
Upendra Singh: We are very happy that the strongest link of our team – the defence – has performed well today. After a slow start the defence really caught on. Alongside the defenders, Athul MS also shone for our team. If he can keep this up in the coming matches then it can really benefit our team.
Q. Fazel, how happy are you with the team's and your personal performance?
Fazel Atrachali: The most important thing was that we win today. My performance was not very important for me. I'm happy that we won this match and with the team's overall performance.
Q. Tell us about Sandeep Narwal's performance as a raider today.
Upendra Singh: We are definitely looking forward to him raiding more often but more importantly it is essential for at least one Corner to be in. We only send him to raid in certain situation otherwise even he could feel the pressure thinking that if he is caught it could weaken the defence. Today he did not have that pressure and thus he raided freely. When he has the pressure of spearheading the defence he might not be able to raid with so much efficiency.
Tamil Thalaivas
Q. Thoughts on the home leg?
E. Bhaskaran: To be honest, our boys played well in every match. It wasn't that we were unprepared or anything. We tried very hard too. But some ups and downs at crucial times always let us down. But we have some momentum, and we have a chance to do well going forward. That's what we want to focus on. We are still not able to finish off close matches in our favour. But we aren't trailing by much in the standings. We have more matches in hand. We don't want to focus too far into the future from now. We want to improve on all our mistakes and ensure we win in the coming match itself.
Q. What was the strategy behind sending Rahul Chaudhari for most of the raids in the closing minutes?
E. Bhaskaran: Ajay Thakur is the captain and he has an idea who is ideal for scoring at a certain point. He himself is also of an excellent calibre. But sometimes you have to take tough decisions for the team. Ajay knows that Rahul Chaudhari has the ability to take points at important junctures. So these are decisions taken on the mat. They are based on the situation and not on the quality of player alone.