pkl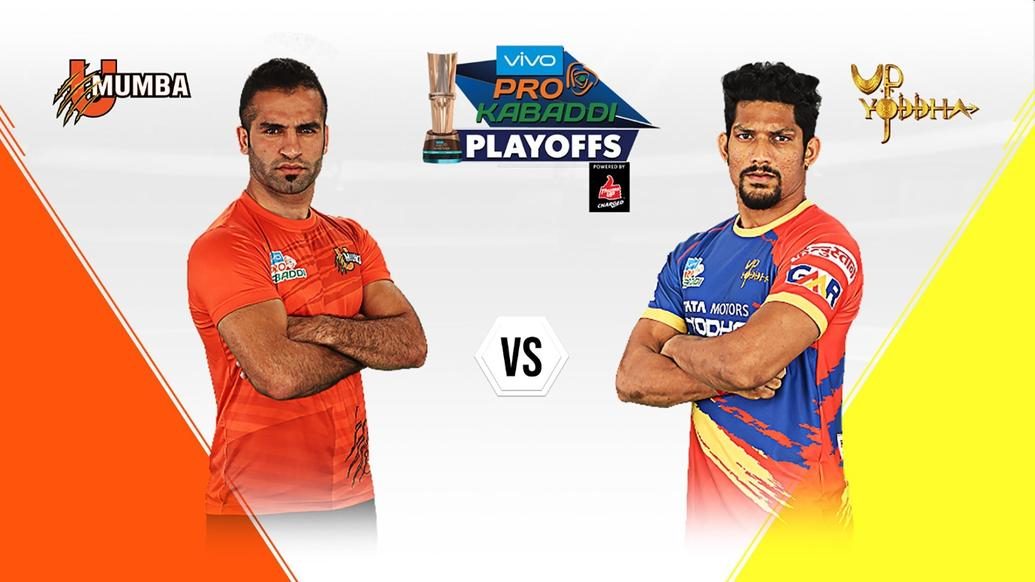 U.P. Yoddha will face a stern challenge in Eliminator 1 as their raiding trio takes on the defensively sound U Mumba.
The league stages of VIVO Pro Kabaddi have finally come to a close and, on Sunday, the Rajiv Gandhi Indoor Stadium in Kochi will witness the first match of the Playoffs as U.P. Yoddha take on U Mumba in Eliminator 1. Both teams took contrasting routes to the Playoffs with U Mumba being the first team to qualify from Zone A while U.P. Yoddha went on a six-match unbeaten run in their last six games to seal the third Playoffs spot from Zone B in the final league stage fixture of the campaign.
Eliminator 1: U Mumba vs U.P. Yoddha
Head-to-head: U Mumba 2 – 1 U.P. Yoddha
U Mumba
Played: 22
Won: 15
Tied: 2
Lost: 5
Win rate: 68.18%
Best Raider: Siddharth Desai
Best Defender: Fazel Atrachali
U Mumba have been led in Season 6 by a strong defence unit with Fazel Atrachali at its helm and a varied offence which includes one of the season's highest raid-point-scorers, Siddharth Desai. Their defence has amassed a total of 278 tackle points at an average of 12.64 per game, which counts for more than one-third of the total points the team has scored in the season. They are also the team to have scored the most total points and inflicted the most All-Outs in the league fixtures. When they take on U.P. Yoddha, U Mumba will rely heavily on Siddharth Desai's ability to target Right Corner Nitesh Kumar, who has been U.P. Yoddha's most successful defender by far this season, especially in Super Tackle situations.
U.P. Yoddha
Played: 22
Won: 8
Tied: 4
Lost: 10
Win rate: 36.36%
Best Raider: Shrikant Jadhav
Best Defender: Nitesh Kumar
U.P. Yoddha have shown what a force to reckon with they can be on their day in the closing stages of the league fixtures by scoring 28 points out of a possible 30 in their last 6 matches to come from behind and grab the final Playoffs spot from Zone B. A trio of excellent raiders in their ranks, two from the left in Prashanth Kumar Rai and Shrikant Jadhav and one from the right in Rishank Devadiga, have formed a vital partnership in Season 6 to bring the team to this stage. They also have the most successful defender at the end of the league-stage in their team – Nitesh Kumar. A contest between Atrachali in the Left Corner and right raider Devadiga, who has peaked at the right time, could prove vital to U.P. Yoddha's chances of going ahead.