pkl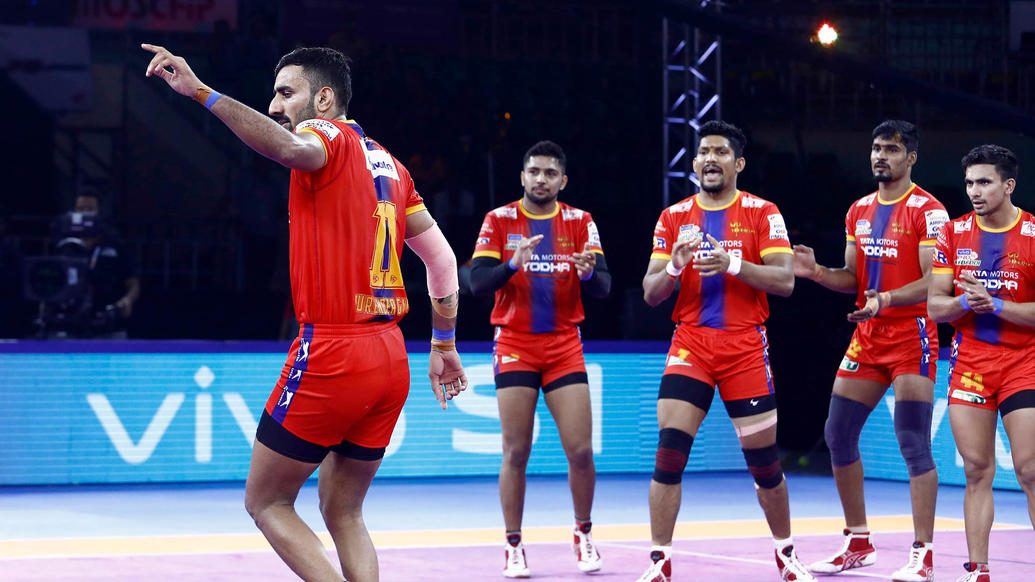 U.P. Yoddha outplayed Jaipur Pink Panthers in all departments to register a 31-24 victory.
A strong performance by U.P. Yoddha, where they outscored Jaipur Pink Panthers in raiding and defence, saw them register a 31-24 victory at the Jawaharlal Nehru Indoor Stadium in Chennai on Monday. Surender Gill and Shrikant Jadhav contributed 14 of U.P. Yoddha's 18 raid points while Left Corner Sumit once again led the defence with 4 tackle points.
The match remained a tightly contested one right from the start as the raiders from both sides were relentless and the game remained tied at 5-5 eight minutes in. Sumit then scored the first tackle point of the match in the 10th minute to help U.P. Yoddha slip ahead by two points and reduce Jaipur Pink Panthers to three men on the mat.
Vishal's Super Tackle on Shrikant Jadhav evened the scores once again. The defender then tackled Surender Gill before Nitin Rawal made an impression on both sides of the mat with a successful bonus attempt followed by another Super Tackle on Jadhav.
Once Gill came back on the mat, though, he made an immediate impact with a tackle on Rawal and a 2-point raid that sent both Jaipur Pink Panthers' Corners – Sandeep Dhull and Amit Hooda - to the bench. That raid helped U.P. Yoddha inflict the All-Out and take a four-point lead in the match. They extended that lead to 6 points at half time as the scores favoured their side 16-10 going into the break.
Dhull's tackle on Rishank Devadiga followed by Deepak Hooda's Super Raid gave Jaipur Pink Panthers a flying start in the second half. But Mohsen Maghsoudlou came off the bench to effect a Super Tackle and helped U.P. Yoddha retain their lead of six points.
Jadhav then made his presence felt with a two-point raid followed by another successful raid which sent Rawal to the bench. Captain Nitesh Kumar also contributed by tackling Sachin Narwal and Deepak Hooda in quick succession. Surender Gill's two-point raid with less than two minutes left to play put the game firmly in U.P. Yoddha's favour.
Nilesh Salunke ensured that Jaipur Pink Panthers got a point from the contest with a bonus in the final raid for his side as they lost the match by seven points.
Top Performers:
U.P. Yoddha –
Best Raider – Surender Gill (7 Raid Points)
Best Defender – Sumit (4 Tackle Points)
Jaipur Pink Panthers –
Best Raider – Deepak Hooda (9 Raid Points)
Best Defender – Vishal (4 Tackle Points)