pkl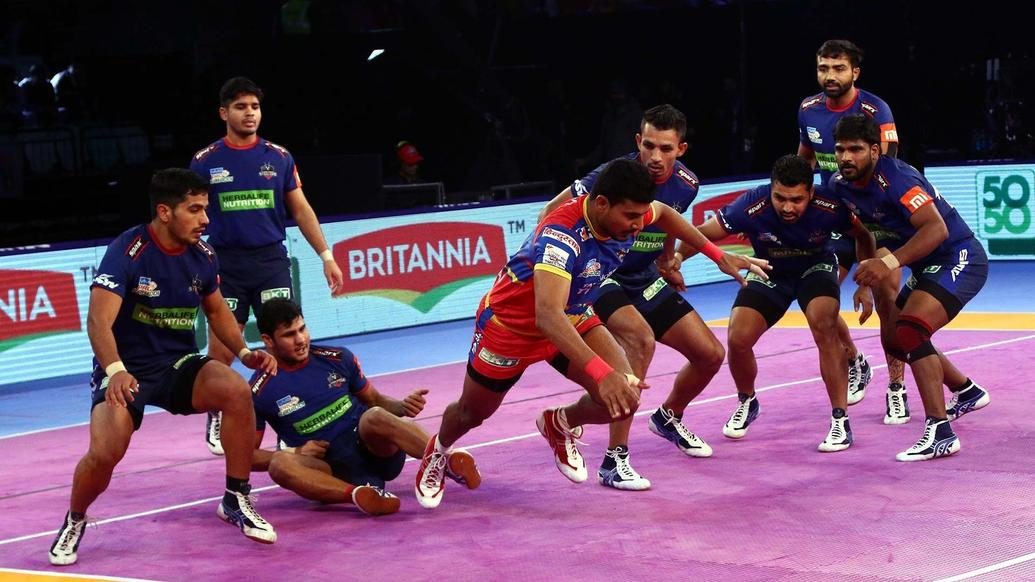 U.P. Yoddha came up with an inspired second-half performance to beat Haryana Steelers 30-29 in a thriller at the Thyagaraj Sports Complex in Delhi on Thursday. This was U.P. Yoddha's first victory in ten games and the result put Haryana Steelers' campaign on a knife's edge as they will now have to depend on the results of the other teams' fixture in order to reach a Playoffs spot.
Haryana Steelers and U.P. Yoddha started the encounter evenly poised and exchanged points for the first few minutes of the game. The first multi-point raid of the game came in the 5th minute as Vikash Khandola got touches on Narender and Sachin Kumar to put Haryana Steelers 6-3 up. The teams then began playing on the Do-or-Die raids for most of the half, preferring to bank on their defensive prowess.
Khandola followed the two-point raid up with a Super Raid in the 13th minute as he got touches on Nitesh Kumar, Narender and Sachin Kumar to increase Haryana Steelers' lead to six points. The first tackle point of an offence-heavy half came in the 14th minute as Jeeva Kumar successfully attempted the Dash on Khandola.
Check out the photos from the match here.
The teams then scored four more tackle points before the end of the half. Sachin Kumar reduced Haryana Steelers to three men on the mat to reduce the deficit to two points before Khandola ended the half with a bonus as Haryana Steelers led 15-12 going into the interval.
U.P. Yoddha started the second half on a high as Sachin Kumar first got touches on Kuldeep Singh and Sudhanshu Tyagi with the first raid of the half before a Jeeva Kumar Block on Khandola helped U.P. Yoddha inflict their first All-Out of the match in the 2nd minute. U.P. Yoddha got their first lead of the match courtesy the All-Out as they went up 17-16.
However, Monu Goyat put Haryana Steelers back in the lead as he got touches on Jeeva Kumar and Narender in addition to a bonus to record his first Super Raid of the game. Goyat reached his Super 10 in the 9th minute with Haryana Steelers leading by a point. The two teams then went toe-to-toe, trading blows with each other as they exchanged points raid after raid.
Visit the matchcentre to relive the contest here.
With the teams tied at 26-26, U.P. Yoddha opened up a three-point lead before Haryana Steelers fought hard to bring the deficit back down to one point. However, a double Ankle Hold by Nitesh Kumar on Naveen in the final minute gave U.P. Yoddha an insurmountable two-point lead which ensured them victory.
Top Performers
U.P. Yoddha:
Best Raider: Prashanth Kumar Rai (8 raid points)
Best Defender: Nitesh Kumar (4 tackle points)
Haryana Steelers
Best Raider: Monu Goyat (11 raid points)
Best Defender: Kuldeep Singh (3 tackle points)