pkl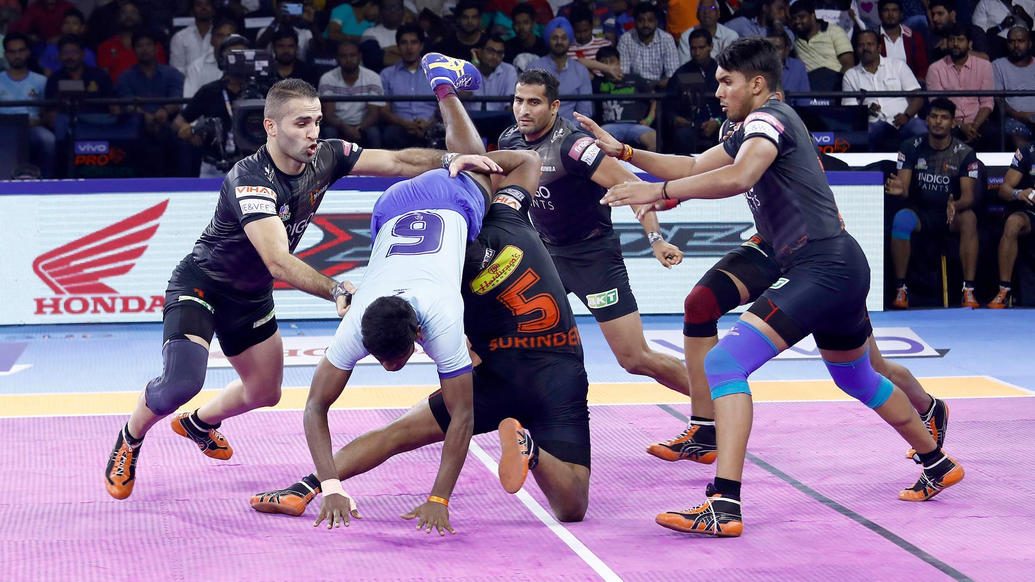 Tamil Thalaivas finished their home leg winless after a 24-29 loss to U Mumba in their final match at Chennai.
U Mumba ensured that Tamil Thalaivas finished their vivo Pro Kabaddi Season 7 home leg without a win by registering a 29-24 victory over the hosts at the Jawaharlal Nehru Indoor Stadium in Chennai on Friday. Athul MS was the leading scorer in the match with seven raid points and he played a big role in U Mumba's second-half fightback.
Tamil Thalaivas began the match positively and raced into a 4-1 lead after four minutes with 'Showman' Rahul Chaudhari scoring three raid points, including a two-point raid. U Mumba gradually grew into the contest with some strong tackling and tied the score at 5-5 after the opening 10 minutes. However, Tamil Thalaivas soon reestablished their lead thanks to a couple of successive raids from 'Iceman' Ajay Thakur.
He received support from Chaudhari, who picked up another two-point raid to extend the home side's lead to 9-6. With halftime approaching, it looked like Tamil Thalaivas would inflict an All-Out. But a Super Tackle by Harendra Kumar on Chaudhari denied Tamil Thalaivas the All-Out and helped U Mumba reduce their deficit to 10-12 at the break.
V. Ajith Kumar began the second half with a successful raid for the hosts only for Sandeep Narwal to respond with a two-point raid for U Mumba. The visitors moved into the lead five minutes into the second period after a two-point raid by Athul MS made it 15-14 in U Mumba's favour. Things would get better for U Mumba soon after courtesy of another two-point raid by Athul that enforced an All-Out on Tamil Thalaivas.
With momentum now on their side, U Mumba looked to build on their lead. However, Tamil Thalaivas weren't prepared to let U Mumba dictate terms and clawed their way back into the contest with some decisive defending and swift raiding. A successful Do-or-Die raid by Chaudhari with a little less than six minutes to play saw Tamil Thalaivas cut U Mumba's lead to just three points.
A successful raid by Sandeep Narwal as well as successful tackles by Rajaguru Subramanian and Harendra soon after halted Tamil Thalaivas' momentum. The hosts fought valiantly till the end, but U Mumba kept their discipline and defended resolutely to see off Tamil Thalaivas' charge for a five-point win.
Top Performers:
Tamil Thalaivas –
Best Raider – Athul MS (7 Raid Points)
Best Defender – Harendra Kumar (3 Tackle Points)
U Mumba –
Best Raider – Rahul Chaudhari (6 Raid Points)
Best Defender – Mohit Chhillar (3 Tackle Points)