pkl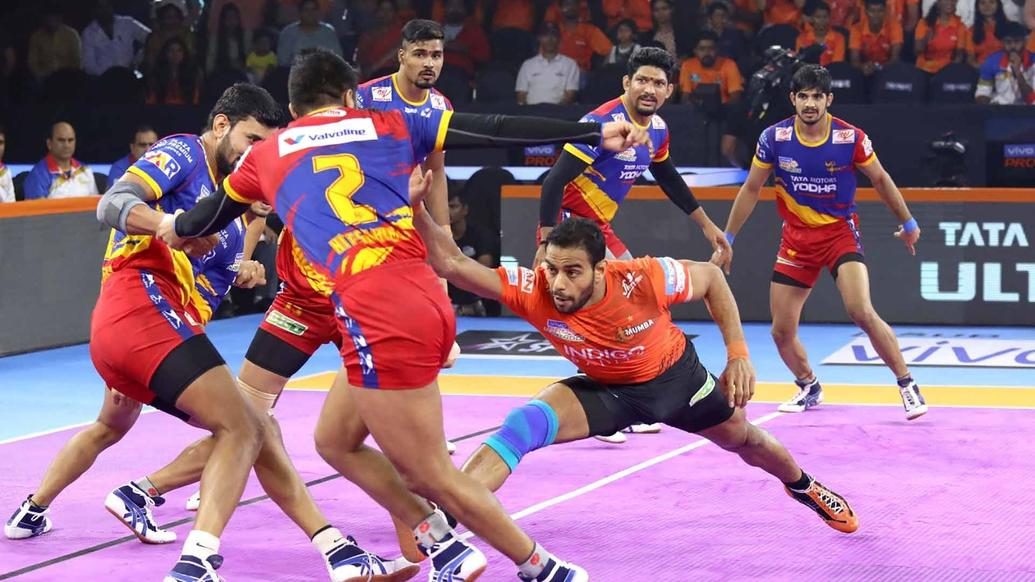 Some smart play in the closing seconds helped U Mumba score a 39-36 victory over U.P. Yoddha.
U Mumba fought through an early All-Out and a spirited second-half comeback effort by U.P. Yoddha to register a 39-36 victory at the Shree Shiv Chhatrapati Sports Complex, Mahalunge, Balewadi in Pune on Wednesday. Abhishek Singh brought up another Super 10 and put in a vital Super Raid in the second half which turned the match in U Mumba's favour.
Shrikant Jadhav and Rishank Devadiga helped U.P. Yoddha open up a three-point lead early in the match before Surender Gill and the U.P. Yoddha defence increased that lead to five by reducing U Mumba down to two men on the mat.
Gill's two-point raid helped U.P. Yoddha inflict the first All-Out of the match in the 8th minute, as they took control of the early proceedings by helping themselves to an 11-2 lead. However, U Mumba found momentum when they took the mat after that and scored four unanswered points, sending Devadiga and Jadhav to the bench in the process.
Ashu Singh's Super Tackle and Gill's successful raid helped U.P. Yoddha keep the All-Out at bay. But once Surinder Singh sent Gill to the bench, it took U Mumba only two raids to inflict the All-Out and reduce the score difference to just 2. Jadhav and Athul MS added to their team's scores from there as U.P. Yoddha took a small 16-15 lead into halftime.
The score difference remained constant at the beginning of the second period as Jadhav's successful raids for U.P. Yoddha were matched by Abhishek Singh and Arjun Deshwal's raiding effort for U Mumba. Deshwal's two-point raid helped U Mumba finally go ahead of U.P. Yoddha in the 4th minute of the half.
Reduced to three, U.P. Yoddha struck back with a Super Tackle on Deshwal that started a run of five straight points that reduced U Mumba to three on the mat instead as the third quarter ended. But Surinder came to his team's rescue once again with a Super Tackle on Gill followed by another successful tackle on Jadhav which brought up his High 5 and made it a two-point game.
Abhishek then put in a Super Raid to take U Mumba ahead, leaving only Devadiga on the mat, and the raider was tackled down in his next raid itself as U Mumba inflicted the All-Out, taking a three-point lead with five minutes still to be played. Deshwal and Abhishek helped their team maintain that lead before 'Sultan' Fazel Atrachali's brutal Block stopped Jadhav in his tracks and gave U Mumba a four-point lead to protect.
Abhishek brought up his Super 10 in U Mumba's next raid by scoring two points and slowly bringing the game under U Mumba's control with the scores favouring them 37-31. But Devadiga's Super Raid, followed by Jadhav's two-point raid, made it a one-point game once again.
However, Abhishek scored in a vital Do-or-Die raid before the final whistle and Sandeep Narwal's Diving Ankle Hold kept Jadhav from scoring in his final raid of the match as U Mumba held on till the end to seal a three-point victory.
Top Performers:
U Mumba
Best Raider – Abhishek Singh (11 Raid Points)
Best Defender – Surinder Singh (6 Tackle Points)
U.P. Yoddha
Best Raider – Rishank Devadiga (9 Raid Points)
Best Defender – Ashu Singh (4 Tackle Points)