pkl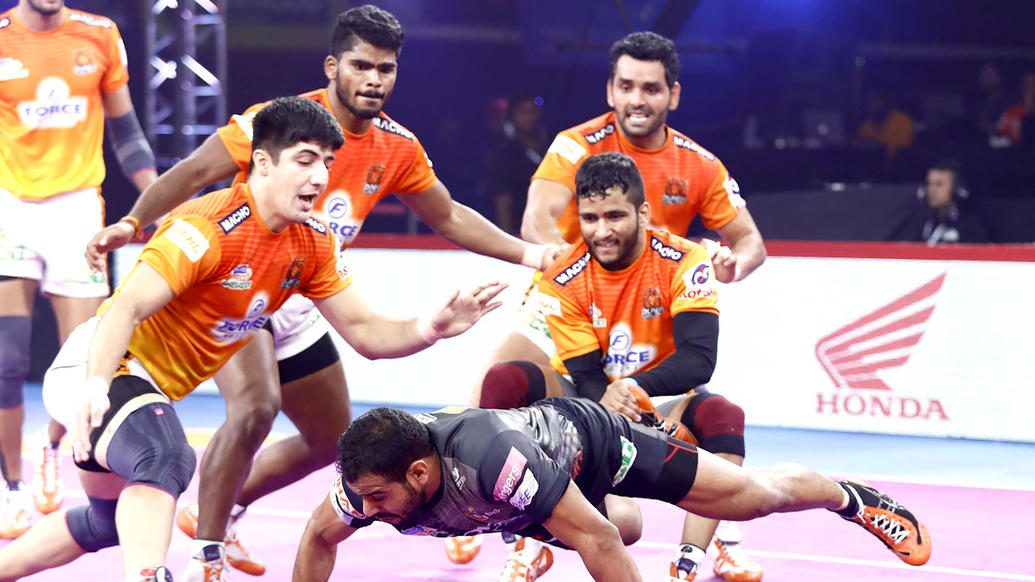 U Mumba produced a strong finish in match 75 of vivo Pro Kabaddi Season 7 to claim a 33-33 tie in the Maharashtra derby.
U Mumba came back strongly in the closing minutes of the Maharashtra derby to claim three points after a 33-33 tie at the Sree Kanteerava Stadium in Bengaluru on Thursday. Abhishek Singh scored a Super 10 for U Mumba, while Manjeet picked up six raid points and four tackle points.
U Mumba enjoyed the better start and had reduced Puneri Paltan to just three men on court, while also taking a 5-2 lead by the sixth minute. A Super Tackle by Manjeet cut their lead to 5-4 but Puneri Paltan couldn't withstand U Mumba's pressure for too long and eventually succumbed to an All-Out in the ninth minute.
Both sets of defences began to dominate after the All-Out, however, U Mumba maintained their six-point advantage heading into the final four minutes of the half. Puneri Paltan though finished the half stronger after a successful Pankaj Mohite raid as well as a couple of successful tackles from Balasaheb Jadhav and Hadi Tajik. Even though U Mumba had taken a 16-12 lead into the break, Puneri Paltan had reduced them to five men on court and were playing with confidence.
The second period began with Mohite sending Sandeep Narwal to the bench following a well-executed Dubki. Mohite then intelligently drew three U Mumba defenders into the lobby without any touch on them to reduce the Season 2 champions to two men on the mat. Puneri Paltan capitalized on Mohite's intelligent play soon after by inflicting an All-Out in the 26th minute to level things up at 20-20.
Abhishek Singh looked to take the game by the scruff of the neck after the All-Out and helped pick up four consecutive points for U Mumba while raiding. A crunching tackle on Mohite by 'Sultan' Fazel Atrachali left Puneri Paltan with two men on court as U Mumba neared inflicting another All-Out. However, a Super Tackle by Shubham Shinde and a Super Raid by Manjeet turned the tables and gave Puneri Paltan a 26-25 advantage.
They then drove home their advantage by enforcing another All-Out on U Mumba in the 35th minute to extend their lead to 32-26. The last five minutes of the encounter saw Abhishek rally again and his efforts in attack cut Puneri Paltan's lead to two points with less than two minutes left to play. In the end, a successful tackle by Atrachali narrowed the deficit to one point with 28 seconds left and Abhishek got that point in U Mumba's last raid as the teams shared the spoils.
Top Performers:
Puneri Paltan –
Best Raider – Manjeet (6 Raid Points)
Best Defender – Manjeet (4 Tackle Points)
U Mumba –
Best Raider – Abhishek Singh (11 Raid Points)
Best Defender – Sandeep Narwal (4 Tackle Points)