pkl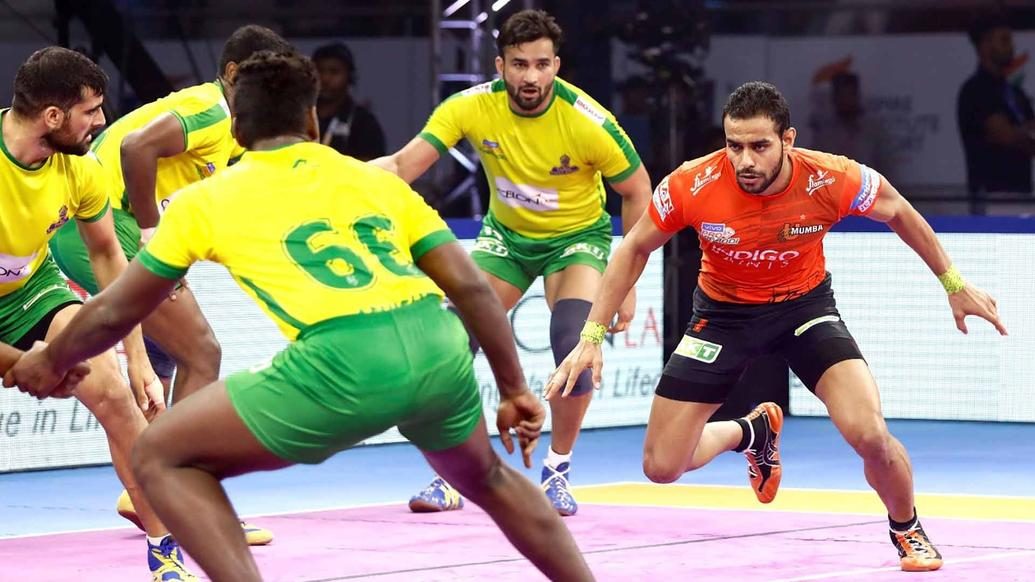 Their 36-32 victory leaves U Mumba just a win away from confirming their spot in the Top 6.
A Super 10 from raider Abhishek Singh and some late heroics from all-rounder Sandeep Narwal ensured U Mumba a 36-32 victory over Tamil Thalaivas at the Tau Devilal Sports Complex in Panchkula on Monday. A victory in one of their remaining three matches will now see U Mumba confirm their spot in the vivo Pro Kabaddi Season 7 playoffs.
Neither team could seize the advantage after the opening exchanges, as the raiders on both sides found success and kept the score at parity. Two tackle points from M. Abishek reduced U Mumba down to three men, however, a technical Super Tackle and a two-point raid from Athul MS seemed to have turned the tide in his team's favour.
After V Ajith Kumar and Ran Singh helped level the scores, U Mumba upped the ante through Abhishek Singh, who scored a point each in three successive raids, before 'Sultan' Fazel Atrachali scored the team's first tackle point of the night. Abhishek added another touch point to his tally in the penultimate minute and helped U Mumba reduce Tamil Thalaivas down to three on the mat and take a 15-11 lead into the half-time break.
In the very first raid of the second half, Abhishek extended U Mumba's advantage to five, but Ajith scored a point each in back-to-back raids to ensure that Tamil Thalaivas stay within touch. However, Athul MS' touch point followed by Harendra Kumar's tackle on Ajith broke Tamil Thalaivas' resistance as U Mumba inflicted the game's first All Out to take a 21-13 lead. U Mumba matched Tamil Thalaivas point-for-point over the next 10 minutes to ensure that they maintain their lead of eight on the scoreboard.
Abhishek and Ajith scored points consistently for their respective sides, but, while the former was successful in scoring bonus points, the Tamil Thalaivas raider picked up touch points to give his side the numerical advantage on the mat. Trailing by six, Tamil Thalaivas were closing in on an All Out that would have seen them close the gap to just two, however, substitute Mohit Baliyan and Sandeep Narwal pinned down to Ajith to push their team's lead back up to eight.
Tamil Thalaivas' defence finally managed to tackle Abhishek and revive Ajith who quickly picked a touch point to leave U Mumba with just Sandeep Narwal on the mat. The all-rounder, however, showed immense grit and returned with a raid point three successive times to ensure U Mumba kept the All Out at bay. Tamil Thalaivas were finally able to inflict it in the final raid of the match, but U Mumba had done enough to secure the win.
Top Performers:
U Mumba
Top Raider – Abhishek Singh (10 Raid Points)
Top Defender – Fazel Atrachali (3 Tackle Points)
Tamil Thalaivas
Top Raider – V Ajith Kumar (16 Raid Points)
Top Defender – M. Abishek (3 Tackle Points)