pkl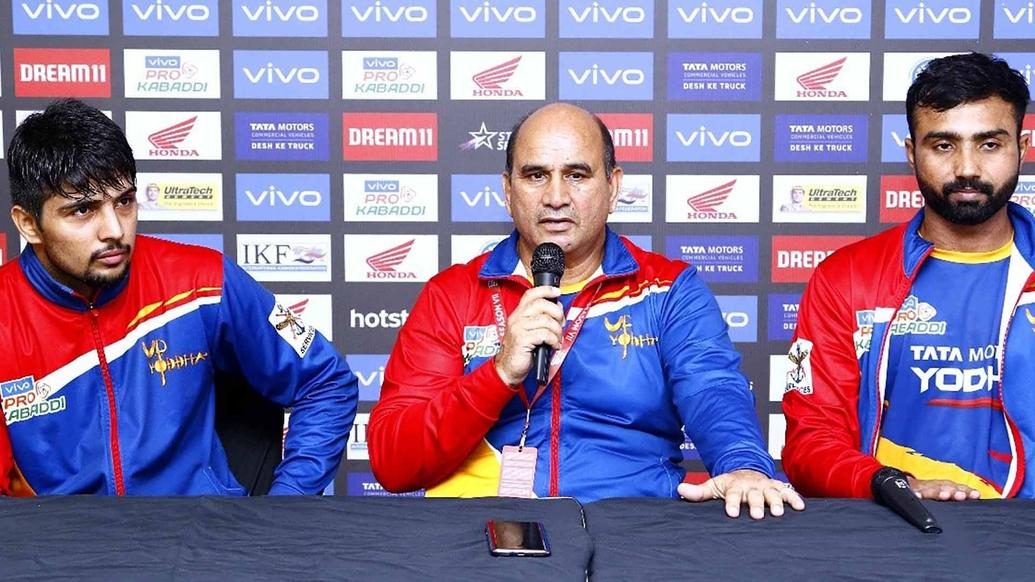 U.P. Yoddha's assistant coach also felt that Sumit's inclusion added more balance to the side.
A disciplined all-round display helped U.P. Yoddha defeat Bengaluru Bulls by a narrow 35-33 margin at the EKA Arena by TransStadia in Ahmedabad on Monday. Raider Monu Goyat, assistant coach Arjun Singh and captain Nitesh Kumar addressed the media on behalf of U.P. Yoddha at the post-match press conference. Here are some excerpts.
U.P. Yoddha
Q. How does it feel after such a hard-fought victory?
Arjun Singh: This victory feels really good, particularly since it was against such a top team, which has so many stars in its ranks. They even had the highest scorer of this season so far, Pawan Sehrawat. So this victory is very satisfying.
Q. Both your raider - Shrikant Jadhav and Monu Goyat - performed well. What are your thoughts on them?
Nitesh Kumar: We needed a victory in this match and the raiders delivered. They were also well supported by the defenders, which was good to see.
Q. Tell us about Sumit's performance.
Arjun Singh: Sumit is a young talent. I told him to not worry about winning or losing and just play his natural game. It doesn't matter who wins or lose. What matters is that he showcases what he has on the mat and he performed accordingly. He played fearlessly and lent our team a good balance.
Q. What is the reason for Rishank Devadiga not being in the playing seven?
Arjun Singh: If we would have played our three main raiders it might have become predictable. We wanted to keep some amount of suspense when it comes to our playing seven. That is why we brought a young raider into the mix and went with only two of our big names.
Q. Good performance today, Monu. Thoughts on your performance?
Monu Goyat: It's a good feeling to perform so well. Both teams were playing a little slow throughout the game. Bengaluru Bulls have a good defence so we had to make sure that we don't concede a tackle point easily since that would allow them to get more momentum on their side.