pkl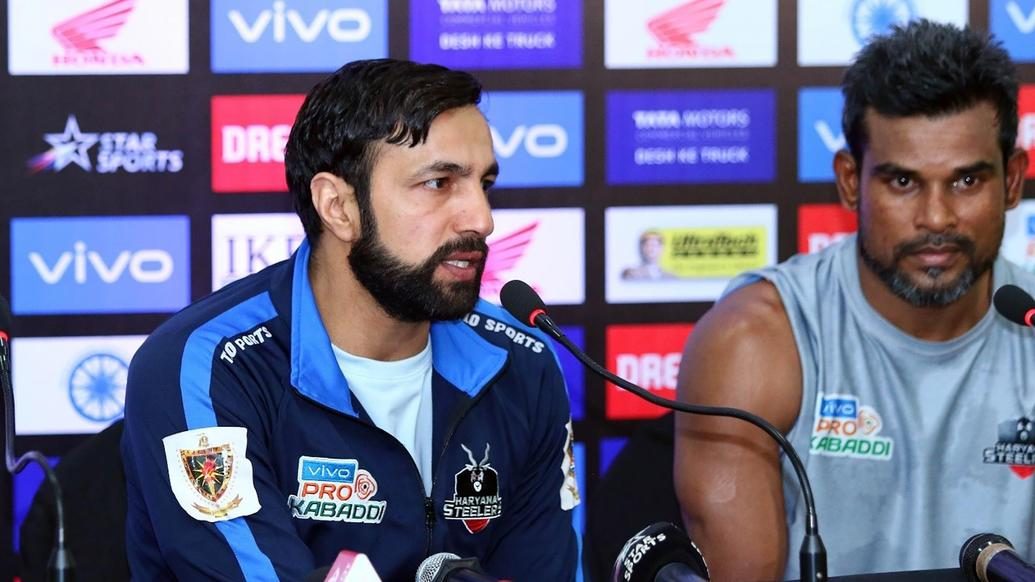 Following his team's impressive win over Patna Pirates, coach Rakesh Kumar said that his Haryana Steelers team can do better.
A Super 10 from Vikash Kandola and an outstanding effort by the defence helped Haryana Steelers beat Patna Pirates by a scoreline of 35-26 at the Patliputra Indoor Stadium in Patna on Wednesday. In the post-match press conference coach Rakesh Kumar, captain Dharmaraj Cheralathan and raider Vikash Kandola took questions for Haryana Steelers while Patna Pirates were represented by coach Ram Mehar Singh and captain Pardeep Narwal.
Haryana Steelers
Q. Thoughts on the victory?
Rakesh Kumar: It's good that we beat an excellent team, but I'm not going to lie and therefore I will admit that there's room for improvement. We could have negotiated with the final 10 minutes of the game in a better fashion. But, the biggest takeaway for me is that it was a total team effort today. No solo efforts. All tackles were well-timed and well executed. And to me, that's the biggest positive. But, there is always room for improvement.
Q. Thoughts on your upcoming game against Bengaluru Bulls?
Rakesh Kumar: An excellent team that's in scintillating form. It's very important that we prepare well to stop them. Keeping Pawan Sehrawat out is going to be the key for us. If we can keep him on the bench, we'd have a good chance in that game.
Q. Vikash, thoughts on your and the team's performance?
Vikash Kandola: The aim is to improve with every passing game. My return to the team has added some versatility to the raiding unit and that has been crucial to our performances over the past two games. However, despite playing well, we can definitely strive to improve on certain aspects and play even better in the upcoming games.
Patna Pirates
Q. Thoughts on the performance?
Ram Mehar Singh: Over the past three games, we could have been better on offence and today we could have been better in defence. We had them down to three with the scores within touching distance with just over four minutes left, but the Super Tackle there affected our chances of a comeback.
Q. Did the team look a little bit under pressure?
Ram Mehar Singh: Every game in this league brings pressure. But the points that we gave at crucial junctures definitely invited more pressure.
Q. Next match against U.P. Yoddha. A strong defensive unit. How are you looking forward to the challenge?
Ram Mehar Singh: Our raiders will definitely step up and be ready for the challenge. Obviously, if Pardeep fires, the rest of the team follows suit.
Q. Thoughts on the 900 point achievement?
Pardeep Narwal: I'm extremely pleased with that achievement. And I just want to continue to keep doing well for the team.