pkl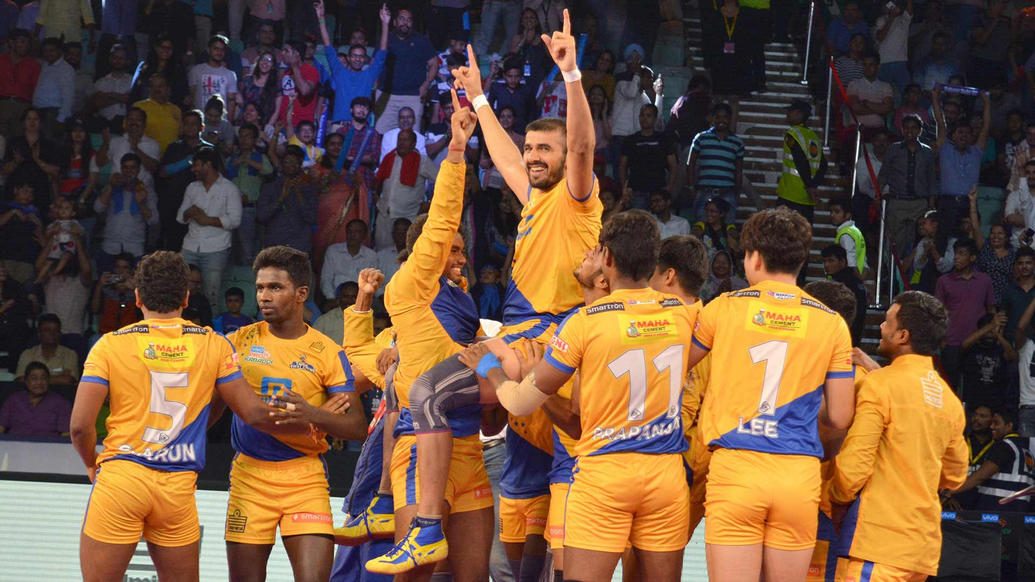 Ajay Thakur revels in his captaincy duties and is happy the team has got its confidence back after his last-second match-winning raid.
Super Sunday in New Delhi gifted kabaddi fans two contrasting VIVO Pro Kabaddi Season 5 encounters. The first match of the evening went down to the wire with Tamil Thalaivas managing to snatch the match away right under Bengal Warriors' nose in the last second to win 33-32. And then in the second encounter of the evening, Haryana Steelers totally inundated home side Dabang Delhi K.C. 42-24.
Ajay Thakur was instrumental to the Thalaivas win as his two-point raid with just 6 seconds remaining on the clock gave the southerners their third win of the season. When asked what was going on in his head before that all-important raid, he said: "Before going for the raid, our coach told me to stay in one place and focus on the players in the front as they will try to catch my legs and I kept that in my mind. I thought there will be only one defender who will tackle me but instead two of them came and we won the match. I went to raid thinking that I have to get at least 1 point."
Captaining a side for the first time in VIVO Pro Kabaddi, Thakur has been the main man for the Thalaivas this season. When asked how it feels to captain such a young bunch of talent, he said: "To be honest, being a captain and a senior in the team has its own drawbacks because you get more tension and you also have to make the young players perform. I have always played under Anup Kumar and he would always motivate me that I can perform well. This is the first time I have been a captain of any side and now I know how difficult it is to lead a side."
Bengal Warriors captain Surjeet Singh, meanwhile, rued his team's last-second mistake and looked quite disappointed. "Everyone comes to win and whoever plays well they win. Only because of one small mistake [in the last raid], we lost the match. If that mistake hadn't happened we could have won the match," he said.
Coach Jagdish Kumble also mirrored his captain's thoughts and shared what his instructions were to his team. "I told them that whoever comes to raid let's not give more than 1 point to him. It didn't turn out that way. If that tackle had been successful then we could have won the match."
Meanwhile despite suffering a massive 18-point defeat, Delhi coach Dr Ramesh Bhendigiri was optimistic as regards his team's play-off chances. "Our last match was good. Our seniors who have injuries have not recovered well, plus we are playing continuously. We still have 7 matches left and if we win all of them, we can make it. Once our defence settles we will start winning matches."