pkl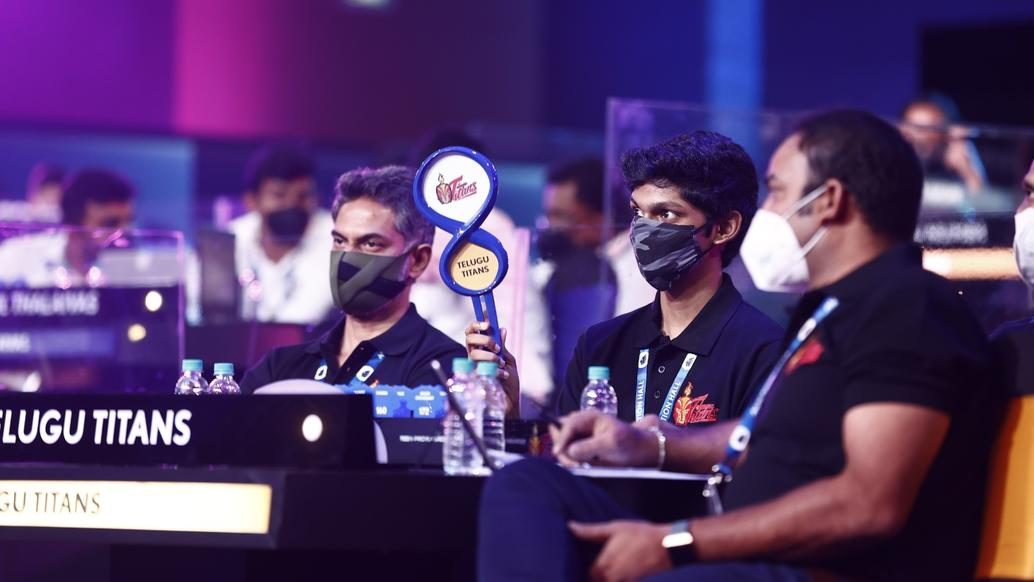 Sandeep Kandola returns to PKL and Telugu Titans after six years.
Telugu Titans have grabbed the spotlight ahead of vivo Pro Kabaddi Season 8 by forming a team that boasts of equally strong raiders and defenders. Over the years, the team has boasted some of PKL's finest talents but have fallen short of the mark. Eyeing an overhaul, Telugu Titans opted for a settled defence and reliable support for their talisman - Siddharth Sirish Desai.
Given his outstanding performance in Season 7, 'Baahubali' Siddharth Desai was bought back by Telugu Titans at the vivo Pro Kabaddi player auction when they exercised their Final Bid Match (FBM) card at ₹1.30 crores. While Siddharth will be seen in Telugu Titans colours once again, the addition of Rohit Kumar adds more star power to their raiding department for the upcoming season. The 'baby-faced assassin' Sandeep Kandola will also make his grand return to the PKL after a gap of five seasons.
Let us take an in-depth look at Telugu Titans with the new additions for Season 8.
View this post on Instagram
Strong raiding partnership
Telugu Titans have amongst them a solid raiding duo comprising Siddharth Desai and Rohit Kumar. While the team spent an enormous amount to retain Siddharth, their bargain buy - Rohit Kumar could also prove to be the gamechanger for the Men in Yellow.
Rohit Kumar, who captained Bengaluru Bulls to their maiden PKL trophy in Season 6, has immense experience under his belt with 670 raid points. He is a 2-time Pro Kabaddi champion who holds the record of scoring at least 100 points in every single season since PKL 3.
Siddharth Desai was a force to reckon with for Telugu Titans in Season 7, scoring 217 raid points at an average of 9.86 points per match. The Maharashtrian raider has shown tremendous raiding talent in just two seasons with his top-flight raids and his ability to push through the defence with his brute strength. While Siddharth could lead the attack, Rohit's calm and composed leadership ability will help strike the perfect balance for the team.
... WHAT A WAY TO MAKE A COMEBACK! 🤩

Sandeep Kandola is all set to return to #vivoProKabaddi in @Telugu_Titans colours, as they scoop him up for ₹ 59.5 Lacs in the #vivoPKLPlayerAuction after a fierce bidding war with @PatnaPirates!#vivoPKLPlayerAuction

— ProKabaddi (@ProKabaddi) August 31, 2021
The return of sensational Sandeep
Sandeep Kandola made his vivo Pro Kabaddi debut for Telugu Titans in Season 2, winning the 'Best Debutant' award with 59 tackle points and six High-5s to his name. After a long hiatus from the sport, the left corner defender made a sensational comeback in the domestic circuit.
Kandola led the defence for Services in the 67th and 68th Senior National Kabaddi Championship, where the team won silver in both editions. With such performances backing him, he will be in high spirits once the season kicks off in December.
Ruturaj Koravi will join the defence as a right corner, further bolstering the team. After spending two seasons with Gujarat Giants, he will aim to deliver for the Hyderabad-based franchise with his hard-hitting dashes and diving ankle holds. It will be interesting to see how the corner combination of Sandeep and Ruturaj pans out in the upcoming season.
Right cover defender Surender Singh joins Telugu Titans after spending three seasons with U Mumba. Surender has scored 174 tackle points with seven High-5s in his career so far. He will be aiming to bring consistency in his performances and execute tackles with patience. C. Arun will be supporting him from the left cover position.
Talented youngsters in the squad
Telugu Titans made a host of retentions as they held back six players ahead of the auction. The team retained the lanky raider Rakesh Gowda, who was a find for them in Season 7 with more than 50 raid points on debut (season). Rajnish and Ankit Beniwal were picked in the Retained Young Players (RYP) category.
Young defenders Manish, Akash Dattu Arsul and Akash Chaudhary showed glimpses of their remarkable skills during the business end of Season 7. Their presence in the squad will give them a chance to hone their skills under coach Jagdish Kumble.
NYP players Prince, Galla Raju and Amit Chauhan will have a big responsibility on their shoulders to make a statement in the upcoming season. It will also be intriguing to see how Telugu Titans use their overseas imports - Japan's Abe Tetsuro and Hyunsu Park from South Korea in Season 8.
​vivo Pro Kabaddi Season 8 starts 22 December, 2021. Catch all the LIVE action on the Star Sports Network and on Disney+Hotstar and follow Pro Kabaddi on Instagram, Facebook & Twitter for all the latest updates!