pkl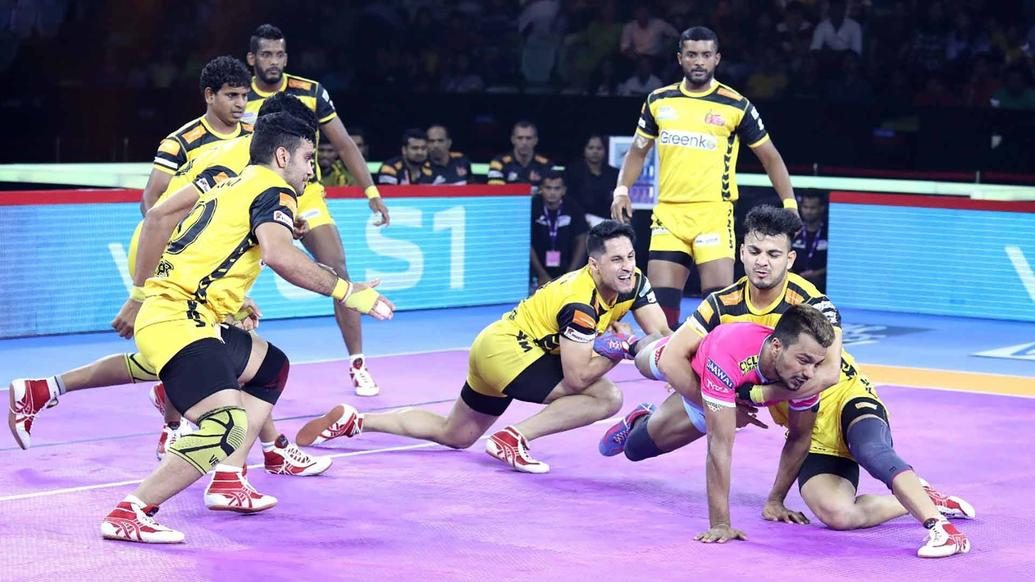 Telugu Titans showcased their composure and resolve to beat Jaipur Pink Panthers in a low-scoring thriller.
Telugu Titans registered back-to-back wins for the first time in vivo Pro Kabaddi Season 7 after a 24-21 win over Jaipur Pink Panthers at the Thyagaraj Sports Complex in Delhi. It was a close contest that went down to the wire, but in the end Telugu Titans kept their composure for their third win this campaign.
The opening exchanges of the match saw both teams trade blows. Telugu Titans looked like they were about to enforce the first All-Out of the game towards the end of the first quarter of the contest. However, two Super Tackles from Sandeep Dhull first and then Sunil Siddhgavali tied the contest at 8-8.
Telugu Titans regained their lead thanks to a successful raid by Suraj Desai and a successful tackle by Vishal Bhardwaj. However, another Super Tackle by Pavan TR this time made it all square once again at 10-10. Jaipur Pink Panthers went on to take the lead moments later with their fourth and final Super Tackle of the half. Ajinkya Pawar also made his presence felt with a two-point raid for Jaipur Pink Panthers, which contributed to their 14-11 lead at the break.
The second period began with Telugu Titans scoring the first two points of the half. They tied the match at 15-15 five minutes into the half and then took the lead after a successful tackle by Farhad Milaghardan on Deepak Narwal.
In keeping with the ebb and flow nature of the contest, neither team managed to open up a big lead in the second half despite both sides being in front various times over the course of the contest. Having said that, a Super Tackle by Abozar Mighani and a successful raid by Amit Kumar did give Telugu Titans a three-point lead with about six minutes left on the clock.
The closing stages of the game witnessed Telugu Titans extend their lead to four points at one stage, but Jaipur Pink Panthers simply refused to give in. Yet another Super Tackle made it a one-point game heading into the final. Telugu Titans though held their nerve as Abozar successfully executed a tackle in the final minute and Milaghardan found success in the buzzer raid to help their team to their third win of the season.
Top Performers:
Jaipur Pink Panthers –
Best Raider – Ajinkya Pawar (3 Raid Points)
Best Defender – Sandeep Dhull (4 Tackle Points)
Telugu Titans –
Best Raider – Siddharth Desai (3 Raid Points)
Best Defender – Vishal Bhardwaj (8 Tackle Points)