pkl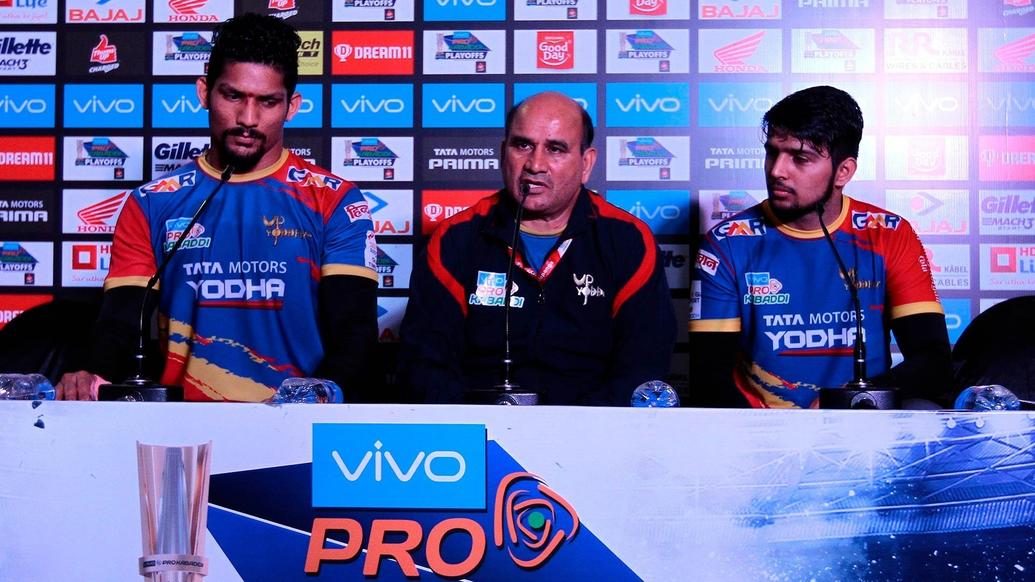 Assistant coach Arjun Singh felt that the team played according to their plans which paid off.
U.P. Yoddha put on an excellent performance on Monday, outscoring Dabang Delhi K.C.'s offence by 4 raid points and defence by 6 tackle points to clinch an important victory in Eliminator 3 at the Rajiv Gandhi Indoor Stadium in Kochi. Assistant Coach Arjun Singh explained the team's strategy in the post-match press conference, which helped them overcome a spirited Dabang Delhi K.C. team.
"The players played exactly according to plan in both, today's and yesterday's match," declared Singh.
"We planned to play on the Do-or-Die raids but also look for opportunities whenever they present themselves. Right from the start, their raiders attacked us with a lot of pace. However, our defence played brilliantly which put the onus on their defenders to go for hasty tackles on our raiders. This resulted in us getting points in a hurry. We planned to attack their Left Cover and the players made good on that plan," he continued.
While a sound strategy and some good planning may have paved the way for the victory against Dabang Delhi K.C., captain Rishank Devadiga felt that it was the way the team came together in the past few matches which made it possible for them to get this far.
"The way the team has performed consistently over the past few matches; we can now confidently say that we are a strong unit," said a proud Devadiga, "We have a lot of unity and everyone plays for each other. Nitesh Kumar has been defending well and the entire team is supporting him in that regard. Even in offence, if anyone needs support there is always someone who puts their hand up. That's the best part of our team and the timing couldn't have been any better."
U.P. Yoddha are now on an eight-match unbeaten run and next face Gujarat Fortunegiants in Qualifier 2. Captain Devadiga admitted that the team hasn't thought that far ahead yet, reiterating that it is the team's strategy of taking one match at a time which has been working for them.
"We target one match at a time," explained Devadiga when asked about the team's plan for the next match, "Even today, we had just prepared a sound strategy against Dabang Delhi K.C. without thinking of the matches ahead. We knew we had to be in the moment and we were mentally prepared for that. We will continue in the same way for our upcoming match in Mumbai."