pkl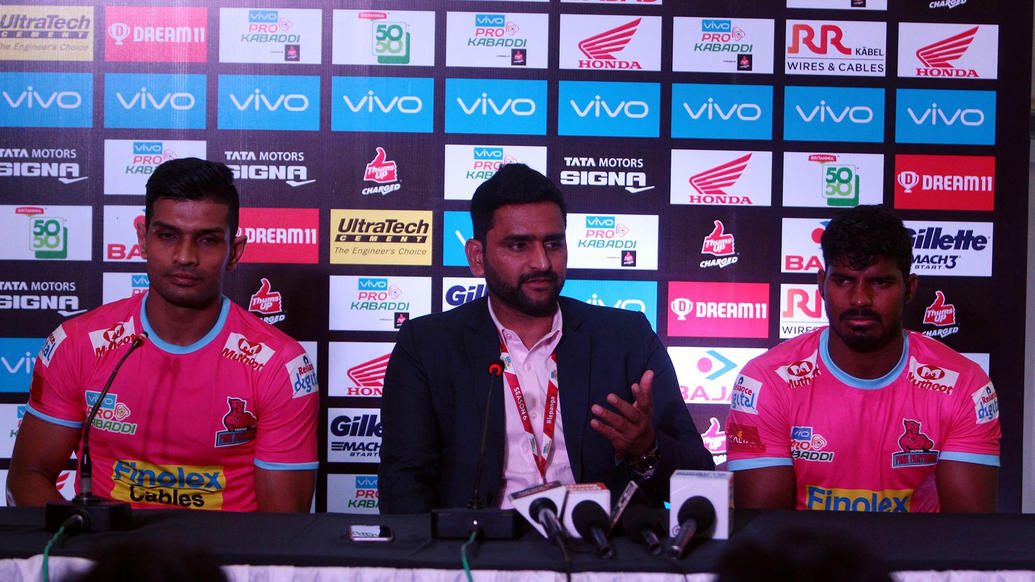 The Jaipur Pink Panthers player also spoke about his eight-point performance against Puneri Paltan.
Jaipur Pink Panthers kicked off their home leg with a 36-23 victory over Puneri Paltan at the Tau Devilal Sports Complex in Panchkula on Friday. Sunil Siddhgavali led the charge with eight tackle points on the night. Representing the home side at the post-match press conference were Deepak Niwas Hooda, coach Srinivas Reddy and Siddhgavali.
Jaipur Pink Panthers
Q: Who would you credit for this win?
Srinivas Reddy: I would like to credit the entire team for the win because this was a team effort. The defence played well and so did the offence. The youngsters we have given chances to are proven performers and it was a collective effort. Sunil Siddhgavali is a product of the first-ever FKH initiative launched by Star and Mashal, so I would like to thank them as well.
Q: You are still alive in the qualification race. How will you prepare for the Playoffs?
Deepak Niwas Hooda: We know that our path to the Playoffs is a difficult one. But we have to think about winning as many games as we can. This is our home leg and it has been a really good start. We have bonded really well as a team and our performances over the last couple of matches have shown that. All seven players are giving it their best on the mat. That's why we have been able to win. We are taking it one game at a time and, hopefully, our performances will be enough for us to qualify.
Q: What do you have to say about your performance today?
Sunil Siddhgavali: I would first like to thank our coach, Srinivas Reddy. He was the one who assured me that I can play well. We are considering every match we play as a final and are playing accordingly. That's what I did today as well.
Q: You now have two successive High 5s. Has there been any pressure you have been under?
Sunil Siddhgavali: The team management and our stand-in skipper, Deepak Niwas Hooda, have been continuously telling me that I have the talent to perform well. I have been playing according to what I have learned in practice. There is no particular move that I aim for, I just give it my best for every tackle and hope I emerge successful.