pkl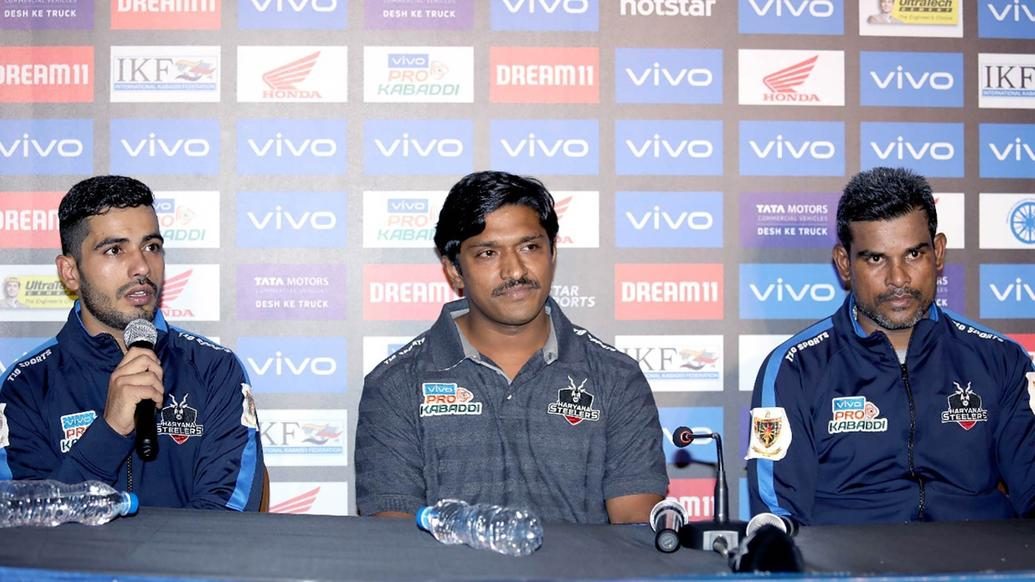 Missing three games at the start of the season to regain fitness has been key to Kandola's outstanding season.
A raiding clinic from Vikash Kandola and Prashanth Kumar Rai helped Haryana Steelers humble Dabang Delhi K.C. by a scoreline of 47-25 at the Netaji Subhash Chandra Bose Indoor Stadium in Kolkata on Saturday. At the post-match press conference, Haryana Steelers' assistant coach Mandar Shetty, skipper Dharmaraj Cheralathan and Kandola took questions for their side, while Dabang Delhi K.C. were represented by coach Krishan Kumar Hooda, skipper Joginder Singh Narwal and raider Naveen Kumar.
Haryana Steelers
Q. Vikash, did you think the margin of victory would be this big?
Vikash Kandola: All we had in mind is that we had to win at any cost. We came in with certain plans and we stuck to those throughout the match.
Q. Thoughts on your partnership with Prashanth Kumar Rai?
Vikash Kandola: He's been brilliant in training and to have a raider like him is very helpful.
Q. Dharmaraj, how were you able to neutralise Naveen Kumar?
Dharmaraj Cheralathan: We knew he thrives on bonuses and advanced tackles. So, we planned meticulously to take away those two scoring options from him and the result is evident.
Q. Coach, what has been key to your recent form?
Mandar Shetty: Coach Rakesh Kumar and I had planned extensively for all their players. The coach has also been motivating the players a lot. We were losing close matches, but now we are winning them and winning handsomely as well.
Q. Vikash, what changes have you made to your game to enable such success this season?
Vikash Kandola: Last year I was carrying a few injuries and some of those had flared up at the start of this season too. But coach Rakesh Kumar was adamant in his stance that I get fully fit before I play this season. Hence, I was sidelined for the first three matches. So that has helped me this season.
Dabang Delhi K.C.
Q. Coach, what went wrong today?
Krishan Kumar Hooda: We had Haryana Steelers on the ropes, but the Super Tackle and Super Raid is where we lost all the momentum. The defence made a few errors and it was all downhill after that.
Q. Thoughts on your next opponents, Tamil Thalaivas?
Krishan Kumar Hooda: We will have discussions tonight and tomorrow.
Q. Naveen, another Super 10. What has been the key to your success?
Naveen Kumar: A Super 10 isn't as sweet when we don't win. At the end of the day, it's all about winning as a team.
Q. Joginder, how will you assess this result?
Joginder Singh Narwal: These things happen in kabaddi. In our previous match against them, we emerged victorious, today they did. We will now have a chat and ensure that we don't repeat these mistakes again.