pkl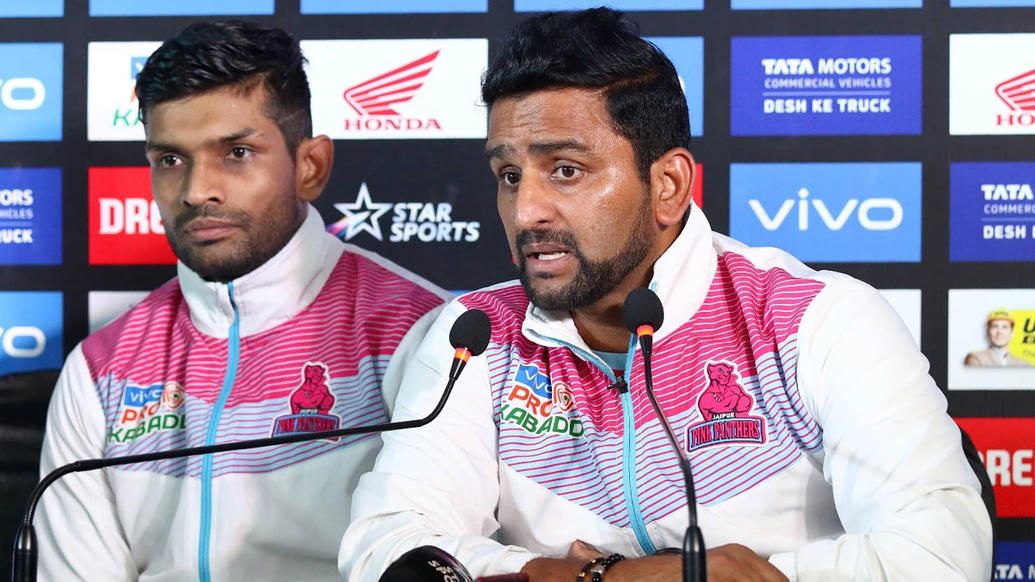 Jaipur Pink Panthers coach Srinivas Reddy was satisfied by his team's performance in their 28-26 victory.
A spirited comeback from Tamil Thalaivas fell just short as Jaipur Pink Panthers emerged victorious by a scoreline of 28-26 at the Jawaharlal Nehru Indoor Stadium in Chennai on Wednesday. In the post-match press conference, coach Srinivas Reddy and captain Deepak Niwas Hooda took questions for Jaipur Pink Panthers, while Tamil Thalaivas were represented by coach E. Bhaskarsan
Jaipur Pink Panthers
Q. Thoughts on the performance?
Srinivas Reddy: The team played some excellent kabaddi. As a spectator, this match was a treat to watch. I was satisfied with the team's performance. The crowd as well was spectacular. We were the away team but the support for us in the stands was incredible. We're grateful for the love we received from the fans in Chennai today.
Q. Thoughts on Nilesh Salunke's performance?
Srinivas Reddy: We have a squad full of players that have a particular role in the team. The players have been executing my gameplan to perfection on the mat and that is evident in the results.
Q. Great defence in Super Tackle situation. Thoughts on that?
Srinivas Reddy: I believe our strength is in our defence. Every match that we've won so far, the defenders have had a good outing. So I'm pleased with their performance.

Tamil Thalaivas
Q. Anything in particular that you would like to attribute this loss to?
E. Bhaskaran: We gave away too many easy bonus points for my liking. Had we been able to control that, we would have forced multiple Do-or-die situations and the pressure would have been on them.
Q. Thoughts on the performance?
E. Bhaskaran: A very spirited effort from the boys. I'm satisfied with the performance. The energy was high right from the start and we were in the game right untill the end.
Q. Thoughts on Ajay Thakur's performance?
E. Bhaskaran: He played like the veteran leader we all know he is. He was vocal on the mat, he was raiding well. He was brilliant.