pkl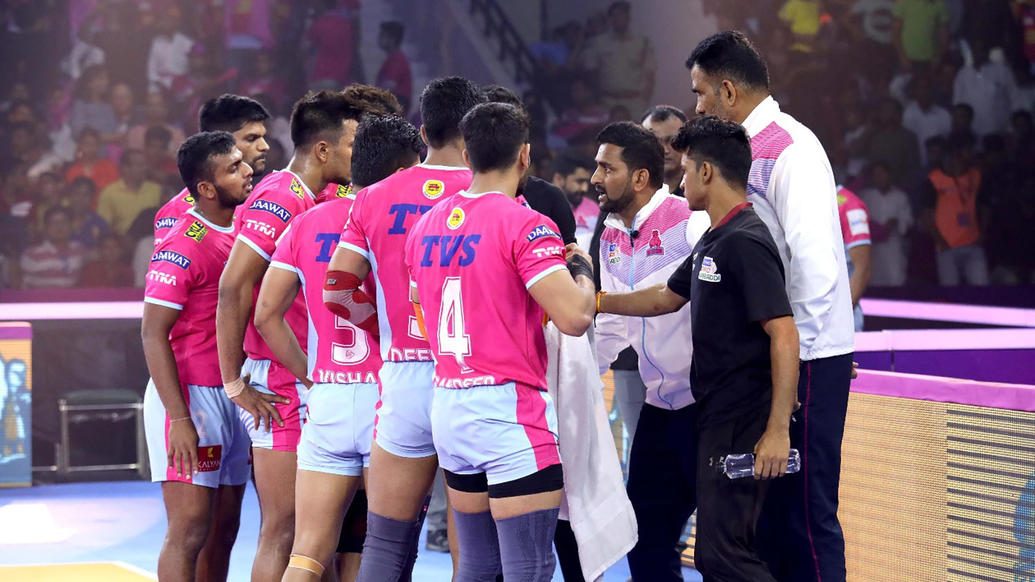 The Jaipur Pink Panthers coach said the players understood the gravity of the situation and performed excellently.
Super 10s from Deepak Hooda and Deepak Narwal helped Jaipur Pink Panthers end their nine-match winless streak with a 43-34 victory over Puneri Paltan at the Sawai Mansingh Stadium in Jaipur on Wednesday. At the post-match press conference, Jaipur Pink Panthers coach Srinivas Reddy and skipper Hooda took questions for their side, while coach Anup Kumar and captain Surjeet Singh represented Puneri Paltan.
Jaipur Pink Panthers
Q. Coach, thoughts on the performance?
Srinivas Reddy: Our raiders and defenders were excellent today. It was a must-win situation for us, given how we tied and lost our last two fixtures, to keep our playoff hopes alive. We came out of the dressing room with a do-or-die attitude and the players delivered on the mat. I'm extremely pleased with the team's performance.

Q. Deepak, how important is it to have a strong supporting cast in the raiding unit?
Deepak Hooda: When a couple of raiders are picking up points, it becomes easier for the rest of the team to breathe and play well. Today, Deepak Narwal and Nilesh Salunke were excellent in their roles and were one of the key reasons for our victory. It is always satisfying when the team performs as a unit rather than one or two players carrying the side to results.

Q. Coach, thoughts on Deepak Narwal's performance?
Srinivas Reddy: He, along with the rest of the raiding unit, was fantastic. He scored some 10 raid points in just 15 raid attempts, which is a fantastic return. Our two Corners, Amit Hooda and Sandeep Dhull were also phenomenal today. A total all-round performance from the team is what drove us to victory today.
Puneri Paltan
Q. Coach, thoughts on the game?
Anup Kumar: The defence was a bit of a let-down today. They played well for a brief period at the start of the second half but then the senior players made a few errors. Surjeet (Singh) made an error, Girish (Ernak) made an error and then it unravelled for us.

Q. Why was Nitin Tomar not allowed to raid in the second half?
Anup Kumar: Nitin was filling in as a defender today. Hadi Tajik suffered an injury so we had to play Nitin Tomar in the corner position.

Q. Surjeet, thoughts on your playoffs hopes?
Surjeet Singh: Difficult to say. We have to win our remaining matches and hope results elsewhere go our way.