pkl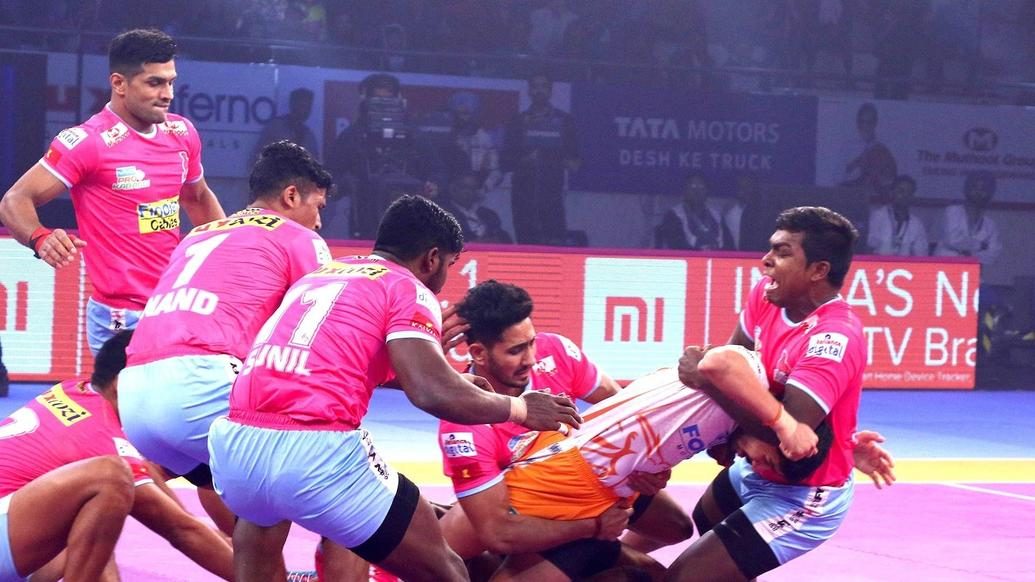 An eight-point performance from the player helped Jaipur Pink Panthers open their home leg with a win.
Sunil Siddhgavali's outstanding tackling inspired Jaipur Pink Panthers to a 36-23 victory over Puneri Paltan in their first home game at the Tau Devilal Sports Complex in Panchkula on Friday. Siddhgavali got his second successive High 5 in the match as he returned eight tackle points on the night and was ably supported by Amit Kumar, who managed a High 5 as well.
With the scores level at 4-4 early in the contest, Ajinkya Pawar got a touch on More GB to put Jaipur Pink Panthers ahead and enabled them to build a lead. Deepak Niwas Hooda then got touches on Ravi Kumar and Girish Maruti Ernak to reduce Puneri Paltan to a solitary player on the mat before a Block by Siddhgavali on Sandeep helped Jaipur Pink Panthers inflict the first All-Out of the game in the 11th minute. Jaipur Pink Panthers led 12-7 at this stage.
Check out the photos from the match here.
Jaipur Pink Panthers went about increasing their lead from this point on. They went on a nine-point unanswered spree where they didn't allow Puneri Paltan a single point. This increased their lead to thirteen points in the first half itself. Another Block by Siddhgavali on Sandeep in the 18th minute gave him his High 5 while also reducing Puneri Paltan to a solitary player on the mat.
Hooda got a touch on Ernak immediately after to inflict the second All-Out of the night on Puneri Paltan and give his team a 21-8 lead. Playing his 100th VIVO Pro Kabaddi match, Sandeep Narwal came in for his first raid of the night and got a touch on Sandeep Dhull to end the half with Jaipur Pink Panthers leading by 12 points.
Ajinkya Pawar got the first points of the second half with a touch on Sandeep and started the half nicely for Jaipur Pink Panthers. Puneri Paltan, however, played the second half on the front foot as they got four of the first six points of the half. But Jaipur Pink Panthers kept a hold over a healthy ten-point lead.
With the scores at 30-20, Puneri Paltan looked to seize the initiative and returned with two points to reduce Jaipur Pink Panthers to three players on the mat. But, with an All-Out in sight and an opportunity to reduce the deficit, Puneri Paltan weren't able to capitalize as Siddhgavali managed an Ankle Hold on Rajesh Mondal in the 19th minute to record the game's first Super Tackle.
Visit the matchcentre to relive the contest here.
Dhull followed this up with another Super Tackle in the final minute as he got an Ankle Hold on Narwal to increase Jaipur Pink Panthers' lead to eleven points. Amit Kumar also got to his High 5 in the final minute as he managed to get an Ankle Hold on Mondal. This was enough to give Jaipur Pink Panthers an important 36-23 victory.
Top Performers
Jaipur Pink Panthers
Best Raider: Deepak Niwas Hooda (8 raid points)
Best Defender: Sunil Siddhgavali (8 tackle points)
Puneri Paltan
Best Raider: More GB (5 raid points)
Best Defender: Girish Maruti Ernak (3 tackle points)