pkl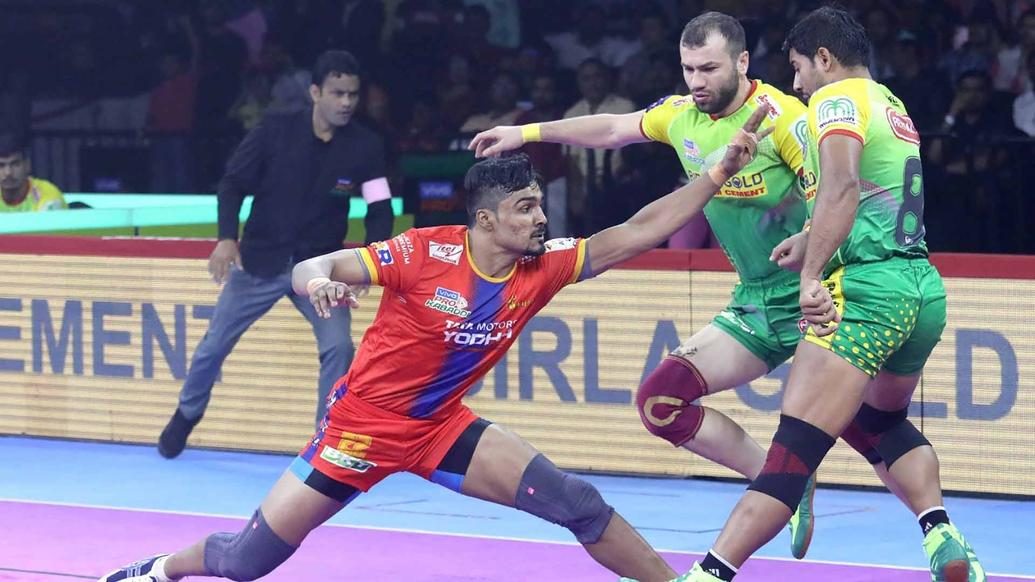 U.P. Yoddha's assistant coach had high praise for Shrikant Jadhav after another stellar performance.
A stunning effort from 'Record-Breaker' Pardeep Narwal went in vain as U.P. Yoddha emerged victorious by a scoreline of 41-29 at the Sree Kanteerava Stadium in Bengaluru on Friday. At the post-match press conference, U.P. Yoddha's assistant coach Arjun Singh, skipper Nitesh Kumar and raider Shrikant Jadhav spoke to the media.
U.P. Yoddha
Q. Nitesh, thoughts on the game?
Nitesh Kumar: We were in control of the contest, but those two Super Tackles turned the tide of the game. That is where we could have played well, but the second half was a whole other story. Shrikant Jadhav and Surender Gill were on the top of their game and were the primary reasons for our victory.
Q. Coach, was there a plan in place to stop Pardeep?
Arjun Singh: We took lessons from the reverse fixture and planned accordingly. We decided not to force tackles and pick and choose our opportunities to pounce. The result is evident.
Q. Shrikant, do you feel you are the team's main raider now?
Shrikant Jadhav: The coaching staff has entrusted me with the responsibility of being the lead raider, but they have never pressurised me. I have been told to play with freedom, express myself and choose when I want to raid. Even Rishank (Devadiga) who has been a top raider for years and knows how to deal with the pressure of being the lead raider has been constantly in my ear in training and even during matches to help me cope with the demands of the team. He's been of great help.
Q. Coach, how will you approach the remainder of the season?
Arjun Singh: We need to continue winning. Our score difference is negative, but we have our sights set on winning every game from here on out. Barring that tough spell in the middle of the season, we have been brilliant on the mat and seem to have finally found the right combinations. So, we will be aiming to enter the top 6.
Q. Shrikant has been outperforming your star raiders. Thoughts?
Arjun Singh: The star raider is the one who performs. And right now, that is Shrikant Jadhav for us. Last year, Shrikant was among our top-scorers. So, we have three excellent raiders and whoever has been asked to play has delivered and I'm extremely pleased about that.