pkl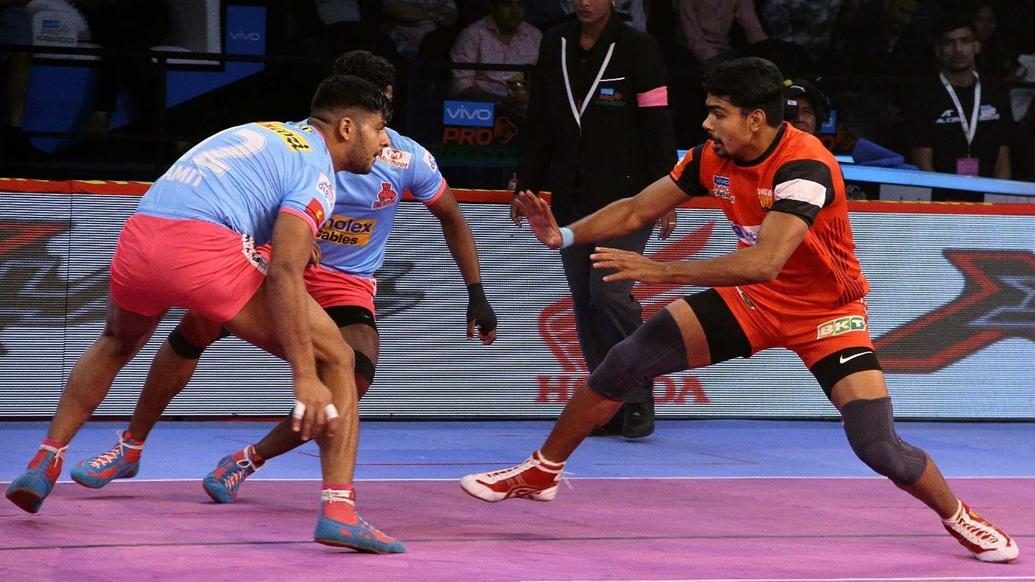 Inspired by Pawan Kumar Sehrawat's 19-point performance, Bengaluru Bulls beat Jaipur Pink Panthers 45-32 at The Arena by TransStadia in Ahmedabad on Sunday. Mahender Singh shone in defence yet again and managed a High 5. For Jaipur Pink Panthers, Deepak Niwas Hooda returned his fourth Super 10.
Jaipur Pink Panthers started the game well with Sandeep Dhull getting an Ankle Hold on Rohit Kumar in the very first raid of the match. That early momentum allowed them to take a 7-4 lead early on.
A touch by Ajinkya Pawar on Ashish Kumar then reduced Bengaluru Bulls to a solitary player on the mat before Amit Kumar helped Jaipur Pink Panthers inflict the first All-Out of the game in the 11th minute with the scores reading 11-5.
Check out the photos from the match here.
But with his first raid of the game, Kashiling Adake almost wiped the deficit out in the 14th minute as he returned with a five-point Super Raid with touches on Dhull, Anup Kumar, Mohit Chhillar and Sunil Siddhgavali to go with a bonus point. This inspired Bengaluru Bulls to inflict their first All-Out of the game in the 17th minute as a Block by Raju Lal Choudhary on Pawar gave Bengaluru Bulls a one-point lead. At the break, Jaipur Pink Panthers had managed to get the upper hand again with an 18-17 lead.
Jaipur Pink Panthers got the first point of the second half but Rohit Kumar immediately retaliated in his next raid with touches on Chhillar, Siddhgavali and Hooda to record Bengaluru Bulls' second Super Raid in the 3rd minute and put them back into the lead at 20-19.
Bengaluru Bulls rode on this impetus and inflicted their second All-Out on Jaipur Pink Panthers in the 6th minute to increase their lead to seven points. Sehrawat then got his 6th Super 10 of the season in the 13th minute with touches on Dhull and Siddhgavali.
Bengaluru Bulls inflicted their third All-Out of the night in the 15th minute to increase their lead to twelve points. Hooda, however, kept on getting points for Jaipur Pink Panthers and got his fourth Super 10 in the 19th minute.
Visit the matchcentre to relive the contest here.
Jaipur Pink Panthers finished the game strongly as David Mosambayi got touches on Sehrawat and Sangwan off the final raid of the night. But the match ended in a 45-32 win for Bengaluru Bulls.
Top Performers
Jaipur Pink Panthers:
Top Raider- Deepak Niwas Hooda (11 raid points)
Top Defender- Sandeep Dhull (3 tackle points)
Bengaluru Bulls:
Top Raider- Pawan Kumar Sehrawat (19 raid points)
Top Defender- Mahender Singh (5 tackle points)