pkl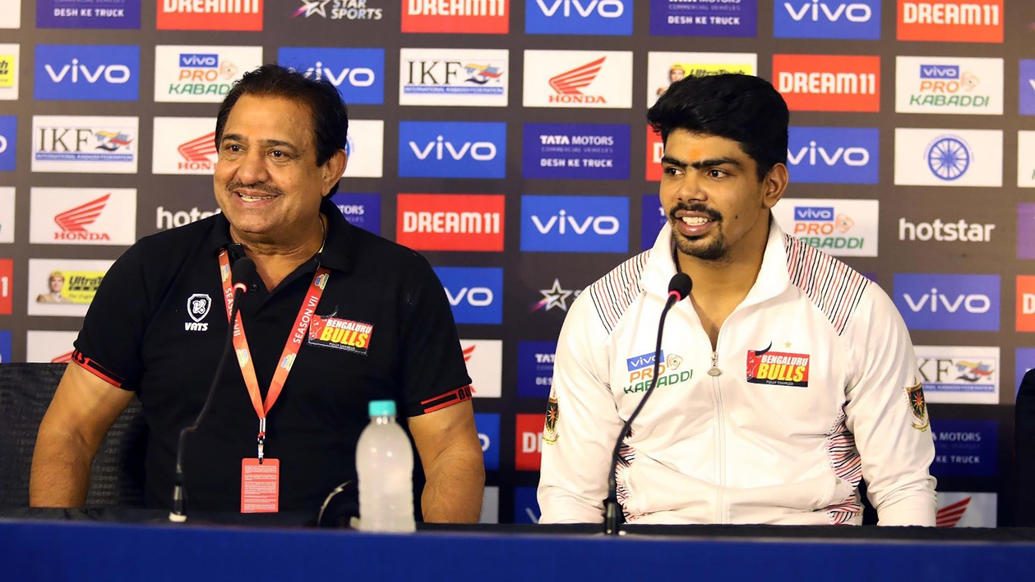 Pawan Sehrawat was happy that his performance helped Bengaluru Bulls qualify for the playoffs.
A 39-point performance by 'Hi-Flyer' Pawan Sehrawat, the most in vivo Pro Kabaddi history, saw Bengaluru Bulls beat Haryana Steelers by a scoreline of 59-36 at the Tau Devilal Sports Complex in Panchkula on Wednesday. At the post-match press conference, coach Randhir Singh and Pawan Sehrawat took questions for Bengaluru Bulls, while coach Rakesh Kumar and raider Prashanth Kumar Rai represented Haryana Steelers.
Bengaluru Bulls
Q. Coach, happy with Pawan's performance?
Randhir Singh: I'm, of course, very happy with his performance but I'm even more glad because when I was giving Pawan the captaincy, he didn't want it. He said he hasn't captained before but then again; he hasn't done a lot of things before. He's going to play for India in the future and do a lot of things he hasn't done earlier. So, if he's not going to learn new things here then where will he learn? And I am proud because along with the raiding, his captaincy was also exceptional. It felt like he had been raiding for years, he analysed the situations perfectly every time and made the right decisions. I'm happier with his captaincy than he is.
Q. Thoughts on how your defence fared?
Randhir Singh: Our defence can be sensational some days and not so great on others. As long as Pawan keeps scoring, we generally do fine. But the reason I was screaming at them today was because I wanted them to just concede bonus points since Pawan was consistently getting the better of their defenders. If you give away touch points then Pawan's raid points get nullified and that's what was happening.
Q. Pawan, happy with your performance tonight?
Pawan Sehrawat: I feel my performance worked to the benefit of the team, it helped us qualify for the playoffs. And I would like to credit the team for helping me with the performance because when I do get tackled, they revive me quickly. So, yes, it's a good thing that my performance helped the team qualify, I am happy.
Haryana Steelers
Q. Thoughts on the defence?
Rakesh Kumar: Too many advanced tackles. Giving away so many points to one player is concerning. We need to regroup and assess this performance.
Q. What is your message to your defence?
Rakesh Kumar: The same as it has always been. We know we are a good defensive side. This one-off performance doesn't decide our future this season. We have performed well in 19, so one bad game is not an alarming cause for concern. We just need to get the fundamentals right again. The rest will follow.
Q. Thoughts on Prashanth Kumar Rai's performance?
Rakesh Kumar: He was tackled just once in the entire match. That's how well he played today. We had higher expectations from our defence, but their performance was a let-down. It's a good sign that Prashanth is hitting form right on the brink of the playoffs.