pkl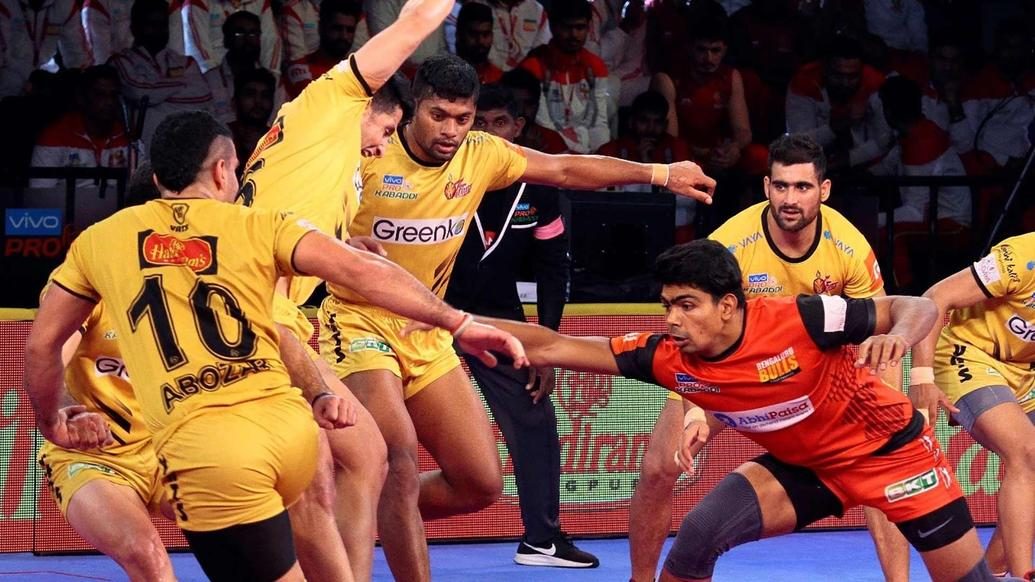 Mahender Singh and Amit Sheoran also contributed nine tackle points in a clinical display from Bengaluru Bulls.
A 13-point performance from Pawan Kumar Sehrawat and combined nine tackle points from Mahender Singh and Amit Sheoran propelled Bengaluru Bulls to their second straight victory over Telugu Titans in Season 6 by a scoreline of 37-24 at the Rajiv Gandhi Indoor Stadium at Vizag on Wednesday. With this win, Bengaluru Bulls went 13 points clear at the top of Zone B.
Telugu Titans were off to a brisk start and raced to a 5-1 lead courtesy of a raid point each from Kamal Singh, Rahul Chaudhari and Mohsen Maghsoudloujafari. The Iranian also added a tackle point to his tally with a decisive chain tackle on Sehrawat while captain Vishal Bhardwaj caught his opposite number Rohit Kumar by surprise with a quality thigh hold. Bengaluru Bulls' raiders responded with two points on the trot to reduce the deficit but all-rounder C Manoj Kumar showcased his raiding ability with a two-point effort to take the lead back up to four.
Check out the photos from the match here.
After some early lapses, Bengaluru Bulls' defence remained water-tight for the rest of the half, allowing only two raid points while scoring three themselves to bring their team back into the contest. Sehrawat also made his mark in the match by scoring a point each in three consecutive raids to reduce his team's deficit down to just a solitary point. Chaudhari scored the final point of a low-scoring first half with a successful bonus attempt as the teams headed into the break with the home team leading 12-10.
When play resumed, Harish Naik and Sehrawat sent Manoj Kumar and Mohajermighani, respectively, to the bench with a touch point each while Mahender Singh and Rohit Kumar scored a tackle point each to leave Telugu Titans with just a solitary man on the mat. Sehrawat got the touch point on Bhardwaj after some resistance from the defender and inflicted the All Out to give his side a 17-14 lead in the contest.
Visit the matchcentre to relive the contest here.
Bengaluru Bulls made good of their momentum and scored three straight points after the All Out to take the biggest lead of the night. Nilesh Salunke came off the bench and made instant impact, scoring three points in just two raids while Maghsoudloujafari sent Sehrawat to the bench with a tackle as Telugu Titans stormed back into the match and reduced Bengaluru Bulls' lead down to just two.
But right when Telugu Titans started to crawl back into the contest, Mahender Singh and Amit Sheoran executed two perfect tackles while Naik got a touch point on Mohajermighani to take the lead back up to four points. Bhardwaj added to his tally on the night with a tackle on Naik, but a self out from Maghsoudloujafari triggered a six-point run from Bengaluru Bulls that ended the home team's hopes of winning the contest.
The defence contributed three tackle points during this run and Sehrawat completed his Super 10 with a two-point raid leaving Telugu Titans with just a solitary player on the mat. A second All Out was soon inflicted on Telugu Titans that put the team down by ten points in the contest.
Sehrawat added three more raid points in the ensuing two minutes of the contest to take his tally on the night to 13 raid points as the clock expired to hand Bengaluru Bulls a well-deserved victory.
Top performers
Bengaluru Bulls
Best Raider – Pawan Kumar Sehrawat (13 Raid Points)
Best Defender – Mahender Singh (5 Tackle Points)
Telugu Titans
Best Raider – Nilesh Salunke (6 Raid Points)
Best Defender – Vishal Bhardwaj (3 Tackle Points)