pkl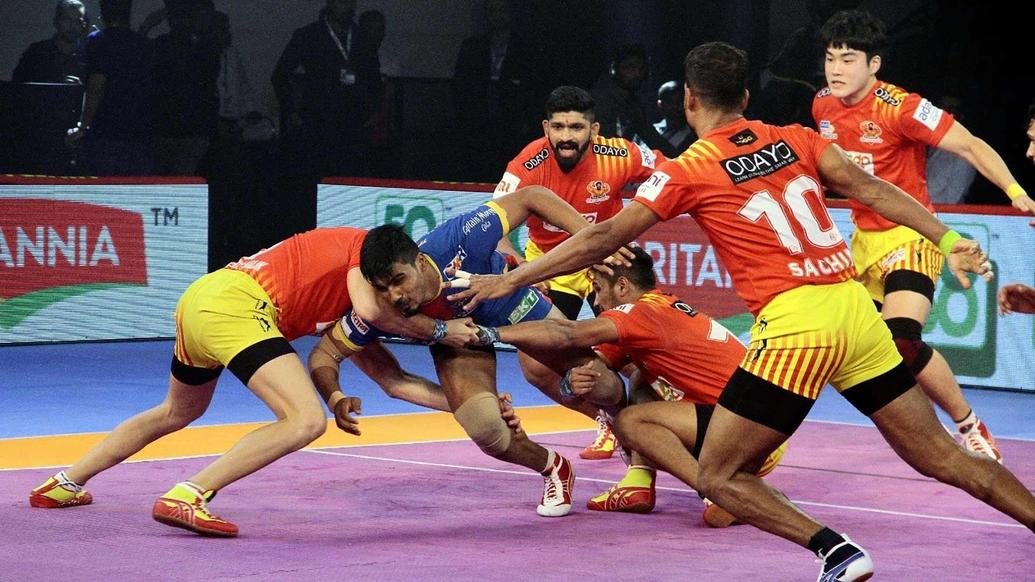 A magnificent comeback from U.P. Yoddha in the second half wasn't enough for the visitors as seven straight points from Gujarat Fortunegiants in the final two minutes helped them secure a 37-32 win. This victory meant Gujarat Fortunegiants extended their unbeaten run at home to nine games.
Gujarat Fortunegiants were up and running quickly in the first half, as they raced to a 3-1 lead courtesy of Sachin's bonus and Sachin Kumar stepping out of bounds. Shrikant Jadhav and Jeeva Kumar managed to level the score for their team with a point each but what followed was a six-point run from the home team that reduced U.P. Yoddha down to just a solitary man on the mat.
Check out the photos from the match here.
Gujarat Fortunegiants allowed substitute raider Vishav Chaudhary to pick up a bonus point before tackling him to the ground and inflicting the game's first All-Out in just the ninth minute to take a 12-4 lead in the contest.
Following the All-Out, Gujarat Fortunegiants continued to assert their dominance over proceedings and scored three more point thanks to Sachin Vittala's tackle on Rishank Devadiga and a two-point raid from Prapanjan. Trailing by 12, U.P. Yoddha's defence retaliated and allowed no raid points in the final five minutes of the half while scoring three tackles themselves to cut the deficit to nine. Nitesh Kumar's Ankle Hold on Shubham Palkar was the final point of the half for either team as the clock expired and the teams went into the break with Gujarat Fortunegiants leading.
U.P. Yoddha emerged with fire in their bellies in the second half, outscoring Gujarat Fortunegiants 8-3 in the opening nine minutes to reduce their deficit to just four. The star of this run was Shrikant Jadhav, as he scored five raid points and then managed a five-point Super Raid, clearing out all three men on the mat and inflicting an All-Out to give his side a 23-22 lead in the match. This served as a wake-up call for Gujarat Fortunegiants and they fired back with three straight points courtesy of a two-point raid from Sachin and a brilliant tackle from Sunil Kumar on Jadhav. Rohit Gulia followed that up with a touch point on Sagar Krishna. Azad Singh's self out meant U.P. Yoddha were left with only two men on the mat.
But having less than three men meant U.P. Yoddha had a Super Tackle opportunity and their defenders made full use, as Nitesh Kumar, followed by Jeeva Kumar, managed two Super Tackles in quick succession to give their team a 31-29 lead in the match.
However, Gulia managed to get two touch points in two consecutive raids and Shrikant Jadhav, after escaping in one attempt with a touch point, was tackled down by Ruturaj Koravi to level the score at 32-32. Following that tackle, U.P. Yoddha were left with just a solitary man on the mat, who was powerless in stopping Sachin from getting a touch point and inflicting an All-Out to give Gujarat Fortunegiants a 35-32 lead with just over a minute left in the game.
Visit the matchcentre to relive the contest here.
Gujarat Fortunegiants managed to tackle Jadhav yet again as he desperately searched for points and Mahendra Rajput scored the final point of the match by escaping a tackle attempt from Jeeva Kumar. The clock expired, and Gujarat Fortunegiants hung on to secure the win.
Top performers -
Gujarat Fortunegiants -
Best Raider – Sachin (8 Raid Points)
Best Defender – Sunil Kumar (5 Tackle Points)
U.P. Yoddha -
Best Raider – Shrikant Jadhav (11 Raid Points)
Best Defender – Nitesh Kumar (5 Tackle Points)