pkl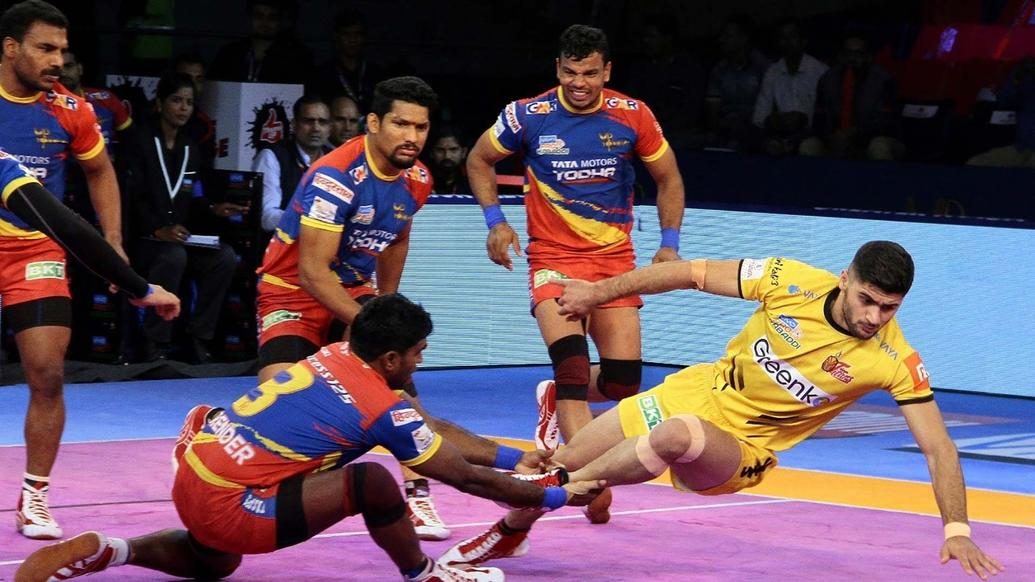 A scintillating second-half comeback from Telugu Titans helped them earn a 26-26 tie against home team U.P. Yoddha at the Shaheed Vijay Singh Pathik Sports Complex in Greater Noida on Tuesday. Trailing by nine points going into the half-time break, Telugu Titans outscored U.P. Yoddha 16-7 in the second half to help them gain three points and take them up to third spot in Zone B.
The opening exchanges of the first half were closely fought, but U.P. Yoddha quickly managed to get into their groove and assert their hold on the contest. With the score at 3-3, Left Corner Sachin Kumar managed to tackle Mohsen Magsoudloujafari and Rishank Devadiga got a touch point on the following raid attempt in what kicked off a five-point run for U.P. Yoddha to give them an 8-3 lead in the match. With just three men left on the mat, U.P. Yoddha were closing in on an All-Out but Abozar Mohajermighani's Super Tackle on Devadiga followed by another one by Anil Kumar cut down U.P. Yoddha's lead back to one.
Check out the photos from the match here.
But U.P. Yoddha weren't to be denied as Narender's tackle on Rahul Chaudhari reduced Telugu Titans down to three men again and this time, Shrikant Jadhav managed to get a touch point on Mohajermighani to put his team firmly on top. U.P. Yoddha made light work of the remaining men on the mat to inflict the first All-Out of the match and take a 15-9 lead. U.P. Yoddha refused to rest on their laurels and managed to get a tackle each on Nilesh Salunke and Chaudhari while scoring two Bonus points on offence to end the half with U.P. Yoddha leading 19-10.

The second half had a quiet start with both teams trading off points, but the match exploded into life when C Manoj Kumar sent Jeeva Kumar to the bench and Mohajermighani flew onto Azad Singh's ankle to get a tackle point, swinging the tide of the match completely in his side's favour. Chaudhari got a point each in three straight raid attempts to reduce U.P. Yoddha down to a solitary player. Krushna Madane put the exclamation mark on this run as he got hold of Bhanu Pratap Tomar, bringing him down and Telugu Titans inflicted an All-Out and capped off a 10-3 run to reduce U.P. Yoddha's lead down to just three.
With the score at 26-23 in U.P. Yoddha's favour, Magsoudloujafari's got a touch point on Narender and was backed in defence by Madane who tackled Azad Singh, leaving Telugu Titans trailing by a solitary point in the match. Magsoudloujafari delivered another clutch raid, getting a touch point on Nitesh Kumar to level the score at 26-26 with just over a minute left in the game.
Visit the matchcentre to relive the contest here.
U.P. Yoddha, firmly on the back foot at this point, decided to limit the damage and put in two empty raids to settle for the tie and Magsoudloujafari, in the final raid of the match, decided to follow suit as the teams finished all-square after 40 minutes of intense battle.
Top performers
Top Raider – Shrikant Jadhav (4 raid points)
Top Defender - Nitesh Kumar (4 tackle points)
Top Raider – Nilesh Salunke (3 raid points)
Top Defender – Abozar Mohajermighani (4 tackle points)