pkl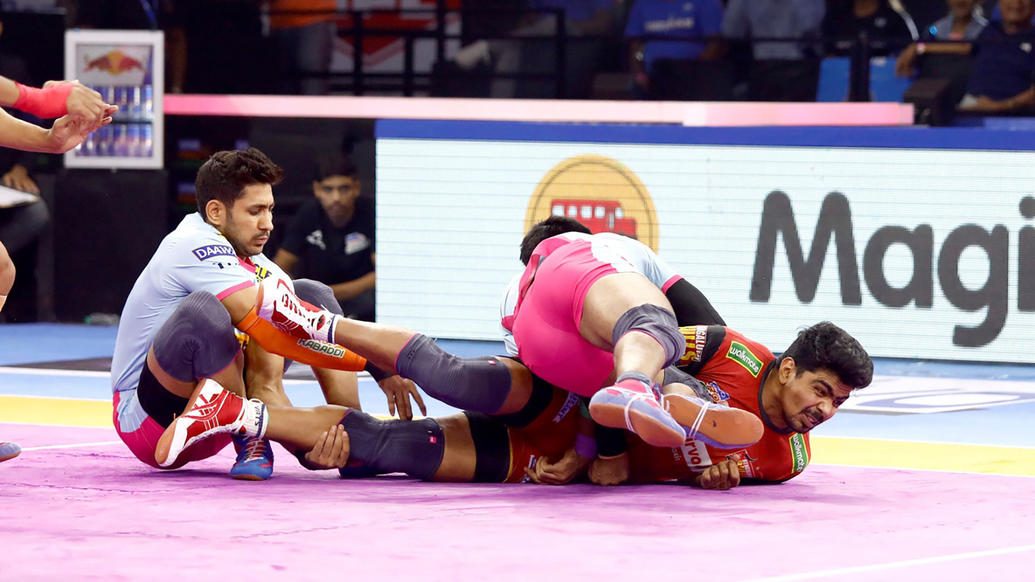 Jaipur Pink Panthers' Srinivas Reddy explains why his team's fate for the playoffs has not been in their hands.
Jaipur Pink Panthers upstaged Bengaluru Bulls 41-34 at the Tau Devilal Sports Complex in Panchkula on Friday. Raiders from both sides put on a show but it was Jaipur Pink Panthers' defence that made the difference on the night. Srinivas Reddy and Sandeep Dhull explain what worked for them in the post-match press conference while Randhir Singh Sehrawat and Pawan Sehrawat reflect on what could have been better.
Q. You won the match and are still in contention for the playoffs. Your thoughts?
Srinivas Reddy: We had told the players one thing, even during training, that we have two matches and that we should play for respect. That you would have to go all out in these matches and win. After that whatever is the equation, time will decide. So our aim is to win and time will take care of the rest. The boys performed very well today. It was a collective effort, even the defence played its part. Winning always feels good for anyone. And when you win against a team like Bengaluru Bulls, then the confidence shoots up and builds up a positive atmosphere.
Q. Was there a reason why this match tilted in your favour?
Sandeep Dhull: See, today's match was very important to us. Because we had just two matches remaining, and we are still in contention for the playoffs. As our coach said, all players are here to do their best. Today, all the players were outstanding that's why we won the match.
Q. This kind of performance was lacking in some of the earlier matches. Why was that so?
Srinivas Reddy: This season has been the toughest in the vivo Pro Kabaddi history because all the 12 teams are very good. We are all competing in tough situations, all the matches are neck and neck - a few may have been one-sided - but overall all the teams performed very well. Ups and downs keep happening. Unfortunately, we had a couple of players injured at crucial junctures and these things happen in such a long league. That's why our performance had dipped and to overcome that took some time. But we will take this win today and run that momentum in our final match to end the tournament on a winning note. Rest depends, and I am not too worried about it.
Bengaluru Bulls
Q. Your defence didn't click. Has it been the weak point of the team?
Randhir Singh Sehrawat: We have had the same defence through the season, and we have been winning with them. We'll continue to try and overcome our shortfalls.
Q. What is your take on the match, Pawan?
Pawan Sehrawat: I wasn't raiding as much, and I was benched for some 7-8 minutes as well. The second and third raiders were also getting tackled, so our hopes rested on the defence, but they couldn't get us through.
Q. Do you think you lost the match because you don't have back up raiders?
Pawan Sehrawat: We didn't lose the match because of raiding. Banty put in some Do-or-Die raids, Sumit Singh scored a few points as well. Yes, we felt Rohit Kumar's absence, but we can't say that we lost the match due to raiding. The issue was with the defence. We experimented a little; I didn't raid as much and allowed Sumit and Banty to raid instead to assess how they do.