pkl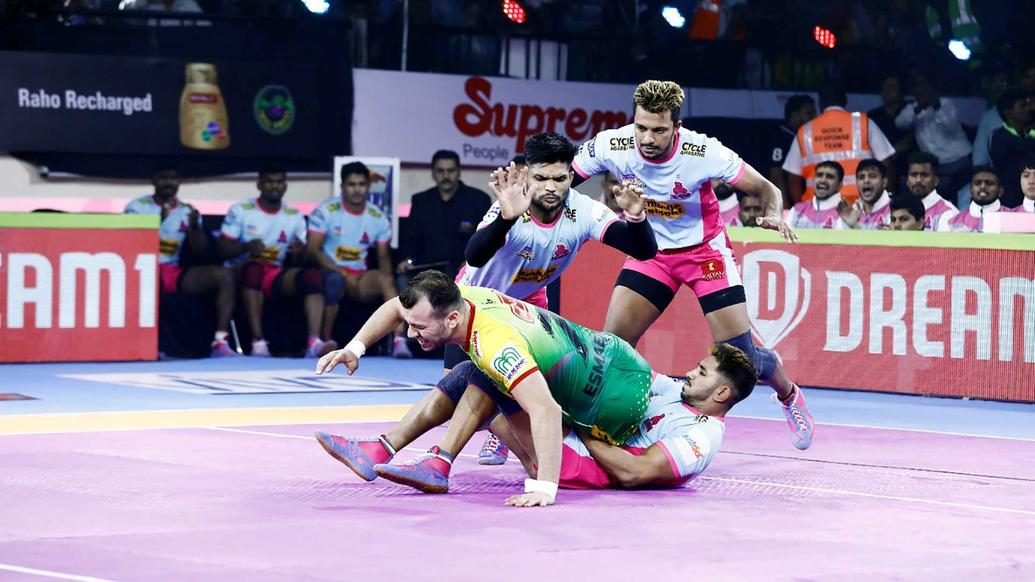 High 5s by Sandeep Dhull and Amit Hooda helped Jaipur Pink Panthers clinch their match against Patna Pirates.
An outstanding defensive performance by Jaipur Pink Panthers - which saw them amass 17 tackle points - helped them overcome home-team Patna Pirates at the Patliputra Indoor Stadium in Patna on Saturday. With this performance, Jaipur Pink Panthers extended their unbeaten record in VIVO Pro Kabaddi Season 7. Sandeep Dhull and Amit Hooda scored High 5s for the visitors while Deepak Narwal led their attack with 8 raid points.
A two-point raid by Ajinkya Pawar in the 6th minute allowed Jaipur Pink Panthers to take a slender lead at 5-3 after the defenders from both sides made sure that the game stayed even in the opening period. Once Mohammad Maghsoudlou was pinned down by a Sandeep Dhull Diving Ankle Hold, it brought Patna Pirates down to two men on the mat. Jaipur Pink Panthers made no mistakes from there and soon picked up the All-Out in the 9th minute, taking the scores to 10-4.
Three more tackle points by Jaipur Pink Panthers in three Patna Pirates raid attempts, helped the visitors surge ahead to a ten-point lead and reduce the hosts down to three men yet again. However, substitute Monu helped Patna Pirates get their first Super Tackle of the night via a Double Ankle Hold on Deepak Narwal.The home team then capitalised by sending Vishal and Ajinkya Pawar to the bench as the halftime whistle rang with Jaipur Pink Panthers' lead reduced to 6 points at 15-9.
Pardeep Narwal came into his own in the second half picking up three raid points on the trot, however, once he was ushered off the court by Amit Hooda in a Super Tackle situation, Jaipur Pink Panthers were able to hold onto their lead at 21-14. Amit Hooda also reached his High 5 with that tackle.
Deepak Narwal then turned on the heat by escaping Vikas Jaglan and Hadi Oshtorak's tackle attempt to reduce Patna Pirates to two men on the mat. He got support from Dhull in defence and the team managed to inflict a second All-Out on Patna Pirates with six minutes still left on the clock.
Pardeep started things off with a two-point raid once his team took the mat again and was soon on the verge of his Super 10. But Jaipur Pink Panthers avoided a late All-Out through Dhull's Super Tackle on Narwal and held on the won the match by 13 points.
Top Performers:
Patna Pirates –
Best Raider – Pardeep Narwal (9 Raid Points)
Best Defender – Monu (3 Tackle Points)
Jaipur Pink Panthers –
Best Raider – Deepak Narwal (8 Raid Points)
Best Defender – Sandeep Dhull (8 Tackle Points)