pkl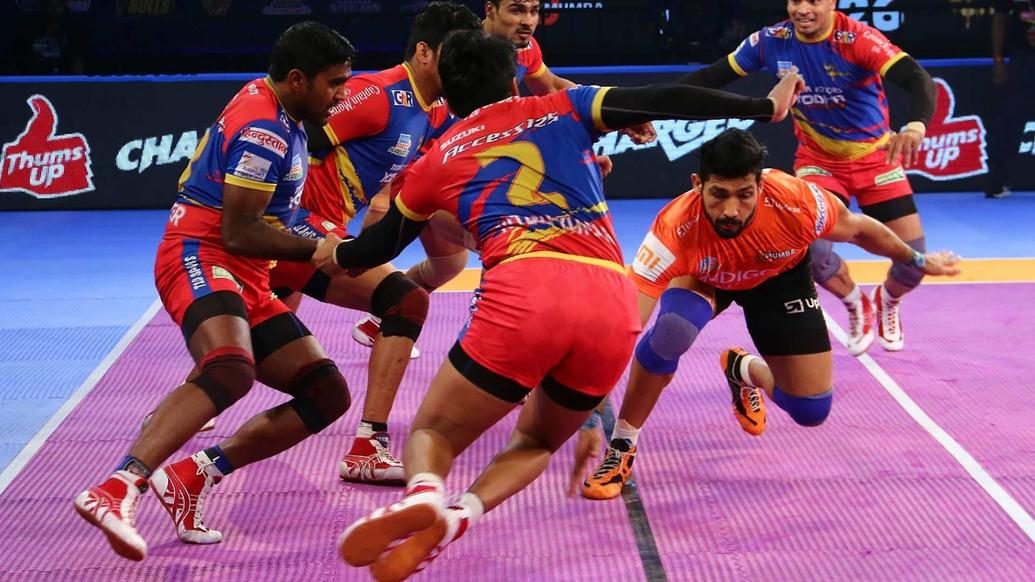 U.P. Yoddha managed their first-ever victory over U Mumba with a 34-32 scoreline.
A thriller of a contest saw U.P. Yoddha come up trumps for the first ever time against U Mumba by a scoreline of 34-32 at the Netaji Subhash Chandra Bose Indoor Stadium in Kolkata on Saturday. Sachin Kumar's High 5 and Prashanth Kumar Rai's brave two-point raid in the closing seconds proved crucial to U.P. Yoddha's cause.
U Mumba quickly went up 3-0 before U.P. Yoddha got their first points on the board. However, once U.P. Yoddha got going, they levelled the scores at 4-4 after an Ankle Hold by Nitesh Kumar to send Siddharth Desai to the bench. Surender Singh then came into his own, inflicting two Super Tackles in the space of a minute. A Back hold on Shrikant Jadhav was followed up with a Block on Rishank Devadiga to put U Mumba 8-5 up in the 9th minute.
Check out the photos from the match here.
U.P. Yoddha scored nine unanswered points following the Super Tackles which included an Ankle Hold by Sachin Kumar on Arjun Deshwal to reduce U Mumba to a solitary player before Jadhav got a touch on Surender Singh to help U.P. Yoddha inflict the game's first All-Out in the 13th minute.
U Mumba then scored six unanswered points of their own to level the scores. These points were shared by Rohit Baliyan and Abolfazl Maghsodlou, who got the game's first Super Raid in the 19th minute with touches on Jeeva Kumar, Narender and Devadiga to reduce U.P. Yoddha to one player on the mat. U Mumba, however, couldn't capitalize on this before the halftime whistle as Prashant Kumar Rai put in successive two-point raids to help U.P. Yoddha take a 3-point lead into the half with the scores reading 18-15.
Starting the second half with two men on the mat, U.P. Yoddha inflicted their first Super Tackle of the game in the very first raid of the half. With U Mumba trailing by three points, Darshan Kadian came in for his first raid of the night and got touches on Nitesh Kumar and Jadhav to reduce U.P. Yoddha to a solitary player. Rohit Rana then tackled Rai to inflict the All-Out in the 3rd minute with the scores level at 20-20. U Mumba regained the lead in the 6th minute by way of a Fazel Atrachali Block on Jadhav.
With both teams staying close in points from there, a two-point raid by Devadiga helped U.P. Yoddha open up a four-point advantage.
Sachin Kumar got his High 5 in the 14th minute with an Ankle Hold on Maghsodlou before U Mumba reduced the deficit to two points with two and a half minutes to play. A two-point raid from Baliyan levelled the scores in the 18th minute.
Visit the matchcentre to relive the contest here.
With the scores level, Rai came in for U.P. Yoddha's final raid and just managed to evade Dharmaraj Cheralathan's attempted Ankle Hold and cross the midline, but not before getting a touch on Rana as well to ensure that U.P. Yoddha secured their first ever victory over U Mumba.
Top Performers
U Mumba
Best Raider: Rohit Baliyan (9 raid points)
Best Defender: Surender Singh (4 tackle points)
U.P. Yoddha
Best Raider: Prashanth Kumar Rai (8 raid points)
Best Defender: Sachin Kumar (6 tackle points)