pkl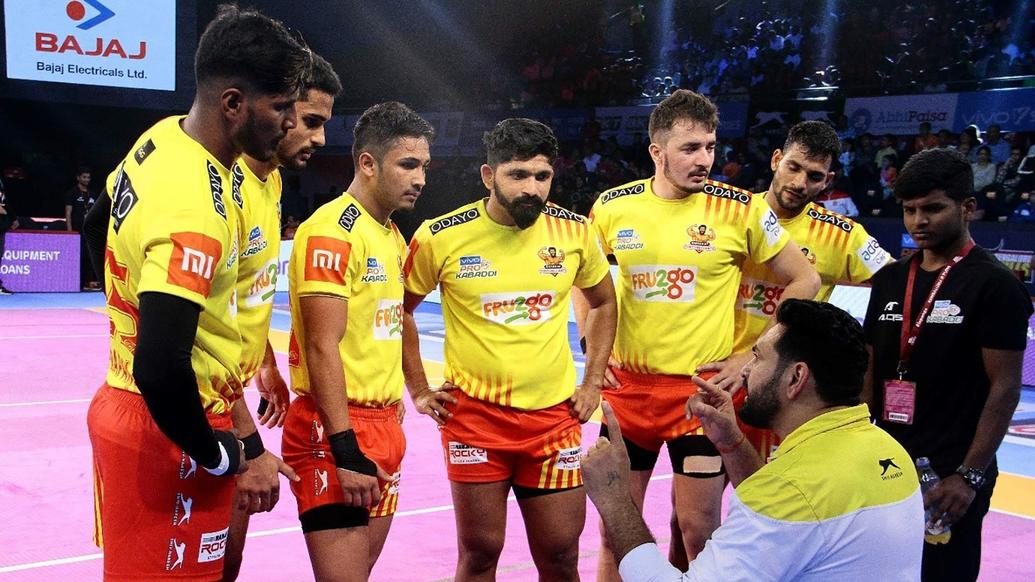 Gujarat Fortunegiants beat Puneri Paltan at the Shree Shiv Chhatrapati Sports Complex in Pune on Thursday to move to the top of Zone A. Representing Gujarat Fortunegiants at the post-match press conference were captain Sunil Kumar, coach Manpreet Singh and Ruturaj Koravi. Captain Girish Maruti Ernak and coach Ashan Kumar answered questions on Puneri Paltan's behalf.
Gujarat Fortunegiants
Q: Your defence is performing really well. What do you have to say about them?
Manpreet Singh: They are all very talented players. They have no dearth of experience. Ruturaj Koravi, for example, was one of the best players for the Senior National Kabaddi championship winning Maharashtra squad. Sachin Vittala has had a lot of experience as well. The team attended a three-month-long camp prior to the league and we got all our formations and strategies set over there. Our bench strength is well prepared as well so whenever they are asked to come on, they are ready.
Q: Sunil Kumar has done well as captain. Any reasons for making him the captain this season?
Manpreet Singh: You usually make a player who is going to stay the longest on the mat your captain. Sachin is a raider and raiders have a huge possibility of staying off the mat for long. I usually make a defender the captain of any team I coach. Sunil Kumar is one player who will stay on the mat for us. He is young and wants to do well and has been doing well.
Q: How has your understanding been with Sunil Kumar and Parvesh Bhainswal?
Ruturaj Koravi: They have supported me really well. This is my debut season and the understanding between the three of us has been really good. It has enabled the defence to perform as a unit. With Sachin Vittala playing Left Corner, the seniors - Sunil Kumar and Parvesh Bhainswal have taken it upon themselves to guide us. They are executing the role of senior players perfectly.
Puneri Paltan
Q: Did you feel the absence of a lead raider today?
Ashan Kumar: We have definitely been feeling Nitin Tomar's loss. He has been out for a while now and we have tried different backup raiders to fill his void but to no effect. Today especially, we missed a lead raider as none of our raiders performed well. It is a long season, and everyone is bound to get niggles and have spells of poor performance. We have four games left and will look to put up strong performances in both departments.
Q: Your defence has been performing excellently. Where do you think the problem exists?
Girish Maruti Ernak: The problem is that we don't know which raider is going to perform when. We are confident about all of them, but no raider has been able to continue their strong performances barring Nitin Tomar.
Q: You have been alternating been More GB and Rajesh Mondal as the lead raider. What do you have to say about that?
Girish Maruti Ernak: We fully back our raiders and support them to our fullest. They still haven't been able to perform consistently for some reason. Our coach tells them to play freely but they are lacking in confidence sometimes. I think that's what happened to them today as well. More G B got tackled twice and lost his confidence while Rajesh Mondal was not allowed to get points.