pkl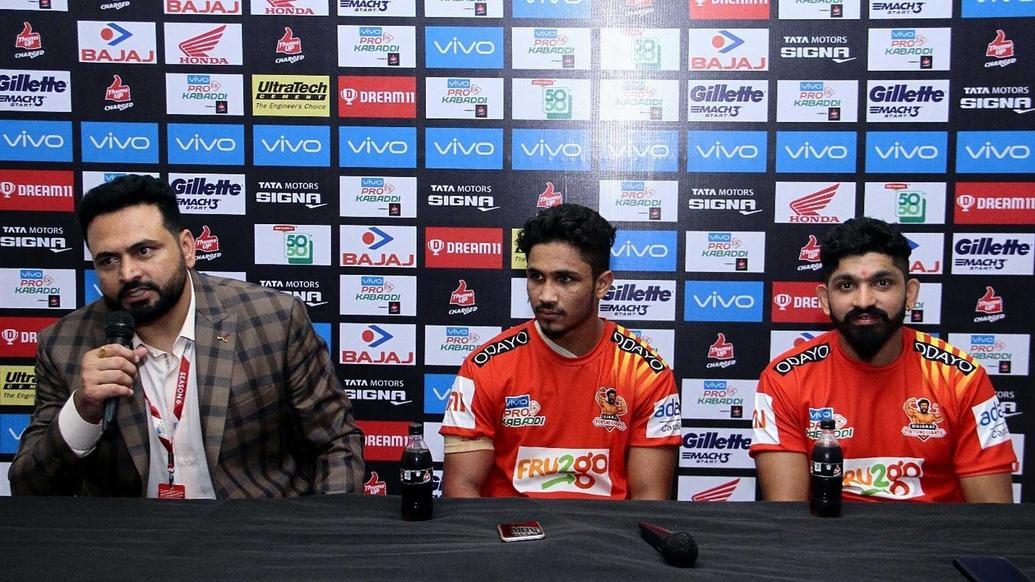 A brilliant rally in the second half from U.P. Yoddha fell just short as Gujarat Fortunegiants held on to secure a 37-32 victory at the Arena by TransStadia in Ahmedabad on Sunday. In the post-match press conference, Gujarat Fortunegiants coach Manpreet Singh, captain Sunil Kumar and defender Ruturaj Koravi took questions for their side.
Q. U.P. Yoddha rallied late into the game but you managed to hold on…
Manpreet Singh: In my opinion, games like these are a victory for kabaddi. Winning late gives us confidence for the upcoming matches. We had some uncharacteristic moments and we'll ensure that those don't happen in the upcoming games.

Q. Despite trailing 19-10, they managed to come back so well. What changed in the second half?
Sunil Kumar: In the second half, their raiders were more aggressive in their approach. And we didn't tackle them as well as we could have. Hence, they managed to come back well.

Q. Another good outing for you. Your thoughts?
Ruturaj Koravi: Heeding the coach's advice is key. As soon as I dived for the tackle, my teammates joined in quickly and that helped a lot. Today, in the second half, we maybe let our grip over the game loosen a bit. But we did well to win.

Q. The team made a few advanced tackles and missed. Did the scoreboard play a part in that?
Ruturaj Koravi: It was our plan to surprise them with a few advanced tackles to unsettle them when they came in for their next raids. In all the advanced tackles that we made, we made sure we tried to tackle them out of bounds.

Q. Sachin and Rohit Gulia shined today. Thoughts on your raiding department?
Manpreet Singh: Every team has three to five raiders. To know which raider is to be used against a particular team is essential. Whichever raider we've handed a particular responsibility to, they have managed to do as well as they could. I'm extremely proud of my raiding unit.