pkl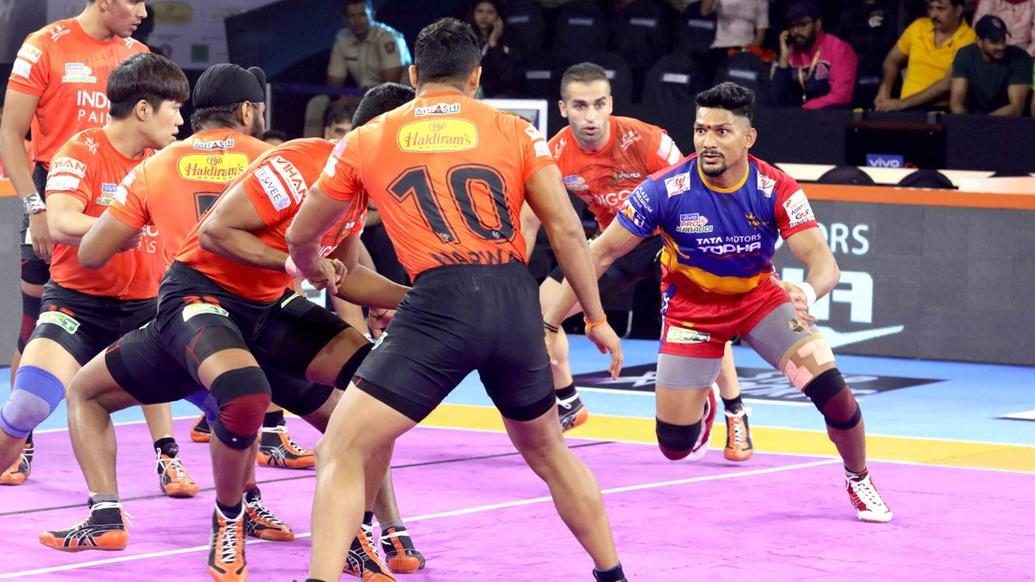 A fearless attitude is also a key necessity for raiders besides their physical skills, according to Rishank.
Beyond The Mat, vivo Pro Kabaddi's weekly Instagram LIVE chat series had a guest this week with a diverse range of experiences. From being a skilled youngster cutting his teeth under the legendary Anup Kumar at U Mumba to taking up the mantle of U.P. Yoddha's captaincy in Season 6, Rishank Devadiga has played with the best and seen it all.
Possessing swift foot movements, backed by a quick turn to get across the midline after getting a touch, Rishank Devadiga's agility and use of his height have long been a talking point among kabaddi fans. It is no surprise then that while talking about the secrets to his success in the league, Rishank highlighted these aspects for young raiders to work on.
"I feel a raider should have speed, good footwork and, most importantly, a fearless attitude." Rishank said on the LIVE, "Only when a raider is fearless will he have the courage to take on seven players in the opposite team and still strive to get a point. These three aspects have been the pillars of my gameplay."
https://www.youtube.com/watch?v=CY9P3M0DdQs
Visualisation: A mantra for success
Having a vision and persistently striving hard to achieve one's goals is a known strategy for success. But for Rishank Devadiga, the vision goes beyond just long term achievement in the sport. The raider explained how he visualises the match as well as every raid before going in, in order to prime his mind for achieving the best possible result.
"I set time aside for detailed visualisation before every match to pre-empt how I can score maximum points. This method enables my body to respond accordingly in match situations," explained the UP Yoddha raider, "A large part of this visualisation exercise also deals with understanding my opposition's strengths and weaknesses before the game so I am prepared when it is my turn to raid."
A general practice which Rishank Devadiga also emphasised was the use of meditation to calm the mind so that visualisation can be clearer.
"Personally speaking, I meditate often and I find that this helps me a lot in the entire process of visualisation," said the raider.
Watch your favourite kabaddi superstars go Beyond The Mat, LIVE on the official vivo Pro Kabaddi Instagram handle every Saturday at 6 PM. Join the conversation!