pkl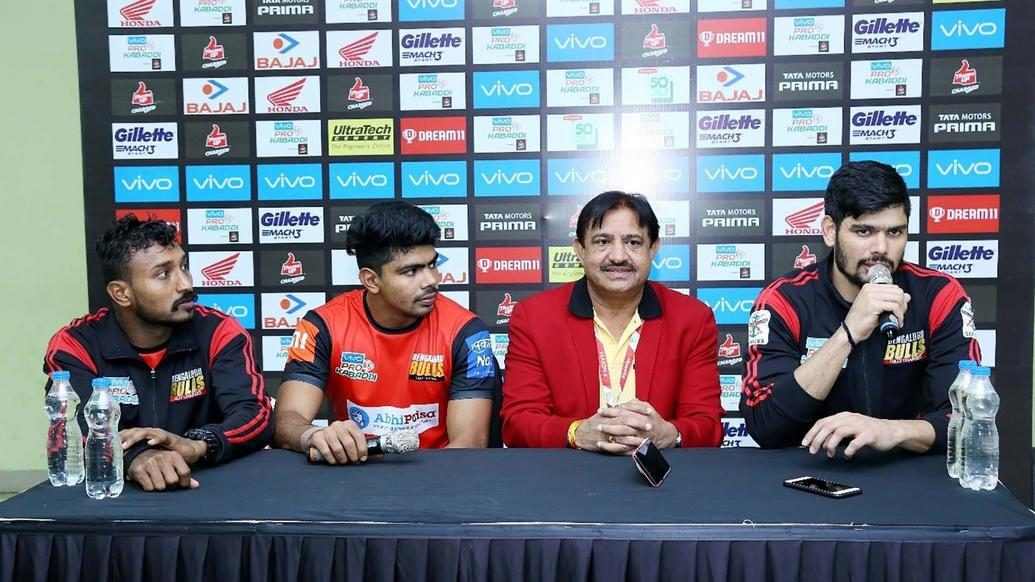 Bengaluru Bulls got the better off U.P. Yoddha at the Shree Shiv Chhatrapati Sports Complex in Pune on Monday. With this win, they crossed 50 points for the season as well. Representing Bengaluru Bulls at the post-match press conference were captain Rohit Kumar, coach Randhir Singh, Pawan Kumar Sehrawat and Kashiling Adake. U.P. Yoddha were represented by stand-in captain Nitesh Kumar and coach Jasveer Singh.
Bengaluru Bulls
Q: Describe your performance today.
Randhir Singh: We played very well today. Pawan Kumar Sehrawat and Mahender Singh have performed brilliantly all through the campaign. I had asked Sehrawat to promise me to score 150 points over the season and he's done it when we have quite a few games left to play. Sehrawat now has the green band (given to the league's top raider) for the first time and I hope he doesn't have any intentions of giving it away soon.
Q: What would you like to say about your defence?
Randhir Singh: Our defenders have been performing well all throughout. Mahender Singh has been spectacular all campaign. Amit Sheoran was brilliant today. He attempted tackles only when required and came out on top most times. His performance was key for us even though Mahender managed a High 5.
Q: What are your plans for your last two home games?
Randhir Singh: My plans are to win both the games. They are encounters which we should be able to win easily given our form. We had aimed to win at least four if not five home matches. To see that we are on track to achieve that goal means we have been performing as we would have liked. We suffered two defeats but that's part and parcel of the game.
U.P. Yoddha
Q: You're missing key players in your lineup. How has that affected your gameplan?
Jasveer Singh: We're definitely feeling the absence of our key raiders, Rishank Devadiga and Prashanth Kumar Rai. They've been carrying injuries and will be out for a few more games. Shrikant Jadhav has been carrying niggles as well but he has continued playing. We cannot afford to have all three of them out at the same time.
Q: What are your plans going forward?
Jasveer Singh: We have six matches to go. Each game from now on is like a knock-out game for us. If we win all six games, we should be able to qualify, else we will be knocked out. The plan is too win every game now on and hopefully we can achieve that.
Q: Did you face any sort of pressure going up against the likes of Pawan Kumar Sehrawat and Rohit Kumar?
Nitesh Kumar: The pressure is always on us players. The pressure of the raider also falls on the defender. Sehrawat and Rohit are two of the best raiders in the league and going up against them is a huge ask. I have done well against Bengaluru Bulls and it feels very satisfying to get tackles against the likes of them.